Reviews
Theophilus London remixes lift off to an unknown place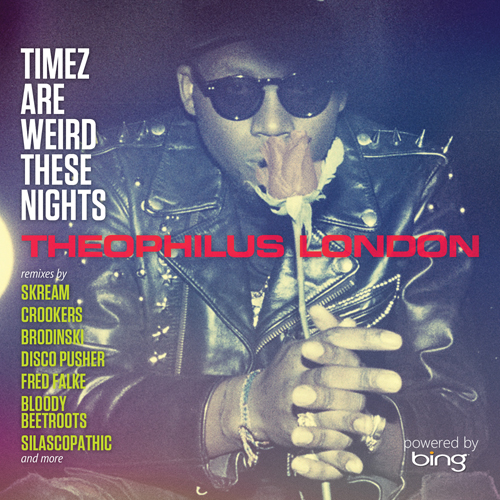 Timez Are Weird These Nights (The Remixes) Theophilus London
Release Date: Apr 24, 12
1
2
3
4
5
6
7
8
9
10
Sure, another remix album. That's just grizz-ate. While it's hard to understand the need for anything outside free downloads of producers/artists leaving new marks on old songs, every now and then a full LP release of remixes gets the ol' green light. To be honest, I think the only remix albums I've paid for our Beck's Guerolito or The Faint's Danse Macabre. Oh yeah, and Fiest remixes.
But that's beside the point — what I think can be agreed upon is that the best remixes have the same thing in common. They take a proven work and give it a fresh, captivating take. But you never forget who the original artist on the track is. This is something Timez Are Weird These Nights (The Remixes) falls victim to more often then not.
Splitting open the album is Brodinski's slow, crescendoing mix of "Last Name London." Just when you thought it was off to a banging start, a minute and a half hits the ticker and a four minute trance ensues. The beat is definitely right, don't get me wrong, but without the singular pop-in of Theo "Last name London, first name Theophilus" at the mid-mark, it's easy to forget what it is you're listening to in those headphones. Fine, at least Brodinski's beat equals pretty dope.
Unfortunately, following this "saved by the hair of my beat" opener is seven minutes of a place barely recognizable of Theo. The original completely bests Fred Falke's dancey rendition of "Love is Real." Falke's version is a little too focused on the female chorus and simply falls flat (sorry, Fred). It's hard not to be bummed after the first two tries, especially if the original album made it into your regular playlist.
Luckily, that some can be forgiven due to a few gold nuggets following the shaky start. Linus Loves give a refreshing, but close-to-home feeling on "Wine and Chocolates" and the Bloody Beetroots ramp up the 80s on "Why Even Try" that are welcome escapes from the album's originals. Disco Pusher even gives a solid college try on "Girls Girls $," a song where the argument that it never needed a remix could be respectfully made without batting an eyelash. My personal fav comes as no surprise in the Crookers remix of "Stop It" but I found that even this track was less anything London did than the futuristic, thumping beat itself.
The main (and simple) issue I have with Timez Are Weird These Nights (The Remixes) lies within the common question of, "Who am I listening to?" Certainly the original album is playful enough on the beats, with subject matter and demeanor that encourages remixes, but this collection of tracks ultimately feels more tried than anything.