Music
Live review: Jens Lekman @ Lincoln Hall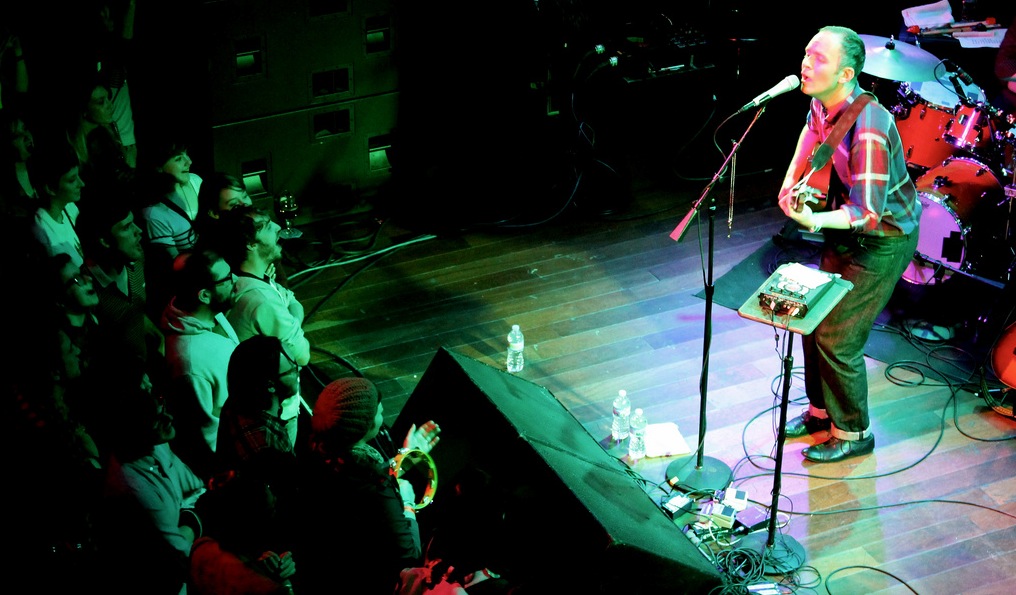 As I write this review, I firmly believe that Jens Lekman is still out there somewhere in Chicago, playing third, fourth, fifth encores on his guitar. Before wrapping up his second encore at Lincoln Hall, he told the crowd, "This is the last song of the night… on this stage. If you want to hear some more, come find me after the show." And you know it's true. A guy this earnest would not mislead such an adoring audience.
Even with a set consisting mostly of new songs, the people of Chicago fawned over the boy from Gothenburg. All the better, actually, because it's probably more fun to hear his new songs for the first time in a corporate setting so we can all laugh together. Unsurprisingly, his unreleased material is hilarious. Look out for "I Broke Up A Fight," which reveals Jens as a most well-intentioned philanthropist whose greatest strength is his crippling social awkwardness.
Playing without a full band (only a drummer), Jens' songs sounded almost stronger as stripped down acoustic versions. His deep voice was richer tonight, confident and controlled. Old lyrics stuck out to me in ways they hadn't before, especially his last song of the night, "Pocketful of Money." When after hearing so much lovely music, to hear him repeat the line about how he wants to go to a place "where the music never ends" hit close to home. It encapsulated Jens Lekman as one who truly loves music. He gave his tambourine to the girl in the front row, entrusting her to play along with the rhythm. He smiled brightly every time the crowd sang along with a familiar line, but especially "that's when the feeling hits. So just lick your lips. These are the good times that you'll miss, when you are sipping on the sweet nectars of your memories." As with all Jens Lekman shows, tonight's was one I'll never forget.
The first Jens Lekman song I ever heard was "The Department of Forgotten Songs," in which he anthropomorphizes a vinyl record as a lonely girl. I didn't realize it then, but it really is a love song to music itself. And every time I see him play a show, I can feel that intense love emanating from Jens Lekman. It's a treat for any music lover to witness such honest sincerity from an artist, but I imagine it must be most rewarding for Jens himself. Which is why I'm sure he's still playing music at this moment. He is doing what he loves.