Music
Why?/Naytronix @ Lincoln Hall: Live review & Naytronix interview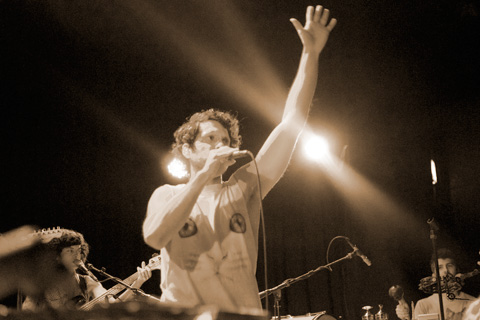 The following is a live review of Why?'s headlining show at Lincoln Hall in Chicago this past Friday. As a bonus, staff writer Rachel Angres was also able to chat with opener Naytronix.
With baited breath, the crowd at Lincoln Hall waited for Why? to come on stage. It was only a couple months ago that the Anticon icons were performing in Chicago at the same venue. DJ Tony Trimm, the acclaimed Chicago-based DJ, opened for the scheduled 10 p.m. show. Black Swans and Naytronix, polarized in style and sound–the former a folk minimalistic two-piece, the latter an electro-synth three-piece–opened for Why? with short sets.
Naytronix is the new project from tUnE-yArDs bassist-turned-solo artist Nate Brenner. Brenner, who is also a multi-instrumentalist and producer (among many other titles) is bewildered by the future. Brenner has a lush and humble singing voice, which was nearly overpowered by programmed drums, looped keyboards, and sequences of random honks, marimba beats and erratic horns. There is a lot of hinting and teasing in the construction of each song, a jazzy melody in accordance with spacey transient hisses. Dead air–like the swirling deep lushness of a Sandro Perri song–his songs often enter a stage of static followed by a dramatic release. Brenner is in fact creating an entirely new genre of music that is an amalgamation of what was the pinnacle of music: Jazz and the not-too-far-away digital future.
Brenner is new to being the center of attention onstage, but he pulled it off, switching from string instruments to a micro-Korg synth and a vocoder. Knobs twisting and fingers pandering, he manipulates an orchestra that may only make sense in his mind. There is a hint of tUnE-yArDs' spastic sound, but with a Kraftwerk "Computer Love" twist, a fact especially evident on their closing song, "Robotics," the featured track off their debut album Dirty Glow (Fatbeats Records) that was released in early October. If someone had ADHD and a crippling addiction to old arcade games, their brain waves might resemble the sound that is Naytronix.
Why? has the tendency to headline in a way a comedian might bump their opener; they take the stage for the majority of the show. This ongoing theme is by popular demand of their devoted fans, who never seem disappointed when witnessing the band live. Granted, the group has long used its concerts as opportunities to test and tweak new material and effects, but the stage is their self-declared genesis. Improvising can be an incredible tool in improving your onstage flow, and engaging the audience only comes when the band is confident in its fruition. Messily improvising around each member's strengths onstage is a cracked see-saw inaccessible to all. But what they lacked in improvisation they make up for in crisp, clean renditions of their most popular songs, most notably the closing title track off their 2005 release Elephant Eyelash.
Their strengths relied heavily on percussion; with a marimba, xylophone, glockenspiel and elaborate drum kits, they gave off a glowing luster to accompany the lyrics. To describe the show in three words, it was cerebral, pristine and eccentric. These are three pillars of success that the group has been recognized for over the years. Since their performances are manicured so neatly, little room was left for the band to speak between songs, unless it was private conversations meant for the band members only.
In fact, it was odd. This between-songs chatter, it gave the band an intriguing mystique.  A universal joie de vivre tightened up all the loose ends, and amidst all the bells and chimes was the mumbling, grumbling, beaming, smitten enraged and amazed crowd that always leaves satisfied.
——-
Naytronix Interview
HEAVEmedia: Who are you? What's a fun fact about someone in your band?
Naytronix: Nate Brenner from Bloomington, Indiana. I play the bass, drums, keyboards and you know I sing a little bit. But mostly I am an instrumentalist. Sam, the drummer, has a Finnish wife and is learning to speak Finnish..well, now he's fluent. The goal of the tour is to get him to Europe so he can see his wife.
HEAVEmedia: Rumor has it you're half-robot. Was that hard growing up?
Naytronix: That is just a rumor.
HEAVEmedia: Your style is deeply rooted in traditions of the future. Are you practicing?
Naytronix: No, I don't really practice anything. I don't have much time.
HEAVEmedia: What was the last book you read?
Naytronix: "Psychotic Reactions and Carburetor Dung" by Lester Bangs.
HEAVEmedia: What is your biggest turn-off?
Naytronix: Dirty dishes.
HEAVEmedia: What is the biggest risk you've taken in your music career?
Naytronix: Going on tour, starting my own project.
HEAVEmedia: Spirit animal?
Naytronix: A giraffe.
HEAVEmedia: What is coming up next for you?
Naytronix: Recording a new album, and more touring with Why?
You can check out Naytronix's work over at his Soundcloud.