Music
Live review: Sondre Lerche and Nightlands @ Lincoln Hall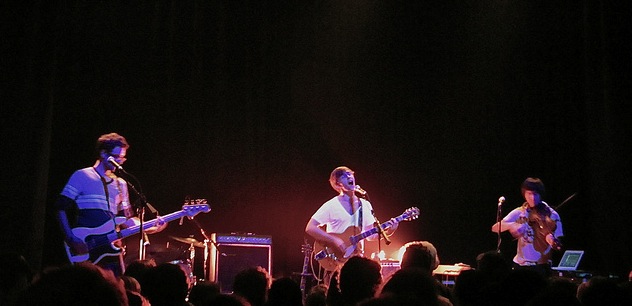 "As far as I'm concerned, this is one of the best venues in the world," declared Dave Hartley amidst Nightlands' set at Lincoln Hall on Sunday evening. Sondre Lerche said pretty much the same thing an hour later when he hit the stage. And they're right. No matter how many times I go to Lincoln Hall, I'm amazed by how good it sounds.
The only thing that kind of bugs me about Lincoln Hall is how it makes it harder to tell just how much an artist improved since their last show. Nightlands was great at Empty Bottle last January, but half a year later, Hartley's voice sounds richer and broadening in range. Now with his full band, soaring Fleet Foxey harmonies take Hartley's little solo project to another level. It was gorgeous, dreamy music–but I can't help but wonder if I was just being fooled by the Lincoln Hall sound guy…
But, I have a feeling that Sondre Lerche really is just an amazing singer and guitarist. Lincoln Hall simply complements his talents, not necessarily bolstering them with fool's gold/pristine acoustics. As pleasant as it was to see watch him perform in a live setting though, I can't help but hope for something a little more from Lerche on his next album. Case in point: "Two Way Monologue" was easily the biggest crowd-pleaser of his set. The song is seven years old. He needs another hit already.
Lerche has always been an impressive songwriter, but that may be his blessing and curse. His young self was so dazzling so immediately, that now nearly a decade later it's hardly more than a nostalgia trip to hear his swooning voice.
If anyone can get booked at Lincoln Hall though, it means good things. Nightlands are definitely a band to watch heading into 2012, and Sondre Lerche is still a damn charming Norwegian. They deserve to play at the best concert venue in Chicago.