Music
A Hypnotized Mind: First Puffs (Part 1)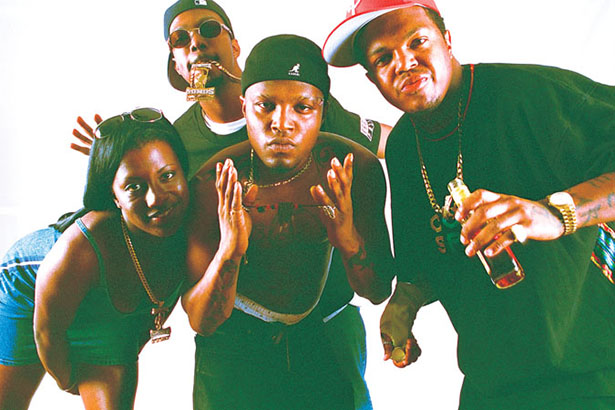 The following is the first installment of an ongoing Heave series on the work of southern rap pioneers Three 6 Mafia.
As with any neighborhood on the periphery of Detroit's city limits past dusk, an ordinary civilian is one wrong turn from being sucked into an underlit vortex of urban decay.  My GPS misled me, and I found myself coasting into Detroit on an inner road for miles before I hit the highway.  The fear that people associate with Detroit, MI isn't due to an apparently violent populous that seems to pop out of dilapidated houses on every block and accost you at gunpoint. It's due to the strange feeling that you're spinning in a black hole. You can't see what's out there, and therefore any limit of humanity could possibly be tested, and there's no way of knowing exactly where the danger's coming from. The obscurity and contradiction outside makes it necessary for your insides to cool. It makes perspective everything.   There's no predetermined route out if you don't know where you're going, so you have to figure out a way to just get through it. Even traveling 10 over the speed limit in that kind of environment, you inevitably feel like a glob of molasses dragging its way down the strip.  Every time you think you see something suspicious, you realize it's just your mind conjuring its own form of hell, and every misconception adds a second to your nightmare.  But when there's no comfort lent from outside, you're just looking down a barrel, and three-fourths of the time you don't know whether there's a bullet or only ghosts. The other fourth of the time, you can be rest assured that it's the members of legendary Memphis rap group Three 6 Mafia just chillin'.
While all the fame and glory of "Poppin' My Collar" and "Stay Fly" sold an impression of DJ Paul, Juicy J and the crew pimpin' at the club every day, the real Three 6 experience is embodied by the ugly, psychosomatic head rush of looking down a barrel. Don't let the hard-earned projections of their later success fool you into thinking that it's that easy.  Go back to their roots and you'll realize they'd bagged an Academy Award in theory long before it manifested itself for real.  Their whole career is a god-sent prophecy that was born from within.  That's because unlike a group of artists just wearing the part, the gun was always just a luxury to them. It's never about having the gun, it's about holding your own when the guns are drawn at you, and choosing the right moments to hit a jerk back (literally for those playing life and death, and poetically for the privileged like me). Be the gun you want to see in the world: deal with your problems, don't be a victim, coast through the haunted house of infinite combinations of wet dreams that turn into nightmares without batting a brow–then you've got some real swagger. And when you've got that genuine lean, you hardly ever need to fire a bullet to get what you need. No fronting could ever do you better, but if someone ever does try to deceive Da Mafia, their later club hits are always there to prove that they can front right back and cut them anew.
From their gritty, down-home press photos to their party-stopping one-liners, lucid beats and mind-bending flow, they are several distinct element of genius cooking into one perfect sauce: DJ Paul, Juicy J, Gangsta Boo, La Chat, Project Pat, Crunchy Black, Koopsta Knicca, and Lord Infamous. A sauce that features different combinations of these ingredients on every record but never goes sour. Every sauce gets a first drop, but their debut turns out so finely aged you won't be able to separate one ingredient from another. It'll hit you so hard and fast in all the right places that your body and mind won't know what's what.
1994's Smoked Out, Loced Out presents the aesthetic template for years of Three 6 to come.  Where Mystic Styles and the official releases that follow provide audiences with their boss mentality in the face of a Cold War, their debut tape illustrates the Cold War at hand.  Because that's what all this violence and carnage is: it's physical, but it's mental as well, and the excessively lavish brutality they rap about seems so conscious and tangible that it tests your definition of sanity.  Like any Cold War, it's all in the mind, so the greater your arsenal of weapons, and the stronger your subliminal intent, the greater your negotiating clout. SOLO will fashion you a deal you can't refuse–unless you want to get chalked out, that is. After all, that's your choice.  The Mafia makes the manifesto clear from the very beginning: it's all about respect.
SOLO presents a heavy metal alternative to the smooth intellectual finesse and high-roller front of East Coast rap. Instead of opting for the urban gangster approach for racking up the death toll through the extermination of insignificant dots from the tallest skyscraper, Three 6 commands a more intimate form of gangsterism. The real meaning doesn't come from the objective content of the songs themselves, but the character behind it. Their demonically slurred verses and entranced chanting weave into the overall rhythmic framework, creating a distinctly hypnotic Shaman polyrhythm that fixates its listener in body and mind.  Its metronomic repetition is so alluring that the brutal images of hedonistic violence and dirty motel sex slide down like caviar. Pretty soon you're trapped in the scariest trip you've ever had in your life. Their slow motion does the same to music as it would to video. It removes an audience from reality in order to enable them to see the world more clearly. In the process, the line between real and surreal becomes inextricably blurred.  
If you're watching a fight played back at half the speed, you'll notice contradictions you can't see at full speed. You can break down the decision making of each person involved; their animalistic intuition deconstructs into something so logical that it trips you out to see it again in its sober state. Certain emotions may get confused. A party may appear as aggressive as they do affectionate, their smiles may turn into a grimace. You may see hate where you once saw only love or pure infatuation. These details come to light and they cast doubt on your consciousness because at full speed these things were once barely noticeable. Now imagine that projected on a war-torn ghetto with arms and legs being cut off.  It becomes something far more sensual and otherworldly, but it puts you in the seat of accepting it all.
As Three 6 grinds out their slaughterhouse in slow-mo, you can hear both the chaos and the harmony that collide in every little sound. Words become blurred or smashed together, attraction and repulsion occur simultaneously, and their outward cool about it all gives true credence to the primal energy that lurks within. The resulting sound may take the form of a gavel, but at the pace it travels, it strikes like a full-blown hammer, hard and slow. Amnesia may be too much for the ordinary civilian, but you gotta stay cool.  That's why Three 6 took so long to sink into the American mainstream: the truth was too real. They were too impenetrable a fortress for those who wanted to run off and buy that East-West crap that projected more conviction than it did real sense.  But it's no matter to Three 6, as they could sit there all day knowing full well they're the only militia for miles that can inhale such a diabolical fury and exhale such perfect halos. It's everyone else that needs to get on their level.
The closest historical parallel to early Three 6 is Black Sabbath's Paranoid.  What Sabbath's detuned blues expressed about Vietnam's carnage and conspiracy in "War Pigs," Three 6's lucid declarations of war, booty, and general self-preservation express about the insanity of surviving America's ghettos. A vibe of total emotional detachment pervades their voices, but even still their sluggish drawls and rasps are pregnant with the threat of detonation. There's rarely any tangible sense of melody, often opting for ambience and atmosphere on tracks like "Niggaz Aint Barin Dat" and "Now I'm High." "Victim of a Drive-By" plays like an uncomfortably spacious sci-fi score that freaks you out with the silence of the unseen. This isn't a group checking into some mere candy-blood Giallo flick. The pieces of the corpse that they leave for you are sparse and incongruous. And it often leaves your imagination to exacerbate its own fear and restlessness as it attempts to put the body back together as was "allegedly" intended. The real question for Da Mafia's audience is this: Once you get to step in their shoes, do you endure this heightened paranoia like they do, or piss yourself simply trying to dress the part, convincing nobody of your worth while they stay deep and finish you through the earhole?
That's the gospel on Da Mafia. They not only command respect for themselves, but if you listen closely, they teach you how to do the same for yourself.  If you don't catch on to that, then this glorious hymn has been wasted on you. They're not going to spoon-feed you their formula of respect and survival with general altruisms and phony marketing ploys for jewel-studded handbags and fast cars, but they'll rep what they know and where they're from and lead you by example.  It's a beautiful, beautiful thing indeed.
Part 2: Rub the Lamp, Bitch: Trials and Tribulations for Dummies: Entrez La Chat & La Gangsta Boo coming soon.