Reviews
Movie review: "August: Osage County"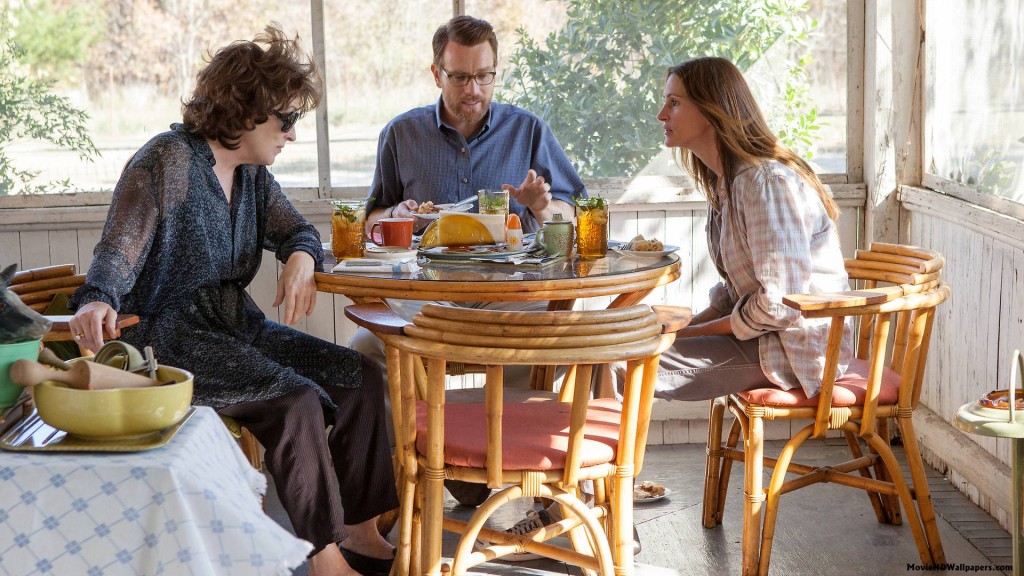 August: Osage County Dir. John Wells
Release Date: Dec 27, 13
1
2
3
4
5
6
7
8
9
10
August: Osage County proves that not everything deserves to be a film. The Pulitzer Prize-winning stage play must have been attractive to the Weinsteins in their ongoing pursuit of awards, and with an actress like Meryl Streep at the helm of their glorified For Your Consideration ad, the pitch sells itself. In an industry obsessed with proving your creative merits by accumulating tiny men, this film was utterly inevitable. It's not the August: Osage County anyone wanted or asked for, and fans of the play will likely be pissed, but surely it will be remembered as the one Hollywood deserved.
In order to make a film out of Tracy Letts' brilliant, brutal three-hour long black comedy, concessions had to be made. Letts (who wrote the screenplay, probably at gunpoint) and director John Wells lobbed an hour off the stage version, so the film comes in at a family-friendly two hours. Gone is most of the humor in favor of a dramedy tone, scored to a plaintive guitar that, I suppose, is meant to suggest "Beauty of the Quarreling Incest Family." The tones and texture of the film feel a lot like Away We Go, Sam Mendes' misanthropic exploration of finding your roots, but the result is also reminiscent of the movie within a movie in Christopher Guest's For Your Consideration. If this were a satire of Hollywood greed and excess, it would be spot-on. However, played with a straight face, it's downright interminable.
Like Ryan Murphy's Running With Scissors before it, the film primarily exists to cast choice actors in Oscar-ready roles, whether or not it makes any sense. Benedict Cumberbatch and Abigail Breslin, as a nitwit and a rebellious teen, are so miscast that its distracting, but at least Breslin isn't on screen much. In this respect, she fares better than Meryl Streep, who gives her worst performance ever. The problem is that she doesn't come and go; she feels like she's in almost every frame, even when she's not onscreen. Besotted with a fright wig and sunglasses, Streep isn't just overacting as the film's pill-popping matriarch and villain. Her performance is full-on Big Bad Wolf. She always feels ready to huff and puff and blow the house down. It'll make for a great drag parody someday.
But aside from the obvious camp elements, the biggest problem with Streep (and the film) is that it's too goddamn earnest. Meryl Streep always wants to show us the human side of Violet, the woman and girl behind the monster, and she's constantly showcasing Violet's vulnerability, her pain and her own demons. But with all that psychology constantly bubbling under the surface, Streep forgets to do something more crucial: entertain. Her performance, like much of the film, is overkill, like getting a five-course meal when all you wanted was a snack. Margo Martindale does a much better job of balancing Mattie Fae's humanity with the bawdy humor on which the play was founded, and Martindale is brutally funny in the performance. She's so good that I wish she and Streep had swapped roles. Martindale would be a great Violet, not such a star yet that she gets in front of her own character.
Oddly enough, the biggest name in the film is the one who makes the most impact. For every awful thing about it, August: Osage County works much better than it should, and most of the credit for that goes to Julia Roberts. Roberts is the best she's ever been here, allowed to be thorny, brittle and hilariously alive in a way that she never is onscreen. All of Julia Roberts' films constantly ask us to love her — even in Closer she was the ideal object of every man's affection — and by letting her be complicated and messy, it liberates the actress from the persona. Roberts isn't just unlikeable here; her Barbara is downright awful, a controlling pain in the ass who is a funhouse image of her mother. She plays her without an inch of vanity (costumed in oversized pajamas for most of the movie), and without seven pounds of makeup, I felt like I was seeing her for the first time.
In a movie like this, it's easy for a review to simply become a discussion of which actors you liked and didn't, who worked for you and who missed the mark. But all of the credit for the film's limited successes and many failures must fall on John Wells, and whatever dark forces were in charge of hiring him. Wells is a TV vet, the man behind ER, and although he has a strong background with ensemble casts, Wells has little film experience. It shows. He brings about as much cinematic expertise to this as Phyllida Lloyd showed in Mamma Mia!, which at least had the decency to be deliciously bad. A play like this needs a strong hand, an auteur with a vision to rival Letts. William Friedkin would have been perfect, but this is what we got instead. It's not a film; it's a campaign.