Culture
Year's Over: The best movies of 2013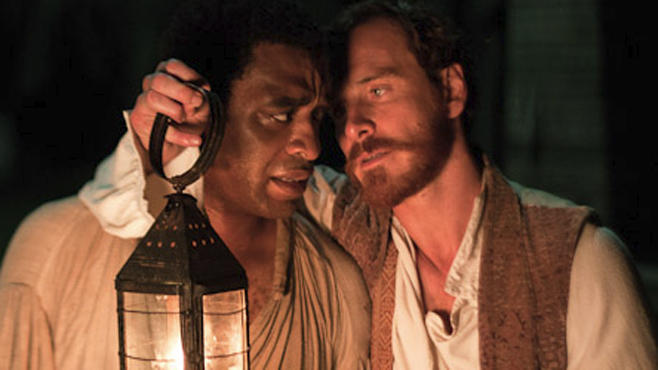 2013 is almost through, so it's about time for Year's Over, HEAVEmedia's look back at all things pop culture in the past year. Check out all our music and TV coverage to the right of this page if you haven't already, and check back tomorrow for our wrap-up and our worst films of 2013 as well.
Like most facets of pop culture in 2013, this was a bonkers-good year for film, from the mainstream offerings to the stuff only watchable in places that still call themselves "cinematheques." From popcorn entertainment to historical epics to intimate, humane portraits of the human experience, we got it all in droves. Without further preamble, here are some of the Heave staff's top 10 films of 2013.
(Editor's notes: We're aware that titles are supposed to be italicized. But due to our formatting system, unless you want to look at a lot of washed-out, grey letters, we're going to omit it here. Please refrain from yelling at us anonymously.
Additionally, since HEAVEmedia is a Chicago-based outlet, we've not had the luxury of seeing many of the late-year releases, such as American Hustle or The Wolf of Wall Street. So that's why those aren't there. We're sure they're going to be great, though.)
—
1) 12 Years a Slave
The year's best film is also its most important, a movie that should be required viewing for every American.
2) Gravity
Alfonso Cuaron's technical miracle is, quite simply, the moviegoing event of the decade. It's a movie that deserves to be seen on the biggest screen possible, as many times as you can possibly afford. At a time when the theatre experience has been proclaimed dead, Cuaron makes it essential again with a space opera unlike any other.
3) Before Midnight
It's a credit to the strength of 2013's movie crop that a movie as assured and masterful as Before Midnight isn't the best of the year. I made a bet after seeing Midnight for the first time that if I saw a better film this year, I would boil and eat my own shoe. America, I owe you one sneaker.
4) The Great Beauty
5) Inside Llewyn Davis
6) Spring Breakers
7) All is Lost
8 ) Room 237
9) Frances Ha
10) Her
—
Will Schneider
1) The Place Beyond the Pines
Far and away my favorite film of the year, The Place Beyond the Pines marks the brilliant follow-up to 2010's Blue Valentine by the gifted Derek Cianfrance. While Pines is one film with one very clear theme (fatherhood), it is told through three separate stories that span nearly twenty years. They are all clearly connected, and you don't lose sense of Cianfrance's style throughout, but it almost feels like you're watching three separate, shorter films. It works here, and the technique hasn't been pulled off this well since Amores Perros. Everything about the film is groundbreaking, especially the way the protagonists shift. Bradley Cooper, Eva Mendes, Dane DeHaan, Ray Liotta, and Ben Mendelsohn all turn in Oscar-worthy performances, but it is Ryan Gosling who really steals the show. This dopey motorcycle stunt driver with a heart of gold is his career-best, and it will be hard to top.
2) Gravity
3) Nebraska
Alexander Payne has consistently proven that he is the best filmmaker in the world when it comes to quiet, realistic, everyman-driven films. Nebraska is no exception. There are no car chases, action sequences, murders, or drug deals here, only the very human story of a father and son taking one last road trip together. Shot with beautiful black-and-white cinematography in the desolate towns of Montana and Nebraska, it is easy to lose yourself in Payne's latest work. It is a very sad story in some ways, a very happy one in others. Bruce Dern is brilliant as the Alzheimer's-stricken Woody Grant, and June Squibb is equally endearing as his long-suffering wife. The real surprise here is Will Forte. He is heartbreaking as a simple, nice guy just trying to help his dad feel good. For my money, it is the most realistic performance of a real, kind human being I've ever seen. Flaws and all.
4) 12 Years a Slave
5) Spring Breakers
Here is where you decide you either completely agree with my list or stop reading altogether. For every person who flat-out loves this film, there are two who think it's the worst movie they've ever seen. Brilliantly marketed as a fun, party movie with some action sequences, Spring Breakers is actually anything but. Harmony Korine is one of the most daring modern filmmakers working, and he crafts his magnum opus here, exploring the decadence of modern youth and fully utilizing our generation's severe attention deficit to his advantage. Its structure is almost nonexistent, few characters are fully fleshed out, and the resolution brings you anything but closure. However, it is a masterpiece. This is the future of filmmaking. All the recipes for making a "good film" are tossed out the window. In a hundred years, Spring Breakers will be recognized as the defining film of our generation. Give James Franco the Oscar.
6) Prisoners
7) Captain Phillips
8 ) The Hobbit: The Desolation of Smaug
9) This is the End
10) Only God Forgives
—
1) Gravity
Leaps and bounds have been made in cinema when it comes to Gravity. It brings audiences back to a world of "How did they do that?" Riveting from start to finish, Gravity is a 96-minute anxiety attack, a moviegoing experience that should not be missed in theaters. One can only hope that it's reshown in theaters in the future, to remind us how much the cinema was pushed forward. In a world where 3D digital is becoming king, Alfonso Cuaron gives us his finest by truly using it. Your move, Mr. Cameron.
2) The World's End
Award shows be damned! The World's End deserves a place right up with the rest of these great films. Although on the surface it feels like Invasion of the Body Snatchers, the core of End is about friendships and how they change. Simon Pegg's Gary King is a complicated, unapologetic alcoholic with a lot more on his mind, and Edgar Wright's direction is once again fearless, his style one of the most adapted to modern times. A story whose world order constantly shifts but does not skimp out on the goods, The World's End is the best action comedy you will see all year.
3) 12 Years a Slave
One could say 12 Years a Slave was an inevitable Oscar bait movie for 2013, but pigeonholing it like that ignores its power. Never before has the slavery condition been displayed in such a harrowing, unforgettable way. From plantation owners to slave drivers, nobody just falls into their stereotypes. In fact, Benedict Cumberbatch quietly gives a challenging performance as a man who knows better. The justice of the world only slowly pokes its head out in Slave. With a dramatic ensemble few can top (including the Oscar-worthy Michael Fassbender), 12 Years a Slave may be the hardest movie of 2013 to watch, but it is also the most important.
4) Prisoners
5) The Place Beyond the Pines
6) The Hobbit: The Desolation of Smaug
7) Short Term 12
8 ) Captain Phillips
9) The Hunger Games: Catching Fire
10) Don Jon
—
1) Frances Ha
It's kind of odd to me that people have used words like "slight," "little," and "quaint" to describe Frances Ha, because this movie hit me like a ton of bricks. While I'm not necessarily sure being able to identify with a film makes it better, I am sure that Frances Ha's verisimilitude is one of the main reasons it's my favorite of the year. I have never seen a movie that so completely captures the rapturous highs and demoralizing lows of being in your 20s. Telling people you're doing better than you are because you don't want them to think less of you, watching your friends move on while you're still stuck in the same place, figuring out what you want to do versus what you're meant to do, it's all there. Platonic love stories are a rare breed, but watching Frances (Greta Gerwig) try to navigate her changing relationship with BFF Sophie (Mickey Sumner) is funnier and sweeter than anything you're likely to see in standard romantic comedy fare. Gerwig, who once again proves she's among the best up-and-coming actresses in the industry, co-wrote the script with director Noah Baumbach, and the result is, as Frances would say, "magic." And Baumbach's visual feast of black and white photography makes the whole experience something akin to a modern-day Manhattan, by way of Lena Dunham's Girls. (Don't worry, though; although the story revolves around recognizably selfish people, none of them are obnoxiously unlikable.)
In the way it treats its characters, the film also isn't unlike Greenberg, Baumbach's last picture. They're both about being in a specific place during a specific time in your life. However, Frances Ha is a less serious but emotionally richer accomplishment. It's quite sad at times, yet it never loses its "better to laugh than to cry" attitude.
There were plenty of great movies this year with darker heroes, or which reached a bigger audience, or that were more socially charged. But don't think that just because Frances Ha is relatable, that also makes it simple. And if you can't relate to it, don't rule it out just because it's sweet and fun. Sometimes, the best movie of the year is just the one that made you smile the most.
2) Spring Breakers
I'm going to be fairly brief here, since I already reviewed this movie in depth when it came out earlier in the year. Whether you loved Spring Breakers or whether you hated it, chances are you're probably right. Because no matter how you felt about Harmony Korine's ultra-modern fairy tale, the point is that you walked away feeling something.  Brilliant or vacuous, masterpiece or atrocity, there is no film more representative of 2013.
3) Blue is the Warmest Color
It's incredibly sad to think about all the issues inherent in Blue Is the Warmest Color. Sad because they're there, and they're real, but also because they can't help but distract you from how amazing the film really is. Despite all the controversy, this is still a revelatory piece of art. Abdellatif Kechiche is a very good director, and while his style might not be game-changing, his skill with the camera is evident in every frame of this movie. But Kechiche's efforts would be nothing without the work of stars Adèle Exarchopoulos and Léa Seydoux. Blue Is the Warmest Color might be graphic, but I'm not sure its depiction of sex is completely erotic. In fact, most of the physical work between Seydoux and Exarchopoulos feels so intimate, it's actually hard to watch.
And it's not just the sex either; the whole film is steeped in details that seem so personal, its no wonder that some have likened Kechiche's technique to that of a peeping tom. But because Seydoux and Exarchopoulos are so amazing together, because their chemistry is so palpable, you're ultimately able to put the idea of the male gaze out of your mind, and focus on nothing but the breathtaking work of the titanic actresses in front of you. There would be no Blue Is the Warmest Color without these two women, and there would certainly be no Palme d'Or for Blue Is the Warmest Color without them. This is the most realistic, heartbreaking, beautiful love story I've seen onscreen since Eternal Sunshine of the Spotless Mind, and if you can put the controversy out of your mind for three hours, I suggest you do yourself a favor and see it.
4) August: Osage County
5) Before Midnight
6) This is the End/The World's End
7) Inside Llewyn Davis
8 ) 12 Years a Slave
9) Gravity
10) Blackfish
—
1) Spring Breakers
Harmony Korine's visionary (and by miles, best) film offers a hallucinatory take on a generation of which most people too old to be part of it are only tangentially aware, while simultaneously empathizing with, understanding, fearing, and ultimately indicting it for its neon-soaked, hedonistic excesses. The YOLO mentality is put on blast for the bullshit it ultimately is by a film that peels back the wild, drug-fueled fantasies of a life lived eternally on spring break to show four college girls from the mid-South heading to St. Petersburg for a week of substance abuse and (almost exclusively Caucasian) fun, only to find themselves in the clutches of Alien (a masterful James Franco), a drawling wannabe-player in the criminal underworld who's just crazy enough to be dangerous as hell. By reveling in bass drops and blurry late-night teenage dreams, Korine makes the rare movie about youth that actually feels faithful to the lives of its subjects, before plunging it into gloriously phantasmagoric pop-trash insanity. All together, now: Spraaaaang breaaaaak foreeeeevvvverrrr.
2) Gravity
3) Blue is the Warmest Color
4) The Spectacular Now
Easily 2013's most underrated film, The Spectacular Now patiently observes the troubles of moderately well-adjusted teenagers without elevating their relatively small problems to the absurdly operatic or condescending to them with the perspectives of age and hindsight. A burgeoning alcoholic's (Miles Teller) tour of self-destruction is interrupted by a bright young woman (Shailene Woodley) who gravitates first to his outer swell of empathetic, bottomless confidence and later to his sadder underpinnings, and he responds by panicking over whether he's going to ruin her life while trying to make peace with his absent father.  James Ponsoldt's film is graceful without getting pretentious, real without ever being dull, and honest as hell without ever turning his two protagonists into anything other than what they are: bright, uncertain, wary, frightened, excited, horny, lonely, ecstatic teenagers on the cusp of adulthood.
5) Inside Llewyn Davis
At once one of the Coen Brothers' most endearing and most brutal films, their portrait of fictional also-ran folk singer Llewyn Davis (Oscar Isaac) stands among their finest work to date, and offers a portrait of artistic frustration in the face of insurmountable and repeated failure that stays with you long after it ends. Over one biting, cold winter in New York City circa 1961, Llewyn is forced to watch as the "careerists" around him get bigger than him, one by one, as his own career stalls and his life starts coming undone around him. A revolution is coming, one that'll bring sad-eyed folk troubadors like Llewyn into the cultural zeitgeist, but the Coens wisely avoid any easy resolutions, as has been their wont in recent years. Not only are you left to wonder if Llewyn will rise with the tide or be left behind, but by the film's end, you'll find yourself wondering if he even deserves to do so.
6) The Act of Killing
7) Nebraska
8 ) Her
9) 12 Years a Slave
10) Mud