Reviews
Movie review: "American Hustle"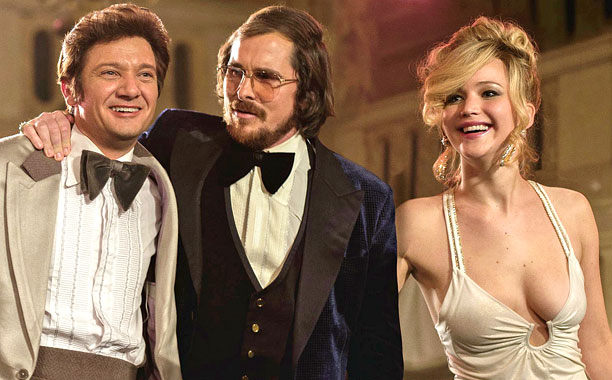 American Hustle dir. David O. Russell
Release Date: Dec 20, 13
1
2
3
4
5
6
7
8
9
10
Looking back on American Hustle, I'm unsure if it has a plot. The film isn't short on action, but David O. Russell's seventh feature has little in the way of narrative structure, an unshapely little bit of screwball sleaze. In the opening credits, Russell tells us, "Some of this actually happened," which is his way of saying aside from the parts we know are true (the FBI did take down a corruption scandal in New Jersey in the 1970s), almost none of it is true. That's because in place of history, we're watching pure filmmaking bliss, a piece of jazz improvisation that speaks more to the way we live than the actual truth. The film's initial script was called American Bullshit, back when it was a blacklist screenplay, but rarely has a lie had the sting of such accuracy.
Russell reportedly all but threw out the original script in order to make the film a showcase for his talented acting ensemble, comprised of his regulars (Christian Bale, Amy Adams, Jennifer Lawrence, Bradley Cooper and Robert DeNiro) and some new faces (Louis C.K., Jeremy Renner, Alessandro Nivola and Jack Huston). The gamble pays off beautifully with a film that's a glorious mess of deliciously fake accents, '70s wigs and low-cut dresses, all made for a cast clearly relishing the opportunity to vamp. The Golden Globes classified American Hustle as a comedy, and while it might not be Anchorman 2, it shares the film's joy for relishing in the period. It's not just a send-up of 1970s excesses. It's a love letter to the con game and what our need for hustling says about us.
One of the film's most admirable aspects is the amount of affection that David O. Russell shows for his stable of characters. In interviews, Amy Adams described Sydney Prosser as the most miserable character she's ever played, but Russell gives the character's demons a soul. Adams is fascinating to watch on screen in the biggest challenge of her career. Aside from Bradley Cooper, who plays a coked-up version of his the manic comic persona he mined in Silver Linings Playbook, everyone is playing against type. Instead of demure nuns and Disney princesses, Adams is all legs and ambition. Christian Bale puts on weight, rather than losing it, with a paunch as big as his combover. And Lawrence is as vibrant as Katniss Everdeen is restrained.
Each actor gives a performance that (sometimes literally) threatens to burn down the house. The most obvious scene-stealer is Jennifer Lawrence, whose tortured housewife is a delight simply because she lives the con; she's not faking anything. Every time she's onscreen, you have no idea what she might do next. The same could be said of the whole film, which feels frighteningly alive, as if it were all taking place in the moment. Russell wrote the scenes with his actors as a way to create dialogue that specifically catered to their needs and strengths, which is why the movie often doesn't feel like it exactly goes anywhere. This is an actor's movie in the most basic sense of the word, a director paying back the actors who have helped reignite his career by giving them the roles of a lifetime.
Russell himself has never been better, and American Hustle plays like a highlight reel of everything the director does best. The film combines the uncanny timing and knack for overlapping dialogue Russell showed in Silver Linings Playbook with the political satire of Three Kings. We have just a touch of the madcap manic energy of Flirting with Disaster and the underlying philosophies of I Heart Huckabees, which (like American Hustle) was about people who con themselves to give their life meaning. Hustle, the director's first outright masterpiece, is the perfect punctuation on the first two decades of his career, one of an American auteur who has finally lived up to his promises of greatness.
I can't wait for what's up his sleeve next. To paraphrase Christian Bale's Irving Rosenfeld, it'll have to be the best he's ever done.