Reviews
Movie Review: The Fighter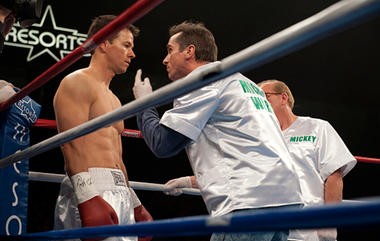 The Fighter Dir. David O. Russell
Release Date: Dec 10, 10
1
2
3
4
5
6
7
8
9
10
The Fighter isn't anything new. As far as boxing movies go, it's been done before. It's a good old-fashioned underdog story, and is all the better for it. Somehow, despite its familiarity, The Fighter is not just good, but great.
The story revolves around real-life boxer "Irish" Micky Ward, played by Mark Wahlberg, who rose from humble beginnings as a stepping stone for other boxers to a contender for the world light welterweight title in the 1980s. Although Ward had it tough in the ring, the most tumultuous parts of his life occurred outside of it, chiefly in the struggles he went through with his family. And what a family they were. Brawling, swearing, and drinking, Ward's Lowell, Massachusetts family walk around like white-trash superstars, none more so than Ward's brother and boxing trainer Dicky (Christian Bale.)
It's no secret by now that Christian Bale steals the show here. The pundits have it right, and barring an act of God, he'll go home with a Best Supporting Actor Oscar this year. His Dicky is like a feral animal. Since Dicky is on crack most of the movie, this isn't a big surprise, but even when Dicky is clean, there's a jittery ferocity to him. Dicky used to be the pride of his lower-class town, with a budding boxing career of his own; now his brother is the rising star, and Dicky's only chance at redemption. It's truly a tour de force performance from Bale. For an actor who's usually so restrained, it's nothing short of breathtaking to see Bale transform into Dicky. Even as Patrick Bateman in "American Psycho," Bale was a remarkably put- together sociopath. Here, Bale not only looks different physically, but has given himself to Dicky on every level. There's no trace of his usual stoic tough-guy persona. Instead he's wild, frail, and desperate. It's a career highlight for Bale, and one of the best performances in any movie this year.
Wahlberg as Micky, by contrast, is the epitome of understated. He's as passive as a lead character can be, and only when Micky starts to step away from his family and out from his brother's shadow does Wahlberg really get a chance to shine. Just as Micky had to gain distance from Dicky to become a great fighter, Wahlberg shines brightest when he's removed from Bale. However, towards the end of the film Bale and Wahlberg share a few moments that are as tender as the rest of the movie is ferocious; it's a marvel to behold.
Not to be outdone by their male costars, Melissa Leo and Amy Adams also do fine work. Leo plays Alice, Micky's batty and sometimes outright despicable mother. She's almost as powerful as Bale, and the way she balances being disgusting and extremely fun to watch is uncanny. Adams plays Micky's girlfriend Charlene, in a surprisingly convincing turn. Adams is devoid of her usual sweetness, and somehow, despite her beauty, she manages to play rough around the edges very well. She's as convincing a Lowell resident as anyone else in the film.
David O. Russell, who directed the movie, is notorious for being temperamental, so in a sense it's a wonder that The Fighter even got finished, especially when one considers Bale's on-set reputation. However, Russell delivers a comeback as big as Ward's with The Fighter. His directing shifts back and forth between loose and controlled. Early on in the movie, a film crew follows Dicky around for a documentary about crack. It's a fascinating subplot, and in a sense might have made for just as good a story as Ward's rise to the top. However, much of Russell's brilliance stems from his ability to transfer the rawness of the documentary into the everyday interactions of the characters. Russell's other genius decision was to shoot all the boxing matches in the style of actual fights. Watching all of Micky's bouts, one gets the emotional impact of a great drama with the look of a great sporting event.
The Fighter is a powerful punch to the senses. It's a familiar story, yet its tenacity prevents it from ever feeling old. Great performances and fantastic directing turn this underdog into a real contender.