Music
Second Listen: Zeppelin's "Coda"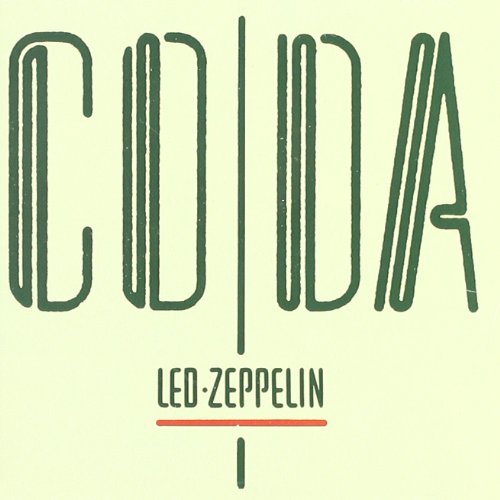 Every week in Second Listen, Frank Macarthy takes a closer look at some of the lesser-known albums put out by legendary musicians.

"Good evening."
That's how a clearly intoxicated Robert Plant greeted a sold-out Royal Albert Hall in 1970. No flashy light show. No pyrotechnics. No bedazzled dragon leather jackets. Well, at least not yet. Plant welcomed his audience to the first recorded Led Zeppelin performance with a simple salute and a song that no one would hear again for twelve years, live performances aside. After the passing of John Bonham, Zeppelin released an album of previously unreleased studio recordings entitled Coda. After eight studio albums and the recognition of practically everyone who has ever listened to music, Zeppelin capped their career with this collection of tracks they have kept hidden since their inception. But, do these recordings resonate as a final opus for a band that has been credited for the evolution of rock n' roll, devil worship, and Lord of the Rings fanaticism? I'd say so.
Led Zeppelin first made their presence in 1969 with the debut of Zeppelin I. The recordings were raw, the production was poor, and the songs were hijacked. Lyrics and riffs were ripped from blues legends such as Willie Dixon and Booker T. Jones, but it didn't matter. Zeppelin I was the new face of rock n' roll, and in the same year Zeppelin II was released with similar praise. All that was left for the four British boys was to prove themselves live, and few performances have been caught on film that can rival Zeppelin's performance at the Royal Albert Hall in the winter of 1970.
According to Zeppelin, "unreleased" only meant unreleased as a studio recording. Several of the tracks "released" on Coda were previously performed at live shows, but two tracks from the Royal Albert Hall show laid the groundwork for Coda: "We're Gonna Groove" and "I Can't Quit You Baby." The vocal tracks for both songs were stripped of their instrumental and audience accompaniments in order to force a studio feel. Don't worry, though, Zeppelin makes this forceful encounter a painless one.
Coda was immediately met with hesitation. The loss of Bonham and the lack of "new" material put off many listeners and fans. Overall, Coda has often been forgotten or overlooked by the music community as nothing more than a lazy attempt at milking every last penny out of the Zeppelin name. But this is not the case. Everyone plays the part they were handed: Plant's vocals are at the forefront with a level of emotion that would make a porn star uncomfortable, Page is not far behind with riffs that make guitar players around the world angry they didn't think of them first, Bonham proves the importance of a drummer that can kick the shit out of his drums, and Paul-Jones takes a backseat while somehow simultaneously driving.
Admittedly, "We're Gonna Groove" is my all-time favorite Led Zeppelin song. The fast-paced, power chord driven track is like a Sega Dreamcast: too far ahead of its time to garnish any credit for its influence. And in keeping tradition with Zeppelin albums, "I Can't Quit You Baby" is not their own song, but a cover of an old Otis Rush song originally written by Willie Dixon. Plant's vocals here outshine everything else; the live energy from the Royal Albert Hall performance remains unscathed. "Poor Tom" gives listeners a taste of what Page did best: play acoustic guitar. Yes, he was known for electric. Yes, he probably played more double necked SG's in his life than acoustic guitars, but his acoustic work has always been intricate and innovative (if not a chore to recreate–see "Bron-Y-Aur Stomp"). Even without an amplifier to cover his mistakes and sloppiness (a good kind of sloppiness, mind you), Page was able to harness the collective energy of the group to turn an unplugged song into a rock song.
Some of the tracks, especially "Walter's Walk," revive the flashy, bedazzled, money-hungry, dragon-jacketed Zeppelin that no one misses. Or at least no one should miss. Anyone care to admit that In Through The Out Door is their favorite Zeppelin album? Didn't think so. But what Coda does is ease that style down the throat of Zeppelin I-IV fans without force-feeding them a collection of tracks written for a paycheck and nothing else. Is "Bonzo's Montreux" the new Moby Dick? No, it isn't. Is "Bonzo's Montreux" a great example of why Bonham remains one of the greatest drummers in rock history? Yes, it is. The track suffers from a bit of repetition, but Bonham's room-filling sound and complex style keeps the song moving. And remember, Bonham's son is better than him.
Maybe they were fulfilling a contractual obligation with their record company, or maybe they were doing what they thought would keep them relevant in the ever evolving definition of rock 'n roll. Whatever the reason for its release, Coda gives Zeppelin fans another taste of why this super group will never fade into the ether of rock 'n roll oblivion.