Music
Second Listen: "Cut The Crap"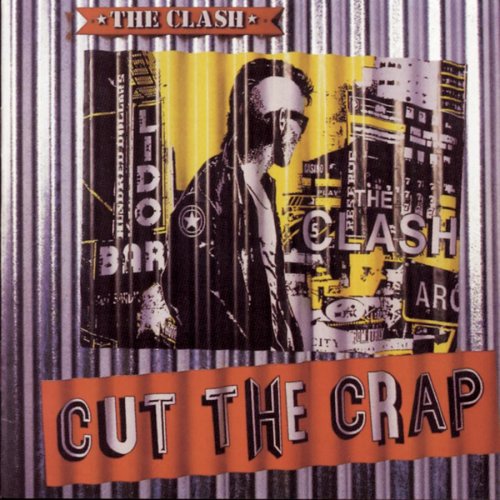 Welcome to a new weekly column at Heave, Second Listen, in which Frank Macarthy look back at seminal artists' lesser-loved records and considers them for their modern-day merits.
On a cold and rainy night in the New York borough of Queens, a coonskin-capped Joe Strummer led "the only band that matters" through their final live set as a complete band, sans their drug-addicted drummer Topper Headon. It should've ended there, but it didn't. After the politically-charged firing of Mick Jones, The Clash lost their only talented musician and thus their direction as a band. Then came Cut the Crap. You can imagine where it goes from here.
Throughout the late 1970s, punk rock was dominating the music scene. A small garage rock band, The Sonics, influenced the birth of a group of four Peruvian anarchists known as Los Saicos. Their sped-up, power chord-structured, politically-driven songs are considered to be the first traces of punk rock. From there, bands such as Death, The New York Dolls, The Sex Pistols and The Clash have all been awarded the punk rock patch to be ironed on their jean vests. But, almost as quickly as punk killed disco, post-punk and new wave stabbed it in the back. No genre has been more short-lived or overlooked than the original punk movement. The only outlets that exist anymore are in the basements of bars or the garages of suburban teenagers with authority problems. Once respect left the genre, more "grown-up" and adult music became the new trend.
Without punk at its peak, Joe Strummer and Paul Simonon (as The Clash) transformed their raw, energetic, emotional music with a purpose into what they thought was music's new direction. In an attempt to stay relevant, they sold out. Imagine your dad buying a Blackberry and a Zune in an attempt to stay "cool." But, instead of a behind-the-times smart phone and a culturally irrelevant MP3 player, Joe and Paul adopted synthesizer riffs and a pop beat. Originally, Cut the Crap was met with scathing reviews from both critics and Clash fans. The album was marked as a desperate attempt by a man too old to call himself an anarchist to reclaim the punk throne that once belonged to him. Critics lined up each track against a brick wall mortared with memories of punk past and shot them all down, firing line-style. The single, "This is England," was the only track on the entire album to receive some praise, but a second listen begs the question: "Why?"
The first track, "Dictator," reminds listeners of everything that was wrong with 1980's rock n' roll, if you can call it that. Cheesy effects, electronic drums and synthesized instruments are peppered throughout the entire album in what I can only assume is some kind of elaborate prank pulled by Strummer. Calling this a Clash album is like calling a band without Dennis DeYoung Styx. Wait…
The Clash were never overtly subtle in their lyrics, but they were never lazy either. Cut the Crap is not only lazy lyrically, but musically as well. Strummer is clearly missing Jones on this particular album. Their seemingly conversational guitar parts are absent here, and Strummer's influence bleeds through every instrument without a Mick Jones leash to ground him. The Clash died on that fateful night in 1982, but their resurrection was far from immaculate. "Dirty Punk" is one of the few listenable tracks on the album, but is still missing the classic Clash energy that was behind albums like London Calling and Give 'Em Enough Rope. Any thread of hope or trace of what used to be is quickly thwarted by generic song constructions and silly, sing-songy harmonies. "We Are the Clash" has the energy of a midlife crisis rock group attempting to cover a Clash song (not to mention that the title of the song is a complete and utter lie).
The major problem with Cut the Crap is that it comes off as an album recorded only to appease Strummer's ego without any consideration for the weight the Clash name carries. Instead of trying to reach out to their already established fan base, they wanted to expand their listener base, something any band should consider but be wary of. This record company tactic not only alienated their adoring fans but turned away any potential fans. After a few "acid years," Strummer once again breached the placid waters that punk had become with a solo career that Clash fans and non-Clash fans alike can accept. But, in between Cut the Crap and the solo career (including a solo album and an album with the new band The Mescaleros), Strummer hid behind a mixing board and a copious amount of drugs. Maybe Cut the Crap spiraled Strummer into a musical depression. Maybe he was tired of being a punk rock warlord. Maybe he just really liked acid. Either way, Cut the Crap was, and still is, shit.
Do yourself a favor and follow my lead: forget this album ever happened. Hell, follow The Clash's lead. They've never included tracks from Cut the Crap on any definitive Clash collection or best-of album. Now pardon me as I go pray at the altar of Strummer for forgiveness, even though he's the one who owes us the apology. We miss you, Joe.