Culture
The Hipster's Cookbook: Rhubarb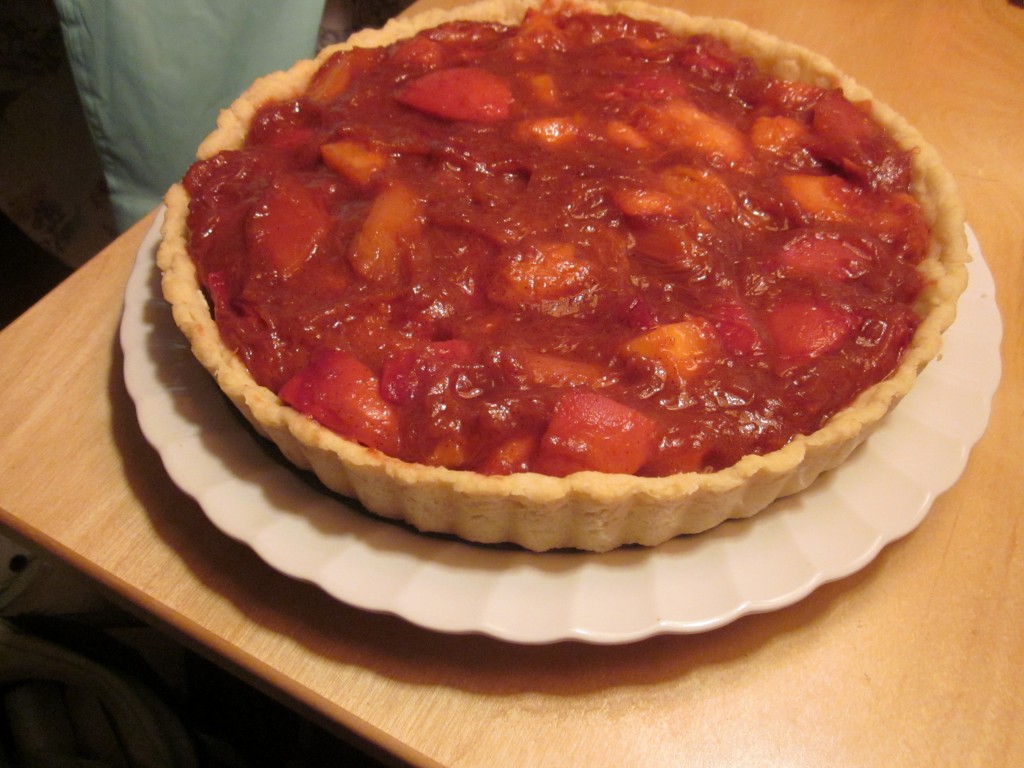 Every Tuesday in The Hipster's Cookbook, Meghan Bongartz teaches you how to make delicious food on a tight budget.
I had this week's column all planned out before last week's even went to post. It's easy to decide things ahead of time when I'm guaranteed to have a refrigerator full of more or less the same overabundance of greens that I've had for the past two months. But then I went to a farmers market over the weekend, and there was rhubarb, and everything changed. I'm incapable of resisting fresh fruit to begin with (although if we want to get technical about it, rhubarb is a vegetable), and it just looked so wonderful. I think the fact that there were strawberries sitting out next to the rhubarb may have influenced me a bit, too. Strawberry rhubarb pie is popular for a reason: it's fantastic. In the end, though, I opted to pair it with peaches instead for two reasons. One is that I know I'll have a million strawberries in a couple of weeks because it's the one fruit that I get with my CSA share, meaning that I'll probably make strawberry rhubarb pie then. The other reason is that I bought a proper tart pan a couple of months ago and had yet to use it. It was taunting me. And peaches somehow seemed to fit the tart bill better.
A few words on tart crusts. Tarts are kind of like pies, but are made in a shallower pan, and therefore require far less filling. This means that using a quality crust is much more important because it plays a larger role in the end result. For this tart, I used the all-butter crust that I use for most pies. I think a flaky, not-overly-sweet shell complements the richness of the fruit compote and tanginess of the goat cheese perfectly. The key to using this crust is to make sure that you chill it in the pan for at least 30 minutes before baking to make sure it achieves the desired texture. If flaky crusts just aren't your thing, look into making a shortcrust, which has more of a cookie-like texture and is difficult to mess up. I don't recommend using a store-bought crust for a tart. Most store-bought crusts come already fitted to a pie tin, which will make it difficult to transfer to a tart pan, and the quality just won't be as good. If you don't have a tart pan, the better option is to purchase puff pastry, roll it into a thin square, and place the cheese and fruit in the center (leaving a border at the edges) before baking. This will create a very different kind of tart, but it will still taste good.
——
Rhubarb, Peach & Goat Cheese Tart
1 pre-made pie crust
3 cups rhubarb, chopped into large pieces (5-6 large stalks)
½ cup light brown sugar, firmly packed
1 vanilla bean, seeds scraped or 2 tsp vanilla extract (vanilla extract is much less expensive – I just happened to have a vanilla bean that was taunting me along with the tart pan)
1 tsp cinnamon
2 cups peaches, chopped into large pieces (about 3 medium sized peaches)
2 tbs water
8oz goat cheese (room temperature)
1) On a floured surface, roll out the pie crust to a circle 14" in diameter. Transfer it to a 9" tart pan with a removable bottom and press the dough firmly into the bottom and sides of the pan. Trim the overhanging edges, and use the excess to reinforce the sides of the crust, using your fingers to press the two layers of dough together into one double-thick one. Place the crust in the refrigerator to chill while making the filling.
2) In a large saucepan over low heat, combine 2 ¼ cups rhubarb, brown sugar, vanilla, and cinnamon. Stir to combine. Cover and cook without stirring for 15 minutes, until the rhubarb has broken down.
3) Increase heat to medium, add remaining rhubarb, peaches, and water, and cook, stirring occasionally, for 6-7 minutes longer – just long enough for the rhubarb pieces to lose some of their sour edge.
4) Remove from heat and allow to cool completely. If you used a vanilla bean, remove the pods and discard or set aside for later use.
5) While the filling is cooling, preheat oven to 375 degrees. Line the inside of the tart crust with aluminum foil so that the foil is pressed tightly to the bottom and sides. Fill the tart pan with pie weights (uncooked rice or dry beans will also work if you don't own pie weights), making sure that they reach all the way up the sides of the pan.
6) Bake crust at 375 degrees for 20-22 minutes, or until the foil comes away from the crust easily. Remove foil and set on a wire rack to cool for 10-15 minutes.
7) While the crust is still slightly warm (but no longer hot), use a spoon to spread the goat cheese in an even layer on the bottom of the tart crust, making sure to bring the cheese all the way to the sides of the crust. Spoon the fruit filling over the cheese layer, using the back of the spoon to smooth it into an even layer.