Culture
The Spinning Lariat: On a Rampage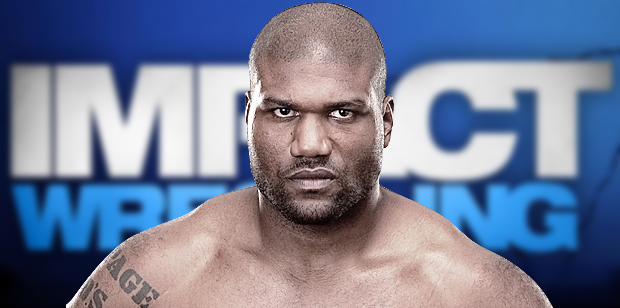 Every Friday, The Spinning Lariat brings you Trent Zuberi's observations on the latest developments in America's other major wrestling promotion, TNA.
About 10 years ago, the phenomenon known as Mixed Martial Arts (MMA) began a resurgence than many didn't see coming. Led by the Ultimate Fighting Championship, or UFC as it's commonly known, the MMA industry was on a steady path to becoming the biggest and most popular combat sport in not only North America, but the world. But who had that distinction before? Who was knocked off the podium as a result of the rise, you ask? None other than professional wrestling. I know what you're thinking. How could a scripted sport even be in the same category? Well, people grew up, got angrier and thought "hey, why watch fake fighting when I can see the real thing?" Unfortunately, the hit began to show really quickly. Ratings dropped, admittance to watching waned and what once was a sea of Austin 3:16 and nWo t-shirts was replaced by Affliction and Ed Hardy.
For years the professional wrestling industry tried to find ways to capitalize on this phenomenon. They incorporated a more "shoot" style, and submission moves changed to meet the "tap out" MMA fashion. Hell, Brock Lesnar even left the WWE and later pursued a very successful MMA career, only to return as even more of a household name with a higher value than he left with. As the years passed, MMA continued to grow as wrestling got comfortable in its back seat. Later, with many professional wrestlers openly admitting what fans of MMA they are, writing teams encouraged the use of MMA-like moves in matches…with scripted effects of course.
Some of the biggest news to rock both industries this week was the signing of MMA and film star Quinton 'Rampage' Jackson to not only Bellator MMA (the second largest MMA promotion in the USA), but also to TNA Impact Wrestling. Now, how exactly did that happen? Both shows are on SpikeTV, who also have a vested interested in the product, so money is thrown around accordingly. Rampage is a huge star. It was a big enough deal that he was jumping to Bellator, but with TNA as part of the mix it only ups the intrigue and lends TNA a wealth of crossover appeal.
About a year back TNA tried something similar by hiring King Mo, another MMA standout, who might have jumped the gun on his wrestling dreams. His lack of development and character progression caused him to never be fully accepted by the TNA crowd. But Rampage is another story. He comes here as one of the best fighters in history, who always wanted to be a professional wrestler.
He debuted on Impact! last night, and I believe we're off to a great start, because his first standoff was with none other than one of the greatest of all time, Kurt Angle. The banter back and forth was great, and they both furthered the story well. Rampage looked comfortable and did well playing the part of the new guy with a reputation coming into a new house and trying to stand his ground. I can see this becoming a very good feud down the line.
Rampage's signing really is a huge deal. It's very rare for top-tier MMA guys to jump companies, let alone co-sign with professional wrestling companies, and the ridiculous amount of buzz generated since the announcement has been fantastic for TNA. He will further his pro wrestling training at TNA's official training facility in Louisville, KY, and be brought up for a program when he's ready.
(Questions, comments, feedback? Please feel free to contact me at trentzuberi@gmail.com)