Culture
The Spinning Lariat: Happy Slammiversary!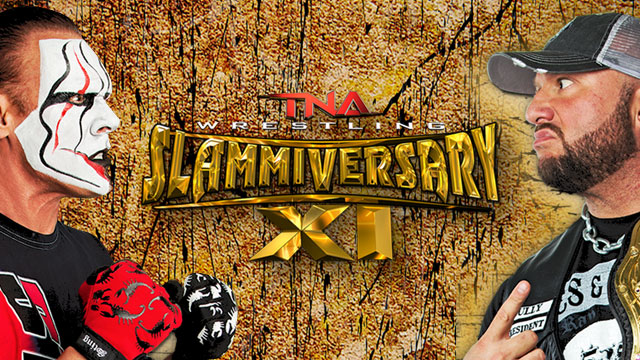 Every Friday, Trent Zuberi runs down the latest developments in America's other major wrestling promotion, TNA.
I still can't believe it's been 11 years. I've now been watching TNA Impact Wrestling for 11 years. The thought of that boggles my mind. I was just a few months shy of turning 21 when the company debuted, and that honestly seems like a lifetime ago.  In the world of wrestling, time goes by very fast, and it seems as though moments become classified as "history" mere days after occurring. With that in mind, 11 years seems like an eternity. I cannot even begin to tell you how much I have enjoyed the run thus far, and how much fun it has been to be an original fan and see this small company become the second biggest wrestling promotion in the world. I'll admit something right now that might either impress the readers or completely turn them away from me for the utter fandom involved: In 11 years, I have not missed a single minute of broadcast material that TNA has put out. That is a lot of television. Now, before you all go jumping to the typical conclusions attached to such a statement, I want to point out that I've had full-time relationships, jobs, school and a very active social life during this time. The key of balance, people. The key of balance.
On Sunday, June 2, TNA will present Slammiversary, their annual celebratory pay-per-view event, the third of the "big four" they do every year. This year, the event is hailing from Boston which is a great wrestling town only further confirmed by the fact that this is one of the fastest-selling gates in the company's history. The card is as follows, along with my commentary on each match.
WORLD HEAVYWEIGHT CHAMPIONSHIP: STING'S LAST SHOT
"The Icon" Sting vs. Bully Ray of Aces and Eights (champion)
The culmination of a year-long storyline between the two is finally coming to a head. It's the final chapter in this story. Many were complaining of Sting getting the title shot over a younger talent who needs the rub more, but from a storyline continuity perspective the matchup makes complete sense. And to his absolute credit, Sting is and has always been one of the most adaptable wrestlers in history. I've never seen a bad Sting match, ever. Lest I forget, Bully Ray has the distinct ability to make any match he's in seem like the most important match in the history of wrestling. The heat between the two is there and it all makes sense. I don't see the title changing hands, but I do see this being a good thing for Sting's return to main event competition.
AJ STYLES VS. KURT ANGLE
It is very clear that through this feud with Angle and the Aces and Eights, AJ Styles is being built as the lone savior come Bound for Glory in October. This match is perfectly placed and set in such a way that way that it brings AJ back into a top spot but also gives the crowd a stellar matchup.
FOUR-TEAM ELIMINATION TAG TEAM CHAMPIONSHIP
Chavo Guerrero and Hernandez (champions) vs. Christopher Daniels and Kazarian vs. Austin Aries and Bobby Roode vs. "Cowboy" James Storm and Gunner
One of the strongest mid-cards in wrestling history, all in one spot and all in one match! I recently did a piece on the guys involved in this match, and one of the things I mentioned was that despite who's on the top of the card, no promotion can survive without a strong foundation such as this. I honestly feel that this match is going to steal the show.
JEFF HARDY RETURNS
The Aces and Eights vs. Magnus, Samoa Joe and Jeff Hardy
This is a perfect way to not only bring Jeff back in, but also give the rub to Joe and Magnus to further establish them a bit more.
TELEVISION CHAMPIONSHIP
Joseph Park vs. Devon of Aces and Eights (champion)
The work that Chris Parks has done portraying Joseph Park has been one of the best things on my screen every week. He has been absolutely brilliant, and the perfect guy to have on TV. I'm predicting a title change on this one.
ULTIMATE X: X-DIVISION CHAMPIONSHIP
Suicide vs. Kenny King (champion) vs. Chris Sabin
This is an Ultimate X match. For those who haven't seen one, do yourselves a favor. It is one of the most high-risk-yet-extremely-athletic contests that no mere written explanation. Sabin and King have great chemistry together as well, and the character reboot of Suicide is very good thus far.
KNOCKOUTS MATCH: LAST KNOCKOUT STANDING
Gail Kim vs. Taryn Terrell
With the limited time they're given each week, they've proven themselves more than enough to justify this match being on the show. Fantastic work from both ladies on this one. I feel that the match is going to be great as well because of the chemistry between the performers.
GUT CHECK TOURNAMENT FINAL
Jay Bradley vs. Sam Shaw
I love seeing these two being on the show. It is the sign that developmental has concluded that they are ready for the main roster. It is a great step in the progress of new young talent. And hey, Jay Bradley's from Chicago, and this website is Chicago-based, so let's cheer on a local boy.
Happy Anniversary, TNA! Here's to the next 11 and beyond!
(Questions, comments, feedback? Please feel free to contact me at trentzuberi@gmail.com)