Culture
The Spinning Lariat: Detroit Muscle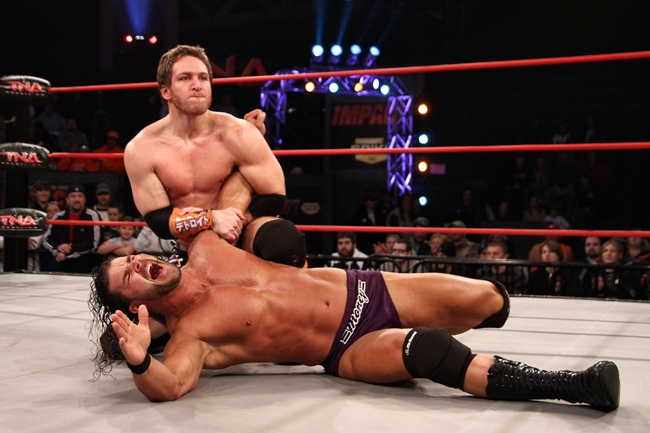 Every Friday, Trent Zuberi runs down the latest developments in America's other major wrestling promotion, TNA.
Being from Chicago and writing an article called "Detroit Muscle" in the week where the Chicago Blackhawks just lost two straight playoff games to the Red Wings is probably a pretty bad idea. I'm sure based on title alone it evokes mounds of anger. But have no fear, hockey fans, this has nothing to do with you! This one is for the wrestling nerds in the audience. Me personally, I like sports, but if it doesn't have a predetermined finish, I ain't interested.
Chris Sabin is awesome. He's from Detroit, and the guy is incredible. Sabin is a TNA original, having been with the company since 2003, and quickly became a breakout star to watch in not only the infamous X-Division (no limits, high-flying) but also the tag team division, with the equally great Alex Shelley. I remember his TNA debut and my friend and I not liking him because we felt he was too pushy to get his moves in and ultimately slipped on the top rope. We dismissed him right then and there. Wrestling fans are such fickle people. It took a little bit before he was in our good graces, which wasn't hard since he gave consistently amazing performances, but at the time of that debut, no dice. Who knew all these years later I'd be writing about him.
Imagine tearing your ACL. Sucks, right? Imagine rehabbing that mother for a year, coming back for a cup of coffee and then tearing the OTHER ACL. This is exactly what happened to Chris Sabin. For him to lose two prime years of his career in such a manner is devastating. Truth be told, I missed the guy. The last time we saw him, he was one half of one of the most fun and innovative tag teams of my lifetime, the Motor City Machine Guns. Injuries and contract talks broke the team up, and we only saw very sporadic updates on Sabin until he finally returned full-time just a few weeks ago.
I, for one, was very happy to see him back. Along with newly rehired former X-Division stars Sonjay Dutt and Petey Williams, the company is slowly rebuilding the division that was so critical in its growth and future during its early years. What I love is that Sabin has been thrust right into the main X-Division program with current champion Kenny King. He has a great (real) story to go right into this with, which is what makes the whole segment even more fun to watch.
I love that since his return, TNA has found great ways to feature him regularly. This week's episode had him run into James Storm in the locker room and petition him to pick Sabin to be his tag team partner. Storm politely turned down the offer, but not before running down the accolades of the feuds their former teams had with each other. Storm later elaborated on why he won't pick him, telling Sabin that he has something more important to focus on: the X-Division Championship, for which Sabin has a match at the Slammiversary pay-per-view in a few weeks. Storm really put a lot of importance on Sabin's program, while at the same time running off a list of accomplishments to give credibility to those new fans who might not who he is.
To a normal viewer, that little exchange isn't anything more than your simple backstage skit, but the amount of psychology involved in it makes it magical. In the matter of a single minute Storm was able to put over his match, Sabin's match, their history, the championship, and Sabin's potential future. I watched this and was immediately impressed by how he plugged so many things and made it look so casual. If there was still anyone out there that had any doubt about Sabin on his new run, rest assured that James Storm took care of that.
I'm very excited to see what the next stage is for Chris Sabin. The vote of confidence is behind him from his creative team, as he is in one of the featured contests at Slammiversary, on June 2 from Boston. TNA is also continuing to honor the option where in July the current X-Division champion can relinquish his title in exchange for a shot at the World Heavyweight Championship. I loved this idea when it was introduced last year, and when Austin Aries did just that and instantly went from the mid-card to the main event, I constantly wondered who the next in line was for that elevation. I think its Chris Sabin's turn.
(Questions, comments, feedback? Please feel free to contact me at trentzuberi@gmail.com.