Culture
The Spinning Lariat: Stuck in the mid-card with you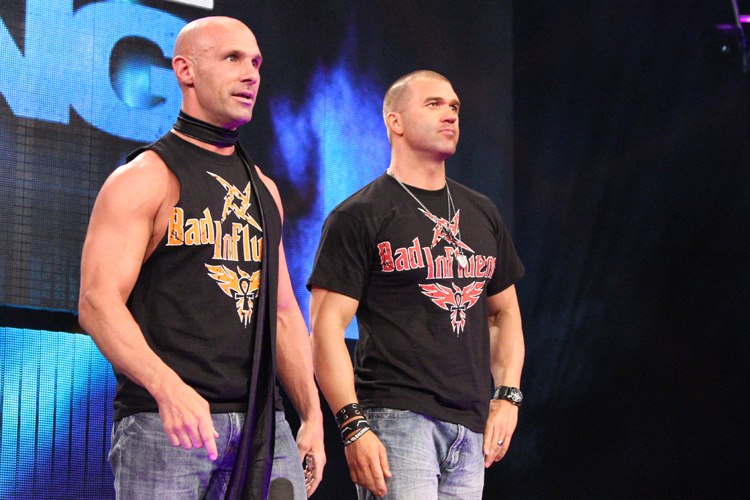 Every Friday in The Spinning Lariat, Trent Zuberi breaks down the latest in America's other major pro wrestling company, TNA.
"Clowns to the left of me, jokers to the right, here I am, stuck in the middle with you."
The band Stealers Wheel made that line popular in 1972 with their hit "Stuck in the Middle with You," but when I watched Impact Wrestling this past week, it resonated all too closely. How is it possible for lyrics from a 41-year-old song to even remotely be connected to professional wrestling, you ask? Aside from the fact that the circus-like world of professional wrestling is filled with characters such as clowns and jokers alike, I find a certain group of stars essentially stuck in the middle with them. Bobby Roode, Austin Aries, Christopher Daniels, Frankie Kazarian and James Storm are in the center ring of the TNA circus. These five individuals are in, quite possibly, the most critical spot on the TNA roster, and the future of the company completely rests on their shoulders whether anyone involved knows it or not. No pressure or anything.
Hands down, these five are the best talents TNA Wrestling has. Amongst them, three have been World Heavyweight Champion, three have been X-Division Champion and all of them are multiple-time Tag Team champions. They always have the best matches/segments of the night, and since the five have been in programs with one another, have been all the buzz come Friday morning as headliners of the "did you see what those guys did/said?" category of watercooler talk.
However, here's the dilemma: none of them are currently involved in main event programs right now, but instead are stuck in the middle of the card. At any given time, any combination of these five should be your main focus in TNA, but for some reason are regulated to tag teams and add-ons in the midcard. The first part of the shift made perfect sense. Daniels and Kazarian transitioned into the tag team division based on their storyline conclusion from last year, while Roode and Aries had runs as World Heavyweight Champion with James Storm being a major presence throughout. Then the reset button was hit, and out of nowhere you had Roode and Aries teaming up and James Storm going from being a main-eventer to being lost in the shuffle.
All that being said, despite the pullback on their pushes, these five have owned their current roles like the champions they are. Honestly, if you haven't seen the wild antics of Bad Influence (Daniels and Kazarian), you're depriving yourself of hilarity that could make the devil himself laugh. Roode and Aries found a chemistry to play off each other that I don't think they even knew they had, and James Storm's ability to connect with a crowd at any given time makes you love his every move, no matter if he's tying his shoes or kicking people in the face.
However, here's where the problem lies. This past week's episode of Impact Wrestling featured a segment where all five of these superstars were brought into a storyline. Bad Influence has been feuding with Roode/Aries for a few weeks now, but the involvement of James Storm was officially added this week as he guest refereed a match between the teams. The question I have is why these guys are here and not at the top of the card? These five owned TNA in 2012. They were a big part of why 2012 was one of the most successful years in TNA history, so why not continue that formula? Now I understand that you need a strong mid-card to make a successful wrestling show, I get that, but if these guys had already graduated to the top of the card and proven their worth, why not keep them there and elevate another group to be your powerful mid-card? Instead, we have Sting in the main event of the upcoming Slammiversary pay-per-view. Let me just clarify that I love Sting. He is one of my all-time favorites. I even grew my hair long because of him, and when I met him a few years back I, a grown goddamn man, told him that I had been a "Little Stinger" for over 20 years. Go ahead, laugh, make fun, it's still real to me damnit. Fanboying aside, I just think that when you're sitting on talent like these five stars, a 54-year old Sting should not be your main event.
Which makes me pose the question; what are the bookers afraid of? In February, when then-champion Jeff Hardy couldn't make the UK tour, they set up a match between him and Christopher Daniels for the world title. It would have made so much sense and been a great story if they shifted the title to Daniels at that time. Not only would the champion be on the tour then, but it would also be a token of thanks to a guy who has been there since day one and never worn the title. They could have easily written it back to Hardy after the tour, but no, they played it safe and didn't take the chance. What's the fear of giving the main focus to these guys? You can keep other stars strong but make these guys your permanent main even fixtures, instead of shifting them between the top and middle of the card. Let these guys loose. Let them dominate the show. The only way to make these stars into household names is to give them the ball and let them run with it without detraction. In all the times they've been given the top spot, they've proven that they can carry the show, so why not put the entire company behind them and let it rip?
Former NWA World Champion Harley Race once said that in the wrestling business, you can never stop talent. I totally agree with him. These five will dominate the card again, it's only a matter of time. The way they have taken their current roles and turned them into such an attraction proves that no matter what you put in front of them, they will succeed. In the meantime, check out these videos for a couple of examples of how well these guys work together.
http://www.youtube.com/watch?v=JkJU6klnz7A
http://www.youtube.com/watch?v=uxq8oQW7uJ8&feature=youtu.be
(Questions, comments, feedback? Please feel free to contact me at trentzuberi@gmail.com)