Culture
The Man Who Invented Beer: The Name is Amber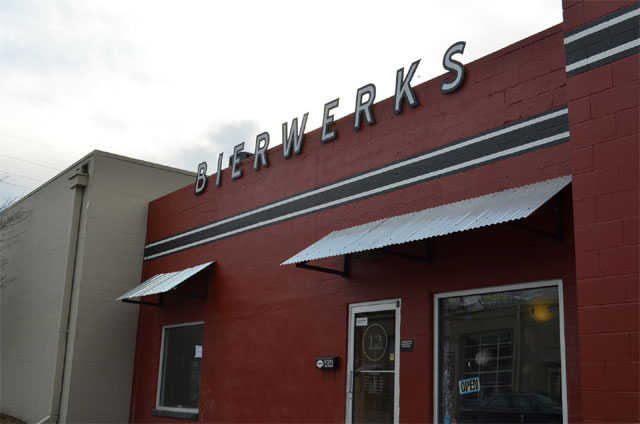 Every Wednesday in The Man Who Invented Beer, Adam Cowden gives you the rundown on the latest in craft beer, with a history lesson for extra flavor.
Well guys, I'm in Florida this week. It's the land of sunshine, old folks, and Corona. Needless to say, I've been more concerned with tending to my soon-to-be-cancerous sunburns than with hunting down new craft beers. BUT…I'm taking a break from the sun to write up a beer that I have notes on from a few weeks back: the garrulously-named "Hello My Name is Amber" from Flat 12 Bierwerks.
What's the story?
Other than the fact that it's located in Indianapolis, information on Flat-12 Bierwerks appears scant. Here's what we do know: they're fairly new to the scene (2010), just started distributing outside of Indiana in 2013 (Nashville is their locale), and offer "balanced, clean, flavorful beers with a unique twist." A quick perusal of their website reveals that master brewer Rob Caputo was an art major in college who "finds beauty in discipline," "doesn't like overt flavors and styles," "loves porters" and "experimenting with herbs, spices, and other flavors," and "likes well orchestrated subtlety." The brewery boasts a pretty sizable number of varieties and appears to have a penchant for gleefully wacky takes on traditional styles; Tangerine Porter, Cow Tipper Bourbon-Barrel Milk Stout and Grandmas Glazed Ham are just a few of the more outrageous names you'll find among the bunch.
Why should I drink it?
The company is named after the flathead 12-cylinder engine, which is cool if you're into cars. Hops lovers take note: they also appear to be hop fiends, as they call their followers "hopstars" and prefer "clean" beers. These guys are also a small, relatively new operation, and it never hurts to spread good karma by helping out the little guy.
What does it taste like?
Bitter, bitter, bitter. My immediate thought was that the sensation was almost exactly the same one I get from drinking orange juice right after I brush my teeth. The beer does look and smell nice, though. It pours a deep, crystal-clear amber and smells like a garden. From there, though, it's all hops; the initial taste is all fizz and bitterness, and just when a bit of sweetness starts to seep through it's choked out by a metallic/mineral aftertaste. Amber/red ales usually emphasize the malt more than the hops, but this is definitely an exception. I actually have a feeling that the beer would be very sweet if not for the large dose of hops, and it's almost as if the extra bitterness is overcompensating for this.
Some beer drinkers really prefer the bitter aspect of the drink over the sweet, and this might be a good avenue for them to branch away from IPAs and pale ale. Personally, I prefer my beer with just the minimum amount of hops necessary to balance out the sweetness, though occasionally in a several-beer night I'll go for the antiseptic, cleansing taste of an IPA. If I were looking for this sensation, though, I'd probably just choose an IPA or pale ale over a "Hello My Name is Amber." Not only would the name be easier to say, but I'd also get a crisper beer with less clashing flavor.
Should I try it?
This beer was not my cup of tea. If you're a hop fanatic or if you like your beer crisp to an almost sterile degree, however, this would be yours. Personally, I felt like I could have gotten a similar effect by mixing some pine needle extract in a glass of water, and it would have been much cheaper.
Rating: 4/10