Culture
The Man Who Invented Beer: Hoegaarden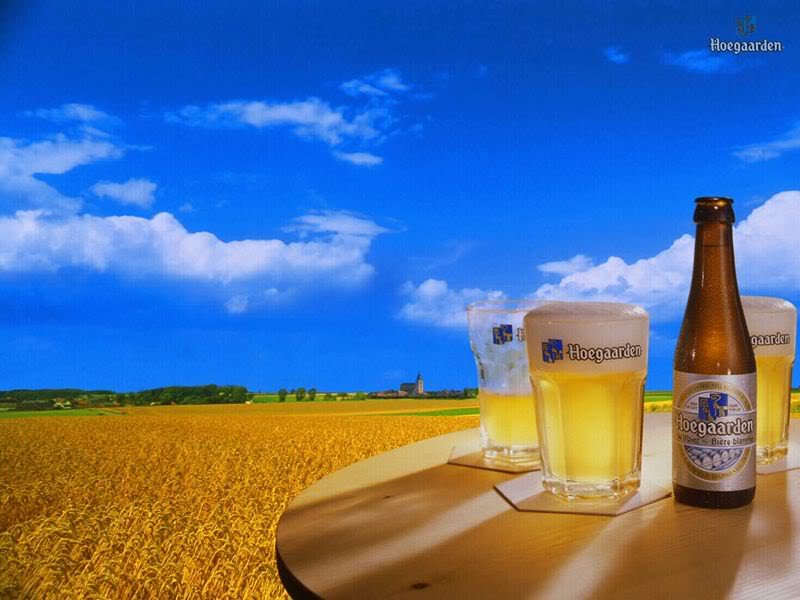 Every week in The Man Who Invented Beer, Adam Cowden talks the latest in craft beer, with some background knowledge for flavor.
Remember last Friday, when I proclaimed the arrival of winter? My proclamation certainly seemed justified the following Monday, which saw an unusually early first snow for the city of Chicago. If the weekend forecast proves reliable, however, we're going to enjoy another mild weekend before the truly rough stuff moves in. I'm taking this as an excuse to cram in one last unseasonal brew, so without further ado, say hello to Hoegaarden from, uhhhh, Hoegaarden (Brouwerij van Hoegaarden to be exact)!
What's the story?
Let's get one thing out of the way before continuing: Hoegaarden is not technically a craft beer (the brand and brewery are now owned by the ubiquitous Belgian/Brazilian giant InBev). In virtue of its robust history and novel taste, however, the beer deserves a space in this column.
Hoegaarden, however, is to witbier what Guinness is to dry Irish stout. It may not be the best or most adventurous example of the style, but as one of the first and oldest examples of witbier (the label calls it the "original" Belgian witbier), Hoegaarden helped define the style and has come to serve as the style's modern benchmark. The village of Hoegaarden had been known for its white beers since the Middle Ages. According to the Hoegaarden Brewery's history page, the "merry monks" of Hoegaarden developed the recipe around 1445. Their big discovery was that wheat beer, which at the time was very sour, could be tempered with orange peel and coriander from the sunny Caribbean colony of Curaçao. This new wheat beer caught on quickly; by 1726, the village of Hoegaarden was home to 36 breweries and 110 malt houses.
The last local witbier brewery closed its doors in 1957, much to the dismay of local milkman Pierre Celis. Wanting to revive the style, Celis started his own brewery called de Sluis in his hayloft ten years later. His new-old recipe derived its signature flavor from coriander and dried Curaçao orange peel known as Laraha, and demand for the product grew such that in the early 1980s, Celis acquired a former lemonade factory called Hougardia to expand operations in order to meet demand. A fire in 1985 forced Celis to accept a loan from the largest brewer in Belgium, Interbrew, who would later become one half of InBev). Celis later stated that he felt that Interbrew used the loan to pressure him to conform his brew's recipe to make it more marketable. Rather than change the recipe, he decided to sell the brewery outright and move to Texas to found Celis Brewery to brew "Celis White," a beer that he described as the "original Hoegaarden." Miller later acquired Celis Brewery and eventually sold it to to Michigan Brewing Company. Today, Celis White is brewed in Belgium by Brouwerij van Steenberge.
Regardless of whether or not today's Hoegaarden is the "real" or "original" Hoegaarden, there is no doubt that the popularity of the Hoegaarden brand carved out a space for witbier worldwide. Witbier has been adopted as a favorite style of American micro brewers, who have remained remarkably faithful to the style.
Where can I drink it?
Hoegaarden is pretty widely available these days, and it seems to be popping up in more locales every week. Head on over to beermenus.com if you want to find the nearest location to you (I've dialed it in to Chicago already).
I enjoyed mine at Schubas, which just might be the best bar in the entire city. It's also one of the few (if not the only) still-operating bars to enjoy an official designation as a Chicago Historical Landmark. The building that was bought by Chris and Michael Schubas in 1988 was originally built as a Schlitz tied house (a tied house was a saloon funded by a brewery that was required to sell only that brewer's beer). After its rechristening as "Schubas," the venue became a magnet for local music and garnered a city-wide reputation as an indie-rock hotspot by hosting up-and-coming local acts like the Smashing Pumpkins. Modern-day Schubas offers live music nearly every night of the week, with genres ranging from jazz to honky-tonk. My friends who are lucky enough to call it their neighborhood bar have developed what they call the "Schubas theory," which states that Schubas will invariably offer a good beer selection, ample space, friendly service, and a great time. Thus far, all of my Schubas experiences have supported their theory.
What does it taste like?
Delightful. Light, refreshing, and sunny. For a frame of reference, it's a less kitschy, more complex Blue Moon.
According to the brewer, "pouring Hoegaarden is just like letting the sun fall into your glass." This is only a slight overstatement. Like most quality beers, Hoegaarden is beautiful, and the cloudy, straw-gold hue and cloud-white head really do resemble a sunny sky. I don't know why, but the signature hexagonal glass is sort of soothing.
There's a lot going on the nose. The orange peel and coriander definitely show up, but there's also a healthy dose of bready yeast, lemon zest, and spice. The taste is even more complex. Up front, its mostly light, citrusy sweetness, followed by an ample dose of floral flavors. I don't usually use the term "floral" to describe beer, but this is one that I feel warrants the description. After this comes the characteristic wheat funkiness, which takes on a distinctly sour quality in this particular brew, and an aftertaste that is tangy but not tangy enough to leave you with a pucker face. In fact, I'd even describe the finish as clean, though it includes a faint note of refreshing citrus.
Hoegaarden edges toward the high end of the medium-carbonation category, and the resulting fizziness complements the beer's citrus and spice flavors nicely. Hoegaarden tastes very thin and refreshing, but the residual yeast and proteins (it's unfiltered) lend it a creamy smoothness that prevents the beer from being watery. With its light, forgiving mouthfeel and 4.9% ABV, the beer goes down very, very easily. Feel free to have a few.
Should I try it?
Hoegaarden is even more divisive than Praga Dark Lager. You're either going to love it or hate it, and even if you hate it now, you might love it later. The first time I tried it, I hated it. Today, it's one of my favorites, and my go-to when I need something light and refreshing. Hoegaarden is one of the most unique-tasting beers available on the mass market, and it's not too uncommon to find it floating amongst rows of otherwise-bland taps these days. Try it — even if you don't like it, you won't forget it.
Rating: 7.5/10