Culture
Year's Over: The Best Movies of 2012 (Round 2)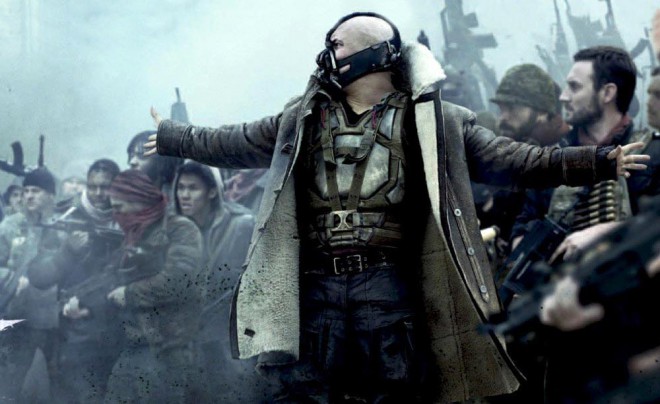 Every year, we at HEAVEmedia like to look back on what we've learned, what we've accomplished and marvel like the elderly at the rapid passage of time. Over the next few weeks, our Year's Over series will bring you our staff's essential lists of what you should've seen, heard, read and done in 2012. Today, Chris contributes his top 10 films of the year. Nico Lang's can be found to your right, and head film critic Dominick Mayer will post his tomorrow.
(Editor's addendum to list: Because we've not yet been able to breathe the rarefied air of accredited film critics who get advance screenings, this list does not reflect anything released in the Los Angeles area after the week of December 14. There will be a special edition of our Pod People podcast in early January, in which our film writing trio will make amendments to these lists as needed.)
1) The Dark Knight Rises
An imperfect capper to an imperfect trilogy, The Dark Knight Rises took more risks and yielded more rewards than any other blockbuster in 2012. Scratch that, more than any other movie in 2012. It gave Batman fans a thrilling and moving conclusion to the Dark Knight saga, and it will continue to stand as one of the timeliest pieces of cinema from our era. Besides holding up a mirror to the economic divide that has plagued almost all of us this past year, it will unfortunately be tied to the shootings in Aurora, Colorado forever. But in dark times like these, it's a comfort to me to have a hero like Batman to look to. We need more heroes like Batman. We need more heroes who do the right thing, instead of the easy thing. We need more heroes who try to be better than what they are.
2) Safety Not Guaranteed
Looper may have excelled at action sci-fi, but Safety Not Guaranteed accomplished something far more difficult. This is a comedic piece of sci-fi, and an indie piece of comedic sci-fi at that. That's a lot of ground to cover. And while Looper may be a more cohesive movie, Safety Not Guaranteed had more heart, more creativity, and more surprises than any other movies this year. Director Colin Trevorrow and writer Derek Connolly are the most exciting writer/director team to come out of the indie world in ages, and the cast is perfect. Aubrey Plaza, Jake Johnson, and newcomer Karan Soni play off each other magnificently. And Mark Duplass shines in a role different than anything he's ever done before. This is the kind of film that comes around once in a blue moon: an indie movie that beats almost everything from the studio system in terms of entertainment value and poignancy.
3) Silver Linings Playbook
With the exception of Steven Soderbergh, David O. Russell might be the only American director left in cinema today who can make a movie as entertaining as it is artistic, and who can do it without blowing things up. And since Soderbergh is apparently retiring, I guess we just have to rely on Russell from now on for adult dramas which can make us laugh, cry, and do everything else that we rely on great films for. This is a movie with such shameless "Aw, shucks" moments that it hardly feels appropriate in 2012, a year where cynicism was on display anywhere you looked. Russell deals with mental illness in a way that is equal parts intense and light-hearted. And it all works. This movie also proved that Bradley Cooper is a good actor, Robert De Niro is still a good actor, and Jennifer Lawrence is the best young actress working in Hollywood today. In this Christmas season, Silver Linings Playbook feels like a modern-day It's a Wonderful Life. And that is a wonderful thing.
4) This Is 40
As far as Judd Apatow projects go, I loved the equally funny (and equally long) The Five Year Engagement almost as much as this movie. But perhaps it's the deeply personal, even autobiographical nature of This Is 40 that made it my favorite comedy of the year. Chief among the many criticisms laid upon Judd Apatow's films is that he loves to focus on "white people problems." Admittedly, it's not exactly easy to feel sorry for the film's leads, played to a T by Paul Rudd and Leslie Mann. But what is universal about the film, despite its focus on the troubles of white folks, is its observations on marriage. This is a no-frills, all-in portrait of what it's like to spend the rest of your life with someone, for better or for worse. It might be a bit overstuffed and sentimental, but this is a landmark movie for Apatow. With Funny People, he was all over the place, but with This Is 40, it feels like he's finally grown up.
5) Rust and Bone
I think the biggest compliment I can pay Rust and Bone is that it does not feel exploitative in any way. This story about a hood named Ali (Matthew Schoenarts) falling for a whale trainer named Stephanie (Marion Cotillard), who loses part of her legs in a freak accident, could easily have felt like a Lifetime movie. Instead, it is a beautiful love story between two broken people trying to put themselves back together again. Director Jacques Audiard knows how to make a film that is "art," in the snootiest sense, but that is also compulsively watchable. Although his debut feature A Prophet and Rust and Bone are completely different on paper, with both films Audiard has begun to carve himself a place as one of the great auteurs of modern cinema. And if his next movie is even half as good as his last two, I can promise I'll be there within the opening week.
6) Beasts of the Southern Wild
I am always hesitant to like movies such as Beasts of the Southern Wild. I don't usually think human suffering passed off as beauty works, and I was deathly afraid that this overly-buzzed about Sundance winner would be just that. I was completely wrong. This is a movie that pulses with so much life it almost feels like it could jump right off the screen. Not that anyone needs to say it again, but Quvenzhané Wallis gives what might be the finest performance by a child actor ever. Beautiful cinematography, art direction, and the best original score of the year help to make freshman Benh Zeitlin's debut film one of the best first efforts from a young director in recent memory. Although this movie is terribly sad at times, it is also filled with so much love, and so much joy, that it is impossible not to be moved by it in some way.
7) Damsels in Distress
There's really no reason for Whit Stillman to be a movie director. His overly talky style would, at least in theory, work much better on stage than in film. Yet I must confess that I have missed his voice dearly, and after taking a decade off, it was nice to be reminded that he has a cinematic style unlike nobody else's. In Damsels in Distress, he finds a match made in heaven with Greta Gerwig, who delivers a career-high performance here. Something about Gerwig as a conduit for Stillman's dry wit just works. Although her character initially comes off as a borderline-psychotic bossy pants, she is ultimately revealed to be much more of an idealist, and even a romantic. By the time the movie is over, it feels as if Stillman has completely switched who is the protagonist and who is the villain. And surprisingly, he does it with flying colors.
8 ) 21 Jump Street
For pure, unadulterated, carefree laughter, it's pretty hard to find a better movie than 21 Jump Street, the other great story about high school that came to theaters this year. It's really Jonah Hill's show, and he's equal parts charming and hilarious here. But the biggest revelation in this movie is Channing Tatum, playing up his dummy persona to absolute perfection. Out of all the movies he was in this year, this was Tatum's crowning achievement. He broke your heart as he made you scream with laughter. Personally, I can't remember the last time when one of People's "Sexiest Men Alive" was able to do that.
9) Looper
Good sci-fi is rare. But great sci-fi is almost unheard of these days. This is why Rian Johnson has created something truly special with Looper. It is a film that is as entertaining as it is smart. It may not have the social consciousness of most sci-fi, but it is probably the most intelligent and most exciting piece of it to hit theaters since Alfonso Cuarón's Children of Men. In short, Looper is one of those movies that reminds you reminds you that every once in awhile, despite Hollywood's best efforts, an original idea breaks through and becomes something amazing.
10) The Perks of Being a Wallflower
Of everything on my list this year, this was the film I entered into with the most skepticism. It is incredibly hard to make a movie about high school that doesn't feel clichéd and sensationalized. And to be sure, there are moments in The Perks of Being a Wallflower that only exist in movie land, but the film has something true to say as well. It is a lot of fun, while never loosing a sense of grave seriousness. Working off his own novel, author Stephen Chbosky approaches the film like a director, not an author, and the result is an adaptation that feels true to the spirit of the original work, but that is also extremely commercial, in the best of ways. The movie also features one of the best performances of the year in Ezra Miller, as the understated and yet flamboyant Patrick. His portrayal is devastating, and one of the best performances I have seen in any movie this year, supporting or otherwise.