Culture
The Hipster's Cookbook: Desserts to Impress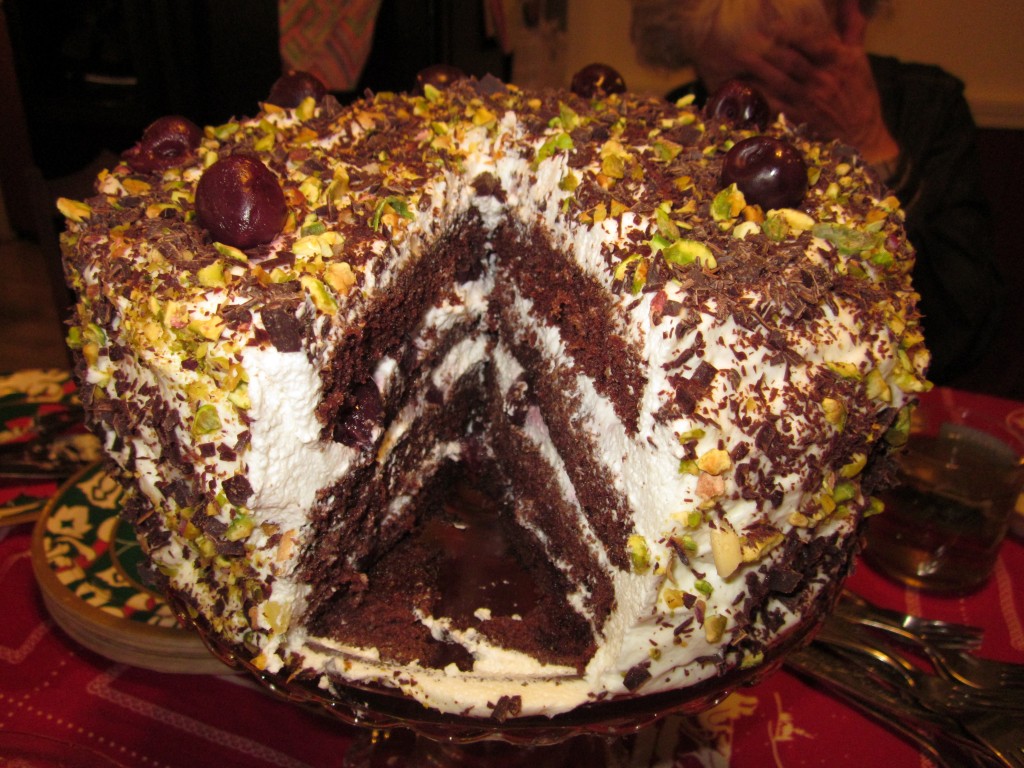 Every week in The Hipster's Cookbook, Meghan Bongartz shows you how to make awesome food with not a lot of money.
Once upon a time when I was about eight years old, I made the mistake of bringing a Jell-O mold dessert to a family function. It went over well, and I was stuck making Jell-O for every holiday we spent with my dad's family for the next eight years. Once or twice I showed up with a different dish, to a reaction of general dismay and confusion about why there was no Jell-O with dinner. Eventually, I came up with something about how it was my sister's turn to carry on the tradition (which she failed to do, but it doesn't matter as long as I don't have to do it anymore), and now it's pretty rare that I touch a box of gelatin.
These days, I'm just expected to show up to family functions with increasingly impressive desserts, and with Christmas season upon us, it's time for me to start feverishly looking for an elaborate recipe. Last year, my family hosted a German-themed Christmas, so Black Forest Cake was the obvious solution. This dessert is possibly Germany's most well-known cake, and is named for the Black Forest region of that country. Kirshwasser, the cherry brandy used in the recipe, is also a specialty of the Black Forest. When making this cake, try to bake the cake itself the night before you plan to assemble it because it will cut more easily. Placing the cakes on a flat plate and turning it with the knife partially embedded will also give you more even layers than slicing straight across. Once the cake is prepared, store it in the refrigerator until serving to prevent the cream from spoiling. This recipe looks daunting, but can be divided into several smaller steps, the most difficult of which is slicing the cake into layers, so just take it slowly!
——
Black Forest Cake
½ cup cocoa powder
¾ cup boiling water
1 cup sour cream
½ tsp baking soda
2 cups flour
½ cup unsalted butter
2 cups granulated sugar
3 egg whites
2 tsp vanilla extract
4 cups heavy whipping cream
2/3 cup granulated sugar
2 tsp vanilla extract
¼ cup Kirshwasser or other berry liqueur
2 cans dark sweet cherries in syrup (not cherry pie filling)
6 oz shaved dark chocolate
½ cup crushed pistachios
1) Preheat oven to 300 degrees. Line two 9" round cake pans with parchment paper and coat bottom and sides evenly with cooking spray.
2) In a small bowl, whisk together 1/2 cup cocoa and 3/4 cup boiling water and set aside.
3) In another small bowl, dissolve baking soda in the sour cream by stirring them together. Set aside.
4) In a large bowl, cream the butter and 2 cups sugar with an electric mixer until light and fluffy. Gradually add in the sour cream mixture and cocoa mixture alternately with the dry ingredients until combined.
5) In a separate bowl, beat the egg whites until they form stiff peaks. Fold the egg whites and 2 tsp vanilla gently into the cake mixture.
6) Divide batter evenly between two cake pans and bake at 300 degrees F for 45 minutes, or until a toothpick inserted into the center of the cake comes out clean. Remove from oven and let cool completely.
7) Using a large serrated knife, cut each cake into two halves horizontally (so that you have four rounds) and set aside.
8 ) Drain the canned cherries and set on paper towels to dry, preserving the syrup. In a small bowl, combine the syrup and Kirshwasser.
9) In a large bowl, whip the cream, 2/3 cup of sugar, and 2 tsp vanilla extract until soft peaks form.
10) Place one layer of the cake on a flat plate and brush with the syrup mixture. Spread an even layer of whipped cream over the cake and top with ¼ of the cherries.
11) Repeat with two more cake layers, placing each cake round gently on top of the previous one.
12) Place the fourth cake round on top of the cake and frost the entire cake with the remaining whipped cream. Sprinkle top and sides evenly with chocolate shavings and crushed pistachios. Top cake with remaining cherries.