Music
45 RPM: Massive Attack (Pt. 1)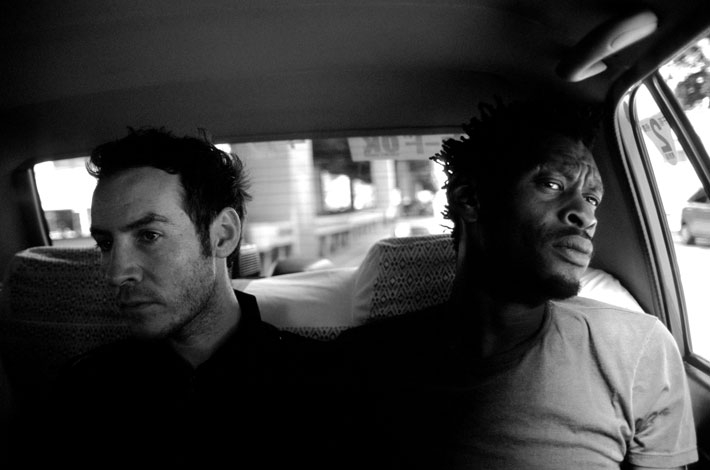 In 45 RPM, Jonathan Mondragon takes an in-depth look at a different artist or band's discography each week. This week, part one of his look at trip-hop pioneers Massive Attack.
Blue Lines (1991)
Two things were born in 1991: yours truly, and in the seaside town of Bristol, the genre now known as trip-hop, with Massive Attack's Blue Lines being credited as the genre's first-ever release. Two other extremely influential trip-hop artists would emerge soon after with this album as their genesis, being Tricky (originally a member of Massive Attack) and Portishead (Geoff Barrow was an engineer on Blue Lines). Originally thought to be somewhat unclassifiable, the debut blends a variety of styles including dub, hip-hop, R&B, jazz and soul, providing a sonic variety and a very obviously 90s, yet uncharacteristically British, sound. Robert "3D" Del Naja, Grant "Daddy G" Marshall, Andrew "Mushroom" Vowles and Adrian "Tricky" Thaws were the core production/songwriting team, with Cameron McVey (early manager of the band, and husband of R&B legend Neneh Cherry, both funders of the recording of this album) and Johnny Dollar assisting with additional production.
The album, as with most of their catalog, is rounded out by quite a few guest vocalists, with Neneh Cherry, reggae titan Horace Andy (the only vocalist to appear on all of their releases) and soul siren Shara Nelson. From the straight-up chilled-out 90s hip-hop tunes ("Blue Lines," "Daydreaming") to those with a druggy, dubby tinge ("Five Man Army"), the album still veers in contrary directions with heartfelt, soulful R&B ("Safe From Harm," "Lately") and lyrically brilliant, inspiring reggae-funk courtesy of Horace Andy ("One Love," "Be Thankful For What You've Got"). Genre categories aside, this album will possibly be best remembered for what is considered one of the most influential and important songs of the 90s, the Shara Nelson-belted "Unfinished Sympathy" (a play on Mozart's Unfinished Symphony), with a now-iconic breakbeat/string combo that along with the beautiful, deeply soulful vocals truly make this album.
In its day, Blue Lines was forward-thinking, and though it now may sound dated to some, in context it paved the way for much that would follow, both in the U.S. and Europe and elsewhere. Perhaps its only flaw may be some antiquated and flat-sounding mixing/mastering, but with the recently released reissue, it's basically no longer a problem. The band would spend the next three years constructing a follow-up, attempting to further reinvent their sound, and Blue Lines still shall be remembered as an honest snapshot of purely accidental innovation in 1991.
Protection (1994)
On the heels of the success of Blue Lines, Massive Attack decided to continue to expand their vision. Protection features more live instrumentation than before, guest vocal spots by Everything but the Girl's Tracey Thorn, soul chanteuse Nicolette and Horace Andy, and once again the hip-hop-rooted combo of 3D/Daddy G/Tricky. There are also two fantastic piano-based instrumentals ("Weather Storm," "Heat Miser") and a new ear for texture which wasn't as prevalent on their debut. The title track opens the album, featuring Tracey Thorn (also on "Better Things"), and over the course of its almost nine-minute length, jazzy, sexy grooves build, with Thorn's tender vocals propelling the first half of the song, until the band takes over for the remainder, riding out the groove exactly as much as necessary.
This would be the last album to feature Tricky, as shortly after the recording of Protection he would leave to start a very successful solo career, and along with Portishead represent Bristol's trip-hop scene. He particularly shines, coolly rapping over trippy, subdued grooves on single "Karmacoma" and sample-layered jazz-funk rap track "Eurochild," both of which would eventually be remade by Tricky for release on his debut album Maxinquaye as "Overcome" and "Hell is Round the Corner," respectively. Some of the best moments of this album can be found on the Nicolette-sung "Three" and more specifically "Sly," with her voice adding an infectious mystery, and along with sweeping strings (a rarity for the band), she adds a grandiose and breathtaking element to what would have still been a pretty good song regardless, further bolstered by undeniable grooves and heavily textured production.
What may perhaps be this otherwise-perfect album's only flaw is its closing track, a live cover of The Doors' "Light My Fire," sung by Horace Andy and yet devoid of a necessary groove or worthy performance, overall just tossing the continuity and quality of the album aside entirely. If you find yourself looking for an album to listen to driving around the city in the dead of night, with the hours leading into the early morning, your energy drained from an eventful night, this is a particularly excellent choice, and an important milestone for "chill" music altogether.
Mezzanine (1998)
If you were alive in the late 90s, chances are you've heard at least one song from what is considered to be Massive Attack's commercial and critical apex, 1998's Mezzanine. It could be the lush, stunning classic "Teardrop" (its instrumental served as the theme for the medical drama House), the dark, sinister Horace Andy opener "Angel" or even the Turkish-influenced slow-burn hit "Inertia Creeps." If you haven't, that's OK too, because this record is a wholly unique and sonically flawless gem, and it may confuse you as to how this was even released in 1998, with its ripples still being felt today. Robert Del Naja's dominating influence on the creation of the album, and insistence on a change in direction, mood and instrumentation caused problems in the group. A decreasingly-involved Andrew Vowles disagreed with the direction the album was headed in, and eventually acrimoniously departed the band, leaving 3D and Daddy G a duo.
Cold, percussive militancy abounds, with earth-shaking synth rumbles and an overall darker tone, less steeped in hip-hop and R&B and more on futuristic electronics by way of the angular discordance of post-punk. A flawless selection of guests is here, with three divine, haunting appearances by Cocteau Twins vocalist Elizabeth Fraser, sensual crooning from Sara Jay on "Dissolved Girl" and a more dynamic Horace Andy throughout, expertly complementing the still super-cool whisper-raps of 3D and Daddy G. They're notably excellent on the bar-raising, dubby/druggy single "Risingson" and within the intense, nightmarish, robotic grooves of the title track. The crisp, layered and tonally unique production, expert and unconventional arrangements and dreamy, hazy vocals paired with a new focus on live instrumentation set Mezzanine apart from not only the rest of Massive Attack's catalog, but from anything to come out of the UK in the late 90s.
This album would influence not only electronic-based music as a whole, but post-punk, indie rock and even unexpected genres like dream pop. If anything, just listen to eight-minute centerpiece "Group Four," which famously juxtaposes the dreamy vocals of Fraser with the spoken word of Del Naja over menacing synthy clatter and explosive, aggressive guitars. Maybe hip-hop, R&B, jazz, funk, dub, or any of the styles explored on the first two Massive Attack releases aren't your bag. You owe it to your ears to dig into this almost unclassifiable masterpiece, and finally realize what all the fuss was about.