Music
Nude Beach helps expand garage rock genre with II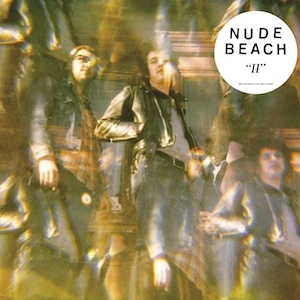 II Nude Beach
Release Date: Aug 14, 12
1
2
3
4
5
6
7
8
9
10
It's been over ten years since the release of the Strokes' enormously popular debut album, Is This It. Though the Strokes may not be solely responsible, they are a pivotal part of the increasingly strong presence garage rock has had in America in the past ten years. Today's garage rock is producing just as many significant bands in America as when the genre first started. People are still playing in garages (or at the very least, DIY spaces), but garage rock has become so much more than that. The genre is its own galaxy that somehow keeps expanding. It's power pop-leaning, twee pop-leaning, dissonant noise punk-leaning, and a whole hell of a lot of other things, but that defiance, that spirit of 65 is there and ready to rock your faces in.
So now that garage rock has such a universal presence, we are left with forward-looking, but classically-leaning bands like Brooklyn's Nude Beach. Nude Beach effectively play a similar card to what the Strokes did ten years earlier. They're 70s rock sounding, sure, but they have clearly done enough songwriting homework to ingest elements of every decade in pop and rock. On their second album, and first wide release, aptly entitled II, Nude Beach prove that 70s/80s-record obsessives have plenty of know-how to start a timeless and exciting rock 'n roll band.
Openers are integral for a rock 'n roll band, and Nude Beach pull it off perfectly on opener "Radio." The song immediately shows that these guys don't mess around, sounding like if Tom Petty was a bit more nascent and energetic in the way that bands like The dB's or The Plimsouls were. "Walkin' Down My Street" is definitely a bit more like everyone's rock 'n roll hero, Bruce Springsteen. The chord changes, the vocal delivery and the chorus all recall the boss, but not in a biting way, as much as a clever-yet-amateur way. Then we have the Velvet Underground-referencing-title, "Some Kinda Love." "Some Kinda Love" is one of the band's more modern sounding tracks, but the upbeat jangly guitars equally remind me of a combination between Mean Jeans and early-career Chris Penn…except that this band knows how to do a power pop breakdown.
Now just because Nude Beach excellently rock, doesn't mean that they don't know how to slow it down for a somber or romantic moment. These quieter tracks – "You Make It So Easy," "Love Can't Wait," and "Don't Have To Wait" – are all perfectly placed and emotionally soulful yet still somehow a lot of fun. On "You Make It So Easy" the band's singer bluntly states "I don't wanna do you like that, but you make it so easy babe;" while on "Don't Have To Wait" the band goes in Otis Redding-like territory and gets deep soul on us as some soulful vocals, a blues-y riff and hammond organ chime together one of the best tracks on the album.
The very first sign of indie rock-study for the band is on the Wedding Present-like speed-jangle "Cathedral Echoes." "Catholic Echoes" along with closer "Loser In The Game" are the best two songs on the album, and perhaps the most modern-sounding out of the lot. It's interesting, as retroactively involved that this band is, it's when they sound most "2012," that they really show potential to shine. II is full of these moments, but on the aforementioned two is where they just haphazardly go full-force with it. Nude Beach's brilliantly penned ten tracks and II might show the greatest potential for a band to be equally connected to the mainstream and independent world in quite some time.
Being a band (and more specifically, one that plays a fusion of Replacements/Petty-like power pop with the effectiveness of garage rock) that doesn't have any synths or samples and then being based in Brooklyn these days is oxymoronically rebellious these days. The birthplace of art rock with bands like The Mothers of Invention and The Velvet Underground, continues to be a safe haven for like-minded bands, but seems to be full of stagnancy and publicist-influenced "independent music." Considering Nude Beach's second album is released on the new imprint of a local record shop, it's quite clear that despite the band's ears being planted in the clouds, their feet sit firmly on the ground. I can't quite tell if they're a band trying to conquer the rock world or one that may just do so due to their poppy garage rock sound. One thing's for sure is that Nude Beach successfully manage to coerce listeners' with their familiar sound, but confirm fanhood by how amazing their songs are. II is a timeless album, and Nude Beach may very well be America's next big thing.