Music
Can't Stop Won't Stop: 5/25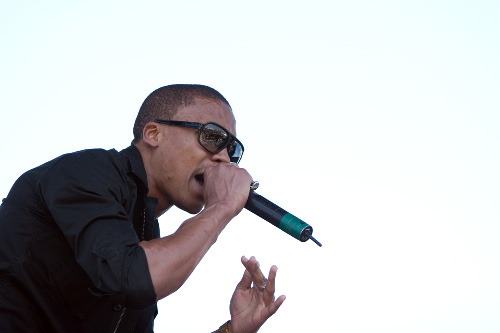 5) Atmosphere feat. Kill the Vultures, Big Quarters and MaLLY – "Somebody, MN" (prod. Ant)
Out of respect for Minnesota, where I will be this weekend for Soundset 2012, I picked a track that features some of the top artists from Minny. I have to be honest, I have never been a huge fan of Atmosphere ever since the first time I heard a few of his tracks, but he's one of the major headliners for the festival, so I felt it was only right to share with my readers the type of music I'll be experiencing, coming from the Twin Cities.
Pros: A tribute of sorts to the rap game in Minnesota.
Cons: Never been a big fan of Atmosphere, maybe his live show will sway me.
4) David Banner feat. Big K.R.I.T. – "Believe" (prod. Mr. Lee)
I can't really explain why I'm on this 90s music kick as of late, but "Believe" by David Banner and Big K.R.I.T. contains a chorus that fully mimics that era. David Banner spits two solid verses, featuring a K.R.I.T. verse in the middle, that makes you remember that Banner is more than just a talented producer. Again, I have to bring attention to the hook, because it has a throwback R&B vibe that groups like SWV or Total shared. But the song contains a lot of energy (which isn't surprising if you are familiar with David Banner's music), and I felt it would be a solid addition to the weekly top five.
Pros: Hook, smooth beat, solid verses from David Banner and Big K.R.I.T.
Cons: And once again, I would have like to have had another verse from Big K.R.I.T.
3) Killer Mike – "Reagan" (prod. El-P)
I have been listening to Killer Mike's album constantly ever since it came out, and "Reagan" has just been ringing in my head every day. It's something you need to listen to in order to understand what type of rapper Killer Mike is. He's another example of a throwback rapper, radical in lyrical content and attempting to tap into the consciousness of the listeners. That's what real hip-hop should be, something that challenges your ears and physique simultaneously as you try your best to digest the lyrics. You are able to experience such a renaissance not only on "Reagan," but all throughout Killer Mike's new album R.A.P. Music.
Pros: Conscious rap that makes you think outside the box.
Cons: N/A
2) Kendrick Lamar – "War is My Love" (prod. Sounwave)
Everyone seems to want a part of the movement Black Hippy has created, and the buzz has struck the video game industry as well. The new game Tom Clancy: Ghost Recon, that released this week, features "War is My Love" courtesy of Kendrick Lamar. I mean, how to react when you hear lyrics like "Pain forever, prolong the pros and cons of prosperity is strong/Wake up in the morning and I gotta win/Not taking the victory, that's my only sin"? Take a minute and digest those lyrics, and you realize Kendrick Lamar's bars make you think even if it's "a song on a video game."
Pros: A very tight song, and a prelude to finally being able to see K.Dot at SoundSet.
Cons: Some might not take it seriously because it's featured on a video game.
1) Lupe Fiasco – "Around My Way (Freedom Ain't Free)" (prod. Simmonsayz and B-Side)
It seems I may have been wrong. You see, Lupe and I go back. Not in the sense of grinding and hanging out, but we share a musical bond, if you will. He saved me when I thought all was lost in hip-hop when he released The Cool in 2007. Or around Thanksgiving time in 2009, when life was becoming burdensome and he gave me Enemy of the State. And things went just absolutely south when he released Lasers. I felt betrayed, like he was swallowed up by the industry that he talked so much about hating. So I was a little hesitant to even listen to "Around My Way (Freedom Ain't Free)," but it was like I found my long lost friend. This is a single to be featured on his new album Food and Liquor 2 this summer. Someone once asked me why I care about hip-hop so much, and at times it's hard to put into words. But it's that unspoken relationship you as a listener create with an artist who you feel speaks directly to you and only you. That's something Lupe and I share.
Pros: Lupe was once lost but now is found. A track like this makes me believe in him again.
Cons: There were some issues over the production from Pete Rock earlier in the week, but all that "beef" seems to be squashed.
—–
Mixtape of the Week
50 Cent – The Lost Tape
If you're going to write about 50 Cent you have to give him the proper introduction with his world renowned war cry: G-G-G-G-UNIT!  Okay, now that that's out of the way, 50 Cent teamed up with the mixtape magician DJ Drama to give us his latest project, The Lost Tape. "I'm the reason you make a mixtape," 50 proclaims on the intro to "Murder One." It has been some time since he dropped some new music, having some of his fans questioning if he was lacking the motivation for the rap game anymore. And you can't blame 50 for getting side tracked by business ventures that he has embarked on since the release of the classic Get Rich or Die Trying, but the muscle behind the Money Team shows that he still has some juice left in the tank.
The mixtape contains a total of fifteen tracks. My top tracks are "Riot Remix," "OJ," "Remain Calm," "Murder One," and "Lay Down." He even squeezes in a couple of tracks for the ladies like "Can't Help Myself" and "Planet 50," the latter featuring Jeremih. Other artists that make appearances on the mixtape are 2 Chainz, Snoop Dogg and G-Unit member Kidd Kidd, who appears on three tracks.
To be completely honest, you either love or hate 50. I have come up with a new term: the Kanye Syndrome. The symptoms are consistent with over-the-top bravado and sporadic bouts of lyrics that are likely to contain money, bottles of expensive liquor, clothing most people can't afford and of course women. I'm a loyal person; I witnessed a no-name rapper throwing away a Ja Rule doll in a trash can in his first music video. I was there we he turned his most acclaimed album into a movie (genius), and shocked the world with a Vitamin Water endorsement. That's why I love that he released The Lost Tape, because when I hear him spit today it reminds me of the long and arduous journey he took to be where he is today. Who are we to judge someone who came from the bottom to have millions as an outcome of the hours upon hours they put in? Kanye said it best: "It's hard to be humble when you stuntin' on a jumbotron." I respect those who aren't allergic to hard work and are true to themselves from the beginning to the end. 50 Cent has a shit ton of money, and still took time aside to give free music, so how could you hate that?