Culture
Monday Afternoon Roundtable: Summer Drinks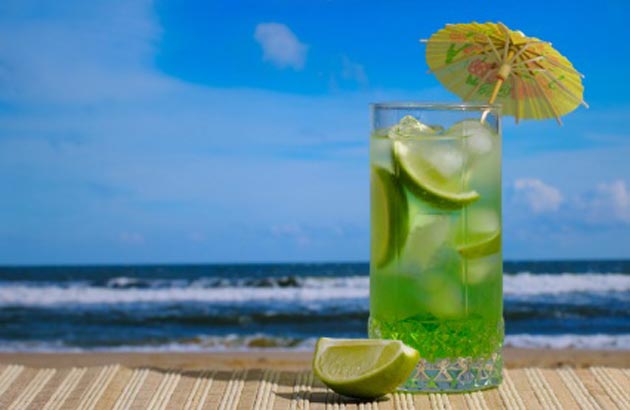 This week, the Heave staff was asked:
Since summer is more or less upon us, what's your favorite summer drink?
Michael Alexander
During the summer months, I have a specialty drink in which I choose to indulge to wet my whistle: the famous Arnold Palmer. What is an Arnold Palmer, you ask? Well, it's a combination of lemonade and iced tea. And if you're an alcoholic, you can easily add liquor into the recipe.
Joe Anderson
Leinenkugel's Summer Shandy. And the blood of my enemies.
Dez Mitchell
The Dez-Signature drink: Effen Cucumber Vodka on the rocks. Fresh squeezed lemon juice. Toss the lemons in the mix with raw sugar, mint sprigs and a copious amount of ice, and shake (not stir). Ahhhh… the most refreshing drink for a hot summer's day.
Rachel Angres
Margaritas on the rocks. Boring, but delicious.
Patrick Gill
Summer is the time of no judgement for froufrou drinks.  I am partial to making whiskey lemonades, occasionally with a splash of peach.  I also just made a pitcher of gin, Sprite and grapefruit this weekend.  I drink anything that makes me feel like a Southern lady.
Shelby Shaw
I may need a second Magic Bullet this summer with all the smoothies I'll be making. There is nothing better on a sticky-hot summer day than throwing some frozen fruit into a blender with ice and Greek yogurt (like juicing but with more to it). What about fruit's cohort, the vegetable? Sure, a handful of spinach/kale/broccoli will do just fine in there. If you're afraid your smoothie will taste like grass, then you need to either a) toss in a little more fruit and a little flavored protein powder, or b) buck up and learn to eat some produce already.
Marissa Morales
Daisy Cutter. It's my drank. Especially in the summer time. And sangria. There's nothing like lounging on a porch with a nice cold glass of sangria.
Amy Dittmeier
Non-alcoholic sweet tea. There's nothing more refreshing than sugar and black tea on a hot Chicago day. But if there's booze involved, sign me up for a tequila and pineapple juice.
Meghan Bongartz
My first instinct was to go with gin and tonic, because it is legitimately a refreshing drink that's perfect for the summer months. The problem is that it's also my drink of choice during all the other months. So, I'd like to say that everyone should have at least one root beer float over the course of the summer. There is nothing in the world better at helping you recapture the feeling that you've escaped school for three months and your main concern in life is how to stay cool with no air conditioner.
Matt Consolazio
There is nothing better then sitting outside with a Blue Moon and an orange slice.  It's the palatable equivalent to jumping in a swimming pool when it is 95 degrees out, which I cannot wait to do again.
Dominick Mayer
If we're being honest, PBR. Specifically, going off how I spent Memorial Day last year, a cooking pot full of ice and PBR that I pull from while I fire my Nerf shotgun at empty cans and ensure that none of my neighbors will ever want to know me.