Culture
A family living in "Dark Shadows"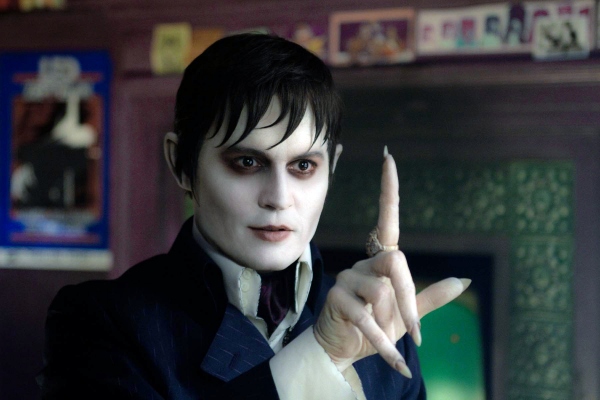 Dark Shadows dir. Tim Burton
Release Date: May 11, 12
1
2
3
4
5
6
7
8
9
10
If an update of the late 1960s TV show Dark Shadows was inevitable, it's hard to picture a more suitable director than Tim Burton, whose primary stock in trade over the years has been to define how mainstream America understands "gothic." Recently, though, with fare like Alice in Wonderland, Burton's films have felt more like cynical parodies of a Burton movie from a detractor than work from the man himself. The sense of wild discovery that colored movies like Edward Scissorhands has been missing, but more importantly, so has the soul. It's thrilling, then, to watch Dark Shadows, which for all its flaws is the most unabashedly fun movie he's made in years.
The tale of Barnabas Collins (Johnny Depp) is told in a rapid-fire prologue that moves through enough plot for a movie of its own in just a few minutes. The son of a fishing family that settled a town in 18th-century Maine called Collinsport, Barnabas lived a good life until he rejected the affections of Angelique (Eva Green), a housemaid who turned out to also be a witch. After she took Barnabas' parents and his beloved Josette (Bella Heathcote) away from him, he tried to take his own life, only to be cursed with vampirism. Buried by the townspeople, he spent two centuries underground, only to be accidentally unearthed in 1972. Upon returning to his manor, he discovers that the Collins family has fallen on misfortune, robbed of their namesake business by a rival cannery, which just so happens to be run by Angelique.
That's to say nothing of the dysfunctional family Barnabas finds himself in, which includes a sullen Lolita-esque daughter (Chloe Moretz), the embattled matriarch Elizabeth (Michelle Pfeiffer), an unhinged family therapist (Helena Bonham Carter) and a new housemaid who happens to look quite a bit like Josette. There are a lot of moving parts in Dark Shadows, and Burton sometimes has trouble keeping control over a film that simultaneously wants to be a dysfunctional family comedy, a gothic camp-fest playing on the surprisingly meticulous period décor and a gory Burton-style horrorshow. So, he usually aims for all three, to varying returns.
The parts that ring the falsest are those in which Barnabas remembers that he's a vampire long enough to commit surprisingly gritty acts of violence. (This is a shockingly rough PG-13, with oral sex and masturbation jokes and occasional dripping gore to be had.) Dark Shadows is too light too often to earn the horror trappings it so desires, which is a shame given that the comedy is handled with a deft hand. It's helped greatly by an all-in cast led by Green, who's vampish and sexy to a point where she's too entertaining to make a good villain, and Depp, whose usual tics actually work here. Because of the tonal issues, much of the supporting cast is lost in the film until they're needed again, and the film brings up more plot points than it can handle. Dark Shadows is so thoroughly entertaining, though, and so aggressively committed that its flaws ultimately don't matter.