Culture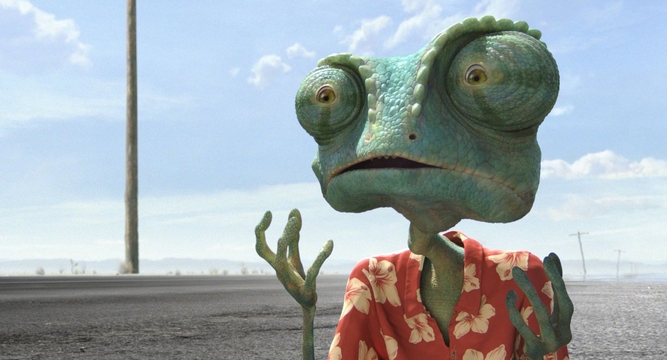 It's a well-known fact that if you don't love animated movies, you have no soul. Sure, not all animated films are created equal, but it's almost impossible to deny that to a certain extent, we seem to be living in a renaissance for animation. Sometimes, a quality animated film that's not even made by Pixar or Dreamworks enters the mix, ala Rango.
Rango tells the story of a chameleon (Johnny Depp, reunited here with his Pirates of the Caribbean director Gore Verbinski) who takes his role as a shape-shifter to a whole new level. Cooped up in a fishbowl and desperate for something to occupy his time, this chameleon fancies himself an actor, putting on little performances with the windup fish, Barbie torso, and other accessories he's trapped with. However, in an unexpected turn of events, he finds himself out of his comfort zone and lost in the desert, where he comes to the town of Dirt. From there, the film turns into an old-school Western, where our chameleon hero adopts the role of a lifetime as Rango, the town's new rough-and-tough sherriff.
One of the real strengths of Rango is that the animation feels completely and totally unique. As opposed to most animated features, where the creatures are, at least to a certain extent, cute and cuddly, Rango is filled with mice, rattlesnakes, turtles, gophers and various other not-so-adorable animals. Another great thing about the movie is its references to various classic Westerns and famous movies in general. It might sound like the typical "Something for the kids, and something for the parents" move, but it feels more like a "Something for the kids, and something for the movie nerds" decision. The references never take you out of the narrative, instead providing a nice dose of comedy that's both kid-friendly and pop culture savvy. That being said, Rango isn't exactly a movie to take children of any age to; it's a bit graphic and violent for an animated film, and although it doesn't have the lofty ideas of, say, every movie Pixar's ever done, it gets points for being bold and not pandering to a younger audience. This is a pretty smart film, no doubt about it.
However, like many animated films, Rango can't quite maintain the forward motion it builds up at the beginning, at it suffers quite severely in its second act. But for being intelligent and a bit innovative, it's still a decent pick for children and adults alike.
2.5/4 Stars