Reviews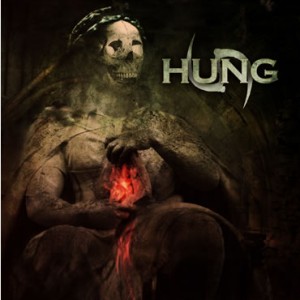 Hung Hung
Release Date: May 08, 12
1
2
3
4
5
6
7
8
9
10
Though Hung is unmistakably a metal band, the name does not bear any reference to death or destruction, but is instead a reference to the founder's surname. Lyris Hung, a graduate of the Julliard School of Music at Columbia University, spent much of her career fiddling around with big name artists (Bryan Adams, Trans Siberian Orchestra, Indigo Girls) before finally deciding on putting forth her talents toward heavier music.
In 2005, Hung sought the aid of a musical outfit by means of a Craigslist ad.   The four other members that would eventually make up the band were carefully hand-picked to meet the desired sound Hung was after. Since then, the group has put together a full-length album that was later picked up by Chris Adler of Lamb of God and released onto his new label, ReThink Records.
Their self-titled album (Hung) presents a classical twist on the metal genre and features many beautiful violin solos performed by Hung in addition to the ever-flowing melodic guitar riffs served up by Jon Clark. Dmitry Kositsyn's guttural voicebox comparable to that of Cradle of Filth (minus the pleasing yet appealing contrast of female vocalizations) spews out ballads based on historical and religious subjects that are heavily researched researched before actually bringing them to the cutting room floor and set to music.
If the drums sound amazing, that's because they are. Kenny Grohowski, world renowned jazz drummer, was chosen from several rounds of drummers during the band's infancy. It is his impeccable precision that keeps the entire group afloat while maintaining the intensity of the songs.
Hung is without a doubt made up of an incredibly talented group of individuals. Regardless of however appealing Hung's violin playing is, there are points where this powerhouse of musicians formula just doesn't work entirely with the sweet cry of a violin. While "Infernal Redeemer" has a very TOOL-esque bassline (think "Schism") that Sam Roon pulls off beautifully, there are some points where everything else just sounds muddy and buried beneath layers upon layers of noise. On the other hand, "Sediment of War" offers a worthy alternative. Because of the length of the track, the band is able to create an adequate enough transition to wean the listener into the harder portions of the song.
To say that the band is entirely centered around Hung would just be overkill, since it is not fair to entirely dismiss the musical integrity of the band as a whole. There is definitely evidence of their strong points in tracks like "Progeny" where the violin parts closely follow the lead guitar in ways that words just cannot express and everything just sort of falls into place. At the very same time, though, HUNG wouldn't be as pleasing to the ear without the aid of Hung's talents. Without the violin, they're just another generic metal band among handfuls of many others.