Reviews
An audience full of tears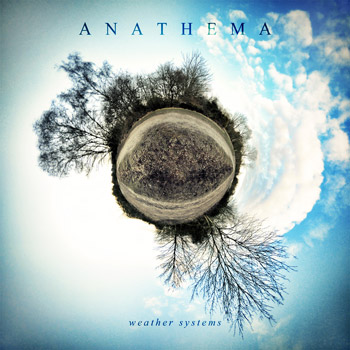 Weather Systems Anathema
Release Date: Apr 24, 12
1
2
3
4
5
6
7
8
9
10
Over twenty years ago, Anathema helped to begin the doom metal genre in Liverpool. They quickly gained attention from their European contemporaries and reamed off several albums. The more albums they released, it seems, the more band members changed, the more their sound began to alter. It was the 1999 album Judgment that saw a complete shift from the doom metal, into more progressive, experimental music. Weather Systems is the band's ninth album.
At this point in their careers, any traces of doom metal are long departed from Anathema's repertoire, left somewhere in the mid-90s with leather and black-clad ghosts. From the aesthetic that's evolved over the last ten or so years, a dense pool of power ballads, tempered only by the brooding rhythms, chain-gang guitar and bass. The first two tracks, "Untouchable I" and "Untouchable II," are sentimental, sappy, warm, songs, that are obviously meant to move the listener to tears.
Don't listen to this album if you're recently going through a break-up, lest you want to be moved to tears and lumps in your throat. Seriously, this album could summon the pains of relationships far gone. And it's not because of how good it is or isn't. It's just the main intention of Weather Systems to be that album. For instance, if a film crew went and made a shitty horror movie with the intention of grossing out the audience more so than fill them with horror, all they would need to do is go for cheap, gory effects and scenes. Mission accomplished. It is much more difficult to fill someone with genuine horror.
Yet and still, Anathema is a very talented band. It is evident that the years of genre and band member changes have developed them into seasoned and very professional players. But therein lies the problem. Their musicianship is too spot on, Lee Douglas' vocals are just too sweet. The way the songs melt together and swarm with layer upon layer of lushness within this heartbreaking context, makes one want to say "Fuck off!" to each song. It's simply too corny to pass in this age. The proof is in the horribly sophomoric lyrics. Anathema sounds like Mars Volta from the suburbs. "The Storm Before the Calm" is the only track that comes close to separating from the rest of the album. At over 9 minutes long, it begins a tad bit edgy, though borders on 90s industrial shtick. Like a teen hungry for attention, "The Storm…" balls all over the place, patience begets begging, then lead singer Vincent Cavanagh goes power ballad berserker. Other than that, Weather Systems really is just one long song. Which isn't a bad thing. Pink Floyd, among other bands, did it. Some could argue the same for Sigur Ros, to a degree. But when you do it with the theme of vulnerable, sentimental heartache, that's one fat tear going down a cold cheek. But, it's well done, and it may be someone's bag. Surely it is a lot of peoples', in an audience full of tears.