Reviews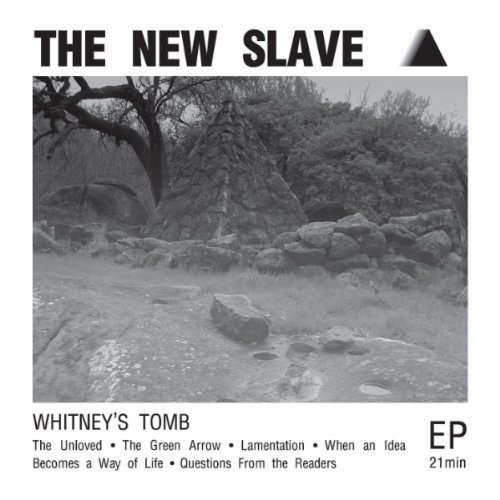 Whitney's Tomb EP The New Slave
Release Date: Dec 06, 11
1
2
3
4
5
6
7
8
9
10
The Northern Californian trio New Slave has brought along mythology with their latest EP, Whitney's Tomb, which centers around a story of a buried treasure buried deep in a forest hell. Okay… nice. So our three protagonists and band members, Craig M. Clarke, Daniel Crowell, and Troy James embark on a journey in search of Whitney's Tomb. Let's hear what happens.
This is not for everyone. But those whom it is for, Whitney's Tomb is as right on as it can get in an EP format. "The Unloved" begins with space music, grinding out an atmospheric groove over dialogue between what seems to be an alien chick and some humans. The dialogue is some talk about who they are, where they belong, others somewhere, then one of the group announces that it's quite apparent, "We, all of us, we are in hell."
That will scare the shit out of some, others will want to keep going. Moving on. "The Green Arrow" is a thrashing, powerful, tune that smothers with precise rhythm and melody. The echoing vocals seem to be driven by a slick train that can pause at will.
By the time "Lamentation" begins with the sonic vacuum intro, it's kind of expected what to expect. This song definitely has a strong 80s feel, which works, but not so much in the context of the EP thus far. It sounds like an industrial Tears For Fears song. But it's a good song.
"When an Idea becomes a Way of Life" is one of the best song titles of 2011. Here, the New Slave takes what they've done in the previous tracks, and makes it fresh, funkier, and they reshape the layers to form a new sense of their aesthetics. The lyrics are a bit indiscernible at time, but the ideas come across. And after several listens, it's great to make new discovers within an album you know.
"Questions From the Readers" is a fantastically climactic outro for Whitney's Tomb. It builds as if the album has been playing for eons, then booms and splashes all over the place. The vocals sound like a giant jellyfish at times, and at others, sounds like the resurrection of Syd Barrett. Meanwhile, the brilliant arrangement of sound effects and synths are a triumph. If hell is in outer space, this is the spaceship you want to be on.