Culture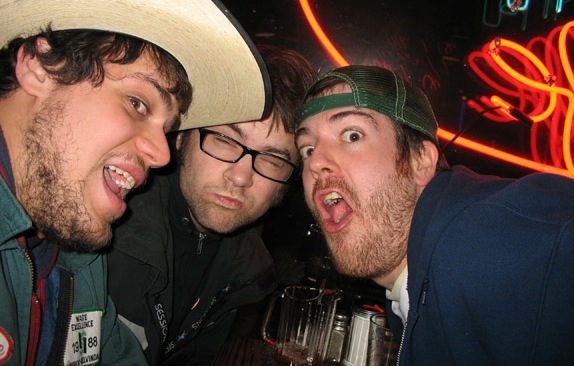 David Carter
I just saw the 2004 Brian Wilson documentary, Beautiful Dreamer: Brian Wilson and the Story of 'Smile'. Brian Wilson is one messed-up, complicated guy. He's fun to watch. But a lot of the mysticism behind his genius kind of falls to the wayside when you see what Smile would have sounded like if it were ever released. Pretty terrible and schizophrenic. And if you like this and haven't already seen The Devil and Daniel Johnston, you're wasting time reading this.
Marc Maron's interview with Norm MacDonald on his WTF podcast. MacDonald isn't the sarcastic, condescending asshole that I find hilarious but it makes for an interesting, in depth conversation.
A small website called DistractChicago has some original and funny shorts.
Don't know if I'm late to the party but…
SNL has gotten funny again.
Louie is the best show on TV (and soon it might be gone along with Sunny because DirecTV is planning on dropping FX and other FOX affiliates)
Nick Swardson's Gary Gaga on Nick Swardson's Pretend Time is hysterical.
Dominick Mayer
I've been a big fan of Bomb The Music Industry!, or more accurately jack-of-all-musical-trades Jeff Rosenstock and a rotating band, for quite some time now. Because of this, it's so thrilling to keep returning to this year's Vacation, their sixth and possibly best LP. After seven years worth of music chronicling Rosenstock's tumultuous 20s and the general ass-clenching terror that comes from realizing your friends are all more functional adults than you, Vacation heralds something that looks kind of like wisdom. From the ground-level observations of the stunning opener "Campaign For A Better Next Weekend" (imagine The Streets' early albums, but as melodic punk instead of grime rap) forward, Vacation is the sound of getting your shit together. Nowhere is this better put than on "The Shit That You Hate," a track about how all the things that you can rant about and make you angry don't really define you, and even if you think they do, nobody else really cares one way or another.

Shelby Shaw
You have probably listened to or sung "Stand by Me" at some point in your life. You probably don't know any of the words other than when the chorus goes "stand by me" on repeat. Well I have rediscovered it and have not had a moment without it in my head since last Thursday. That's more than a week (over 168 hours) of constant 1960s. Here are some fun facts: the song is only 2:57 long, so you should get a hold of it. It was originally written and recorded by Ben E. King (and I believe it to be the sweetest version) in 1960. It was released a year later. King himself is a fan of John Lennon's cover. King wrote the song originally for The Drifters, but they passed on recording it – so King did it himself. Rolling Stone listed it as Greatest Song of All Time #121 of the top 500. Over 400 recorded covers exist of "Stand by Me." And now maybe we should expect Death Cab, or She & Him, to do their own versions after Gibbard and Deschanel's mutual divorce. It would be "ironic."