Reviews
Zola Jesus will show you the light on 'Conatus'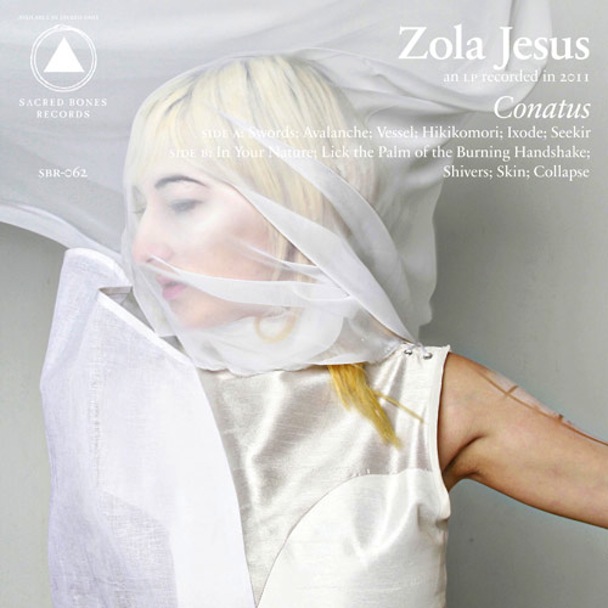 Conatus Zola Jesus
Release Date: Oct 04, 11
1
2
3
4
5
6
7
8
9
10
Nika Roza Danilova does not sound like an American midwesterner. She isn't, really. She's a Russian-American superwoman in sound. She is the sole entity of Zola Jesus (although her live act is composed of a few very specific gents). She is also only 4'11" and 90 lbs according to her press release. With her third yearly release Conatus, (her 2009 debut, The Spoils, was recorded in her apartment while studying at the University of Wisconsin-Madison) there is an exploration of sound but not so much style. Wisdom comes in on eleven tracks that seem to butt up against each other technically in overlapping ways (from glitch to celestial to orchestral) as a whole – but when hearing each song it's beautiful in the haunting way only Danilova's atheist intellect can get across vocally.
Conatus opens with "Swords," a short instrumental (digitally?) track reminiscent of a mix between The Matrix and space with a faint human echo. It's a dramatic setup – dramatic because Danilova's voice captivates you so intensely all in a background vocalization and a setup because it feels just like that. Like you are about to embark on the beginning of a spectacle. Brace yourself for the show.
Who needs sound bytes when you can just create your own? Danilova assumes the background vocal blips among the mechanical sounds of "Vessel" – a few piano notes help scatter the ominously-building monotone of the mood. And as her voice fades out in the end, it sounds like a factory eats the song.
Bring on the catchy background beat. "Seekir" is an interesting mix – asking big questions while giving you music for getting up and enjoying through movement. It almost sounds like her vocals have already been stripped for the track and sent around for remixes of the music.  "I wanna go until I never stop" – and you can. Just put the track on loop and you'll be well satisfied.
Taking a more direct approach to the song, "In Your Nature" jumps right into grabbing your attention. It's structured and supports itself beautifully between the vibrating strings, simple percussion, and Danilova. You can hear her vocal chords straining for the lyrics as they successfully hit each note.
Clearly enunciating the words, it's easy to hear and absorb the words coming through strongly over the steady drumbeat. "Lick the Palm of the Burning Handshake" is simple. And it's one of the more powerful tracks on the album.
After the almost-too-slow "Skin" piano ballad, the album finishes up with "Collapse," a synthesizer-swelling piece of epic suspense similar to the opening track. It brings Conatus full circle, but the songs between start and endpoint could easily be swapped out and replace each. The depth, the gusto, the direness of each sound that comes out of Danilova's throat is all there. It's paired appropriately with digital reverberations and traditional "modern" music ingredients like a piano and a few claps here and there. What really is the struggle is where Zola Jesus will go from here.