Music
Live review: Memory Tapes @ Empty Bottle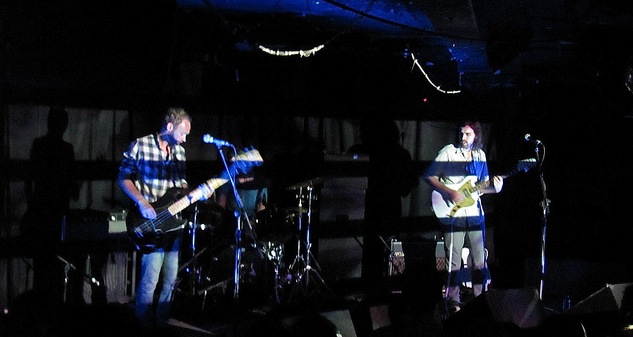 How do you like to watch a concert? Are you the type that likes to stand completely still, just staring up at the stage. Do you actually dance around? Or perhaps you're somewhere in the middle, nodding your head and tapping your foot while keeping a beer in one hand, and a cell phone in the other. Mobile Twitter/Facebook how great that show is, right?
I'm usually tapping one back heel at first, bobbing my head a bit if I'm enjoying the music. If it gets really good, I won't even realize my heel is tapping so hard that it's lifting my whole foot up and down against the ground. It takes a band like Cut Copy or Delorean to get both of my feet off, and even some arms up if I'm drunk enough.
Monday night at the Empty Bottle, Memory Tapes got my heels up. I think that was the appropriate reaction. To be honest, I had no idea what this one would be like. The man behind Memory Tapes, Dayve Hawk, is lumped in with other chill-wavers and bedroom pop artists like Toro y Moi and Washed Out. After seeing the show tonight though, I think that categorization is flat-out wrong.
The chill-wavers turn knobs at their live shows. They make electronic music right up there on the fly. But Memory Tapes was a rock band. A trio of bass, drums, and electric guitar, blaring their songs for a small, surprised Empty Bottle crowd. No synths to be found, no keys, and most importantly, no knobs. Hawk jammed out a finger-blistering guitar solo on every song, and it was impressive stuff.
Samples played from an area unseen, likely from the same computer that played the rhythmically synced images that projected on the band. But whereas the electronic sounds are at the forefront on Memory Tapes records, they went straight to the background for the live show. Surprising, but as a critic this is the kind of thing I absolutely love to witness. This simple move showcases Hawk's compositional talent, and proves that he's probably a pretty smart guy. Altering a glo-fi song to make it work in a loud rock show is something I haven't seen done well until tonight.
I am really excited to see where he takes his Memory Tapes project now. After seeing that Hawk is definitely a legitimately talented musician capable of re-imagining his songs in different settings, I'm expecting a lot of depth and diversity from his future releases. Right now, he's something like a mix of New Order, The Unicorns, Real Estate, Of Montreal, and Cults (fine, with a hint of chill-wave I guess). He would do well to open for any of those acts. Don't miss out on that if it happens.