Culture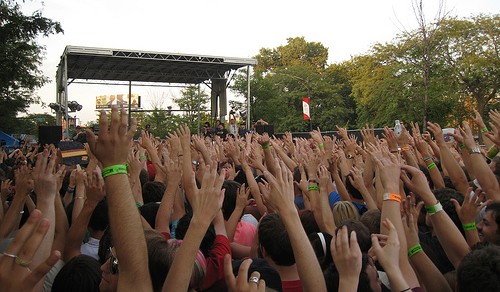 Awright, Chicagoans/out-of-state folks/genial travellers and interlopers, it's time for the local music festival season to really get going. (No, the Dave Matthews Caravan did not count. Like at all.) This weekend sees the besetting upon of Union Park by one of the most consistently eclectic fests of the year, Pitchfork. I won't go into any sort of overdone history about the tastemaking website, so let's just get to it.
5 Sets You Need To See During Pitchfork 2011
1) Odd Future Wolf Gang Kill Them All (Sunday, 3:20 p.m.)

A no-brainer, and that's coming from somebody with very mixed feelings about the work of Tyler The Creator, Frank Ocean and co. Make no mistake about it, this is the biggest draw for this year (TV on the Radio didn't make Sunday the only sellout day in advance, sad to say), and the bigger curiosity is whether OF's first Chicago show delivers on the hype. Word out of Coachella and Sasquatch has been good but not great, and that's to say nothing of their tempermental freakout during one of their SXSW sets this year. There's also the x-factor: A lot of people are going to be there to see only one member, and that could lead to disappointment. Regardless, it should be something to see.
2) James Blake (Friday, 7:30 p.m.)

Speaking of hype, enter James Blake, the minimalist-electro wunderkind whose debut album earlier this year received raves and will likely appear on just about every music critic's year-end list. In its own way, even Pitchfork is embracing the dubstep craze this year (see also: Darkstar on Sunday), but this is no Rusko we're talking about; Blake's stuff is haunting and subtle in a way that stands as a total antithesis of EDM conventions. Plus, he's been given a sunset-time side-stage set, which is a perfect atmosphere for something as subdued as Blake's work. The same goes, for that matter, for Zola Jesus on Saturday, in pretty much the exact same slot.
3) The Dismemberment Plan (Saturday, 6:15 p.m.)

We're totally not going to talk about how much shit Pitchfork has talked about Travis Morrison over the years, or how now that D-Plan has been recognized for being way ahead of its time, suddenly they're playing that same site's festival. Instead, let's just talk about how awesome it is that Emergency and I is finally getting the notice it deserves, and that most likely this will be one of the weekend's most entertaining sets, for sheer fun and entertainment value.
4) OFF! (Saturday, 4:45 p.m.)

This is up there with Mastodon as one of Pitchfork's most seemingly incongrous bookings. This don't-call-it-hardcore punk don't-call-it-a-supergroup, fronted by Keith Morris of Black Flag and Circle Jerks, just debuted earlier this year, with the blistering First Four EPs, a balls-out punk revival that's as breathless as the classic records from OFF!'s legacy. How the crowd will react is a wholly different story, but this'll be an exciting one no matter what.
5) Animal Collective (Friday, 8:30 p.m.)

For the supposed promise of a legitimate live set alone, instead of the laptops-and-pedals wankery of much of their touring behind Merriweather Post Pavilion, this one has promise. In all likelihood, their headlining set will also see the debut of material from their upcoming, yet-to-be-named album, albeit in the modernist jam band style that AnCo's live shows have become known for. Fan or not, bear this in mind too: Each headliner this year is playing unopposed.
(A final note: Guided By Voices is #6, but only if it's just "Relaxation of the Asshole" in its entirety.)