Features
We've Got You Covered: They Might Be Giants and Chumbawumba's "Tubthumping"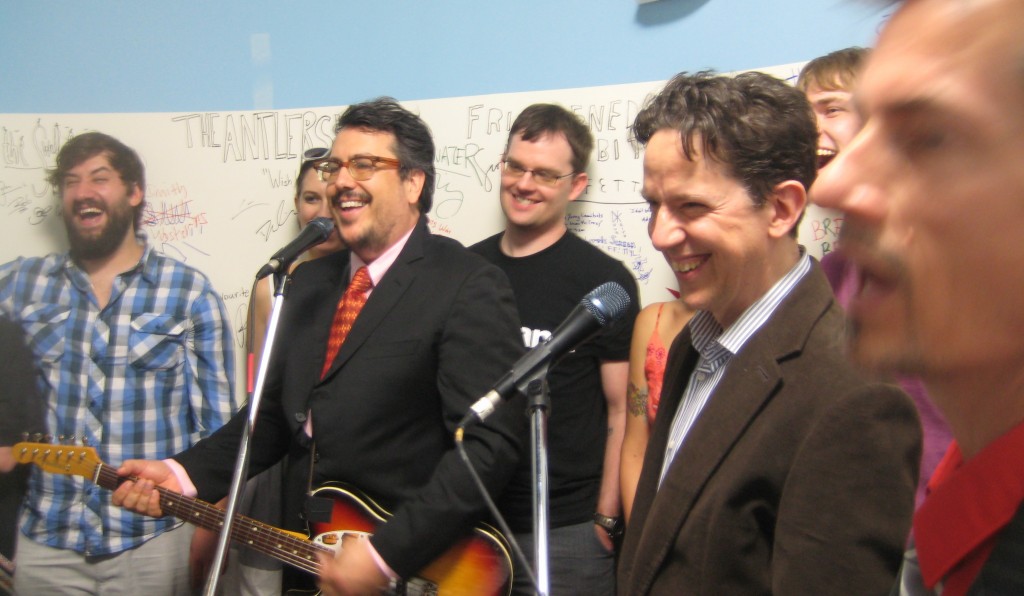 The Saturday evening before Memorial Day, I had gotten a direct Tweet from Josh Modell, managing editor of the AV Club, asking if I was a fan of They Might Be Giants. Having known Josh since he ran the highly-influential print 'zine Milk back in my hometown of Milwaukee in the mid-90's, it was still very out-of-the-blue to hear from him with such a specific question. I answered affirmatively, as during my freshman year of high school, when I first started getting into whatever one would dub "alternative" music, WORT 89.9FM out of Madison would come in ever-so-faintly through my bedroom stereo and TMBG was always an early favorite. Almost twenty years later, hearing their widely-known staples like "Birdhouse in Your Soul," "Ana Ng" and "Don't Let's Start" (or even "Snail Shell" or "Doctor Worm") bring me right back to my parent's house, feeling like I had discovered the most interesting music ever at the age of 14.
Josh let me know that the band was coming in two days later, on Memorial Day, to record for the AV Club's "Undercover" series and they requested back-up singers. Ecstatic, I eventually found out that they had chosen to cover "Tubthumping" from Chumbawamba, which sounded crazy but somehow like a no-brainer. Looking at the remaining songs on their list, I couldn't picture John and John tackling something as wrenching as "Try A Little Tenderness" or as kooky as "The Power of Love." As John Linnell describes in the piece, "Tubthumping" does have some sort of TMBG quality to it already and thinking about my record collection, a lot of the mathy, literate music I'm drawn to probably has its anchor back in my bedroom when I was 14, looking for that singular bee in my bonnet.
Showing up at the designated time, the AV Club offices were a buzz with engineers setting up the tiny, circular room where all the songs are filmed, snaking cables here and there. Members of the staff as well as some friends and family milled about as the band ran through the first verse and chorus a few times on their own. John Flansburgh made his way out to jokingly inform us all that the band didn't know the song (which you'll see at the beginning of the video), but while the final tweaks were being made for sound, he kindly chit-chatted with folks in the office, meeting a few toddlers who were fans of the band's kid-friendly catalog.
Since the office was filling up, Josh went around taking a poll of who truly wanted to sing with the band and who was OK just hanging out. I meekly stated that I'd love to be involved if there was still room. Sure enough, about sixteen folks were decided upon to line up boy/girl/boy/girl style against the wall. I was also pretty pumped to be standing near "Pop Pilgrims" contributor and outstanding comedian Dan Telfer, who brought the house down when I've seen him open for both Todd Barry and Patton Oswalt. As those who are familiar with "Undercover" can gather, the room is a claustrophobic space with just a five-person band and their gear. This time, you had the quintet, plus instruments, amps and monitors and THEN sixteen more people. Poor bassist Dan Weinkauf was pretty much sandwiched between me and his monitor, which was about shoulder-level, propped up on a chair.
And with that, the filming went pretty much as you see it. Flansburgh briefly explained that they'd like to try having the chorus chanted all the way to the end with just kick-drum ("Like an Alabama concert," he said) and we ended up doing three takes of the song in its entirety. The band hung out afterwards and were very gracious. I couldn't leave without getting a photo with either John, so Flansburgh and I posed for what you might deem a mock-United Nations photo op of two previously warring nations, now friends. I left for a pal's BBQ shortly after, my mind still processing that I got to sing with these guys.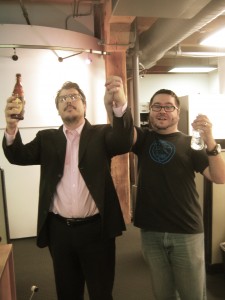 If all of the above wasn't enough, it's great to see such positive feedback from commenters on the AV Club's site. Plus, there is now talk on Twitter from the band about us (aka "the AV Club Choir") reuniting with them and covering "Tubthumping" live at Chicago's Riviera when the band comes through on tour in September. It'll surely be an equally surreal evening for all involved. So thanks to They Might Be Giants for being so kind and inviting this ragtag bunch to give it another go, potentially in front of 2,500 people… (gulp).