Reviews
Taking Back Sunday takes a huge collective step forward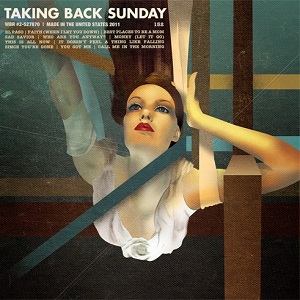 Taking Back Sunday Taking Back Sunday
Release Date: Jun 28, 11
1
2
3
4
5
6
7
8
9
10
"Peel back your skin. Invite me in." With pleasure.
You always remember that one album that really defined high school. For me that was Taking Back Sunday's debut, Tell All Your Friends. Ridiculously catchy hooks, unbridled angst and some rather poignant lyrics struck a chord with myself and numerous young people in 2002. Shorty thereafter TBS began selling out clubs all over the country and earning them uber-valuable emo cred before emo was a household name.
However like many great bands, tensions rose and the group fractured leaving two camps; the Lazzara camp (vocalist Adam Lazzara, guitarist Eddie Reyes and drummer Mark O'Connell) and the Nolan camp (vocalist/guitarist John Nolan and bassist Shaun Cooper). I was a Nolan man. The Nolan camp formed Straylight Run, Nolan's mellow answer the heavily distorted TBS sound and wrote two amazing albums and a couple of fine EPs with little to no acclaim. The Lazzara camp continued with the TBS name, releasing three albums and achieved some mainstream success with a couple good and slickly produced single. But something was always missing. In mid-2010, word leaked the original five members of TBS were jamming again in Texas and that fans should expect a tour and, most importantly, an album very soon.
Now, a year later Taking Back Sunday hit the streets. For fans expecting TAYF part duex, you will be sorely disappointed. But it is not really like any of the subsequent TBS albums either. It sounds like five friends going in a new musical direction.  Not to say the self-titled album is full of flute solos and three-piece banjo arrangements. But is clear the band took risks, they have learned from their mistakes and are collaborating in a way that should be exciting for fans to hear.
The album kicks off with "El Paso," the heaviest song the band has ever written according to Lazzara. He is not kidding. Dense guitars and charging drums drive under Lazzara's soaring vocals (with the help of Nolan) as the chorus pounds the words "you'll never give what you get" into listener's brains. This repetition, though Nolan once lamented it, certainly does make an impression.
Taking Back Sunday sounds much more like a collaborative effort than recent releases. It still has some of that major label gloss (it is produced by Louder Now producer Eric Valentine) but Nolan and Cooper's addition seems to have reintroduced the rougher and more experimental sound that made TAYF so damn enjoyable. Obvious examples being "Who Are You Anyway" and "Best Places To Be A Mom." (Also the best song title on the album.)
The most interesting part to me is the difference in sound each song has. Mostly for the better. As I mentioned "El Paso" is insanely heavy, "Money (Let It Go)" sounds like a Jet b-side, "This Is All Now" has a definite Radiohead vibe in the verses (most likely a Nolan influence) and Lazzara has mastered the Isaac Brock school of vocals in the album closer "Call Me In The Morning." There are a few missteps though, not many but a few. "(Faith) When I Let You Down" gets a little too close to 30 Seconds to Mars territory and O'Connell's drumming, though it always obtrusive, seems even more so on this release.
There will never be a Tell All Your Friends AGAIN, nor is this the album they should have written in 2003. Taking Back Sunday is as much as any old school TBS fan could ask for; catchy hooks, strong lyrics and a genuinely positive vibe coming through the speakers.