Reviews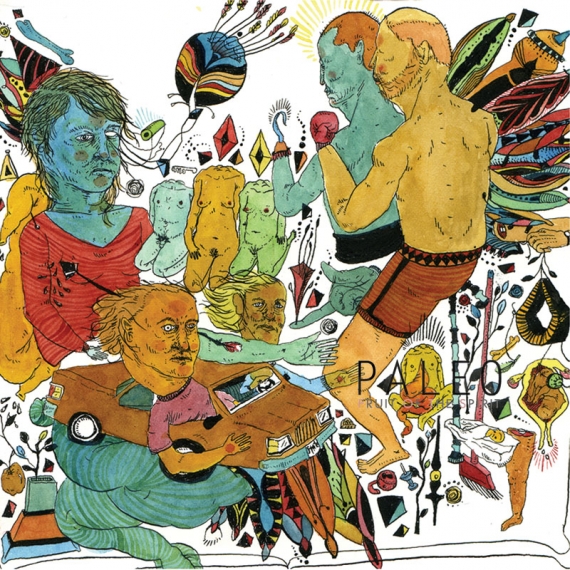 Fruit of the Spirit Paleo
Release Date: Jun 21, 11
1
2
3
4
5
6
7
8
9
10
Remember archaeology? "Paleolithic" being the Old Stone Age. "Neolithic" being the New Stone Age. And hailing from Iowa City in today's age, "Paleo" comes to us now as David Andrew Strackany. Having completed a-song-a-day for 365 days straight, Strackany has the credit to be able to say he knows what he wants in his own acoustic-and-glockenspiel-heavy music. With Fruit of the Spirit, he even knows a little of what you want in his own music – it's an engaging use of folk but with the occasional creative dribble.
It's hard for the first thing to come to mind not be a hybrid between a Wes Anderson movie and an Eef Barzelay/Clem Snide summer single. That alone should tell an obscure majority of listeners that "Lighthouse" sounds rather good, particularly as an opener. Hinting almost at a "classic rock" sound, the scratchy vinyl sound of the quasi-tropical love note gives it the feeling of a song you've known a long time, one that comes on in your iTunes and you're glad because it's been awhile. So far, Paleo is off on all the right feet.
An unexpectedly more rhythm-heavy call on "Over The Hill And Back Again," wanting to be young, I can now only think of the feelings inside of Dave Eggers' head as he contributed to adapting Maurice Sendak's Where The Wild Things Are for the big screen. It's obvious by now, track two, that Paleo is a versatile man whose music is convenient to all of your adaptations. At least so far.
The word "rager" probably invokes beer-laden all-nighter parties. For Paleo, it's almost silence for the first 00:40 before "The Rager" starts with crooning over going home. It's all very "The Skin of My Yellow Country Teeth"-ish a la Clap Your Hands Say Yeah, minus the energy and minus the band. A low piano and hollow void of a background complete the track about not chasing a memory, until halfway through he reaches a short sort of elevation, "I never met a button I/ didn't want to push." I'm convinced there may be a typo and the track is supposed to be "The Ranger." And then with 00:52 left, the silence gives way to abrupt dissonant jamming.
A beat you can get used to begins "Buddy Buddy" like some Eastern European modern dance.  Strackany's voice is a slow separate entity that brings words and sounds together – and as the chorus begins and his voice takes on a more determined and realistic tone of raw and exposed vocal chords, "calling you/ calling you out." Although short, at 2:33, I don this the title of Should Be Your Most Listened-To Track of This Album. It's alive and addicting and makes you want to listen on repeat, dare I even say get up and move yourself in whatever way you do.
Unlike "Poet (Take 1)" (track five), there is a lack of dissonance in the ending track "Poet (Take 2)" which makes it sound more song-like and less open-mic-night. But it still can't shake the spoken word tinge that lines and themes like "just because you are a drunk/ that doesn't make you a poet" embody. But then again, this is Fruit Of The Spirit. And not all spirits are poetic. Or fruitful.