Culture
Monday Afternoon Roundtable: Burger time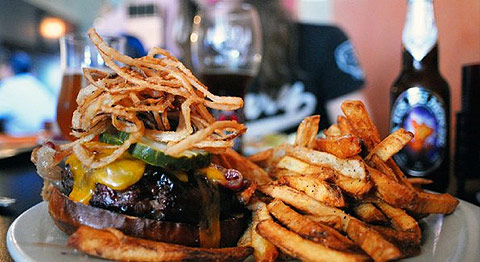 This week, the Heave staff was asked: What's the best burger in Chicago?
Everett Salyer
Hands down, the best burger in Chicago also happens to be the best burger in the world!  Of course, I'm talking about Kuma's Korner on Belmont, just east of the expressway.  Kuma's is a heavy metal themed bar and grill that has burgers representing the creme de la creme of the metal industry, all while your favorite metal tunes of yesterday and today blast over the in-house PA system.  My personal favorite is the "Slayer" burger that is open-face, covered in fries and chili.  However, you could also get the "Judas Priest," covered in dried fruit (get it?) if that is more your speed.  There is always a crazy wait to get a table, but have no fear, Kuma's has literally hundreds of microbrews to keep you content while you wait.  Not a metal fan?  No worries, people from all walks of life frequent Kuma's because it is just that awesome.
Amy Dittmeier
Is this even a question? KUMA'S CORNER. Specifically the Black Oak Arkansas (Red wine BBQ sauce, Bacon, Aged White Cheddar, and Alpha King Battered Fried Shallot Rings). A close second is the Jail House Rock burger at Lockdown (peanut butter, bananas, and bacon).
Chris Osterndorf
For some reason I decided to try going without meat this month, so let me say that as a longtime burger lover this question is fucking painful. For me, there's two places that come to mind. One is a little bar called The Local Option near where I live on Webster and Seminary. They have really good beer, and their burger is thick and juicy and you can get it with this delicious creole salsa and chipotle mayonnaise. Frankly, my mouth is watering just talking about it. The other place that comes to mind is The Counter. I know they're a chain, but they're also the exact opposite of food that's the same as everything else. With their system of custom made burgers just for you, you can't really go wrong there. As far as chains go, they're hard to beat. Damn, now I really want a burger.
Dominick Mayer
Devil Dawgs near Webster and Sheffield is the best greasy, quick burger I've found to date. For about $6 you can get that and a giant-ass pail of cheese fries. Best vaguely Satanic meal in Chicago!