Reviews
Acid House Kings keep it simple, keep it the same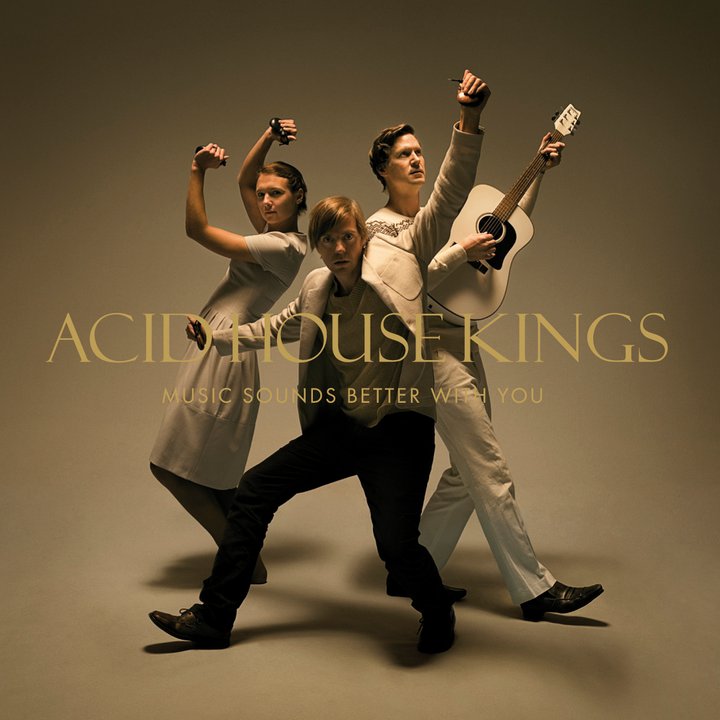 Music Sounds Better With You Acid House Kings
Release Date: Mar 22, 11
1
2
3
4
5
6
7
8
9
10
Calling yourself "Sweden's no. 1 pop band" on Facebook when you have 2,276 likes says a lot. The Stockholm-native trio Acid House Kings have confidence in their pop ballads built for casual listening or lazy days with that someone special. But the brothers Niklas and Johan Angergård, joined by Camera Obscura-sounding vocalist Julia Lannerheim, break no boundaries. Particularly not with their latest release, Music Sounds Better With You, an album which probably would sound better with someone else – it's lovely, but ten tracks of the same kind of loveliness is a little repetitive.
The album opens with "Are We Lovers Or Are We Friends?" – a song for the upcoming spring no doubt, creating visions of hip 20-something couples on bikes, oxford shoes and sundresses. Claps and a tambourine accompany. This sets the tone for essentially the whole album, save a few gems.
Lannerheim's voice is reminiscent of a children's song on "Windshield," the kind of child's song where the words are strangely enunciated to give certain syllables clearer emphasis. I understand English probably wasn't her first language. But I feel like she's trying desperately to teach me the words of the song amid the hollow strings and bare percussion notes. For some reason, it makes me a little annoyed. If I want to learn the song, then I will.
The next track sounds more or less the same, but then "Under Water" comes on. A more modern pop ballad with a more plugged-in feel (tambourines remaining, of course) and a complementary harmony between Angergård and Lannerheim. Certainly one of the more memorable tracks of the album – a consistent tune for warm weather and peppy hooks.
"Where Have We Been?" is the fastest track yet, a refreshing surprise with a faster guitar plucking out the opening. Angergård starts singing but his words seem disconnected from the music, too jumbled and clipped when he's probably trying to sound much smoother. He doesn't have the richest voice for the track either. He's sounding a little dry.
The tempo of the previous song lingers on in another lively harmony on "Waterfall." It sounds smooth. It sounds right, their voices with the music. It doesn't feel forced and the clapping is almost a contagious beat. Lannerheim's segments of solo vocals, accompanied only by the basic hand percussion and piano key or two, break the track up finely. It's one of their few full-feeling songs.
Finishing up with "Heaven Knows I Miss Him Now," there's a sugar-coated layer of emotion in the song. It goes up and comes down and sounds more or less like the previous tracks. It's too bad it's the end of the song (I'm starting to feel like there could have been depth), not to mention it's a little short. But you can't have everything.