Music
Live review: Girl Talk @ Congress Theater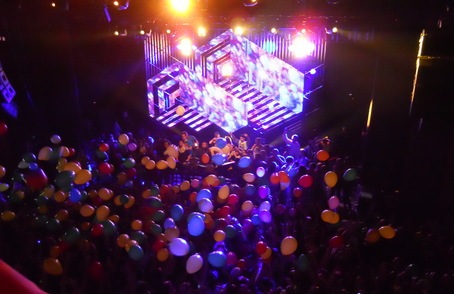 If you're planning on seeing Girl Talk at the Congress tonight (show number two of a couple sold out weekend nights in Chicago), wear shorts and some sweat bands. Even though it's cold outside, you'll feel like you're in a humid jungle once that crowd starts moving. Even the air up in the balcony gets sticky.
The kids are still going crazy for Girl Talk apparently. And why not? He's throwing more confetti and inflatable toys into crowd than ever before, and he still does that one ridiculous mashup. (You know, that one where he puts the rap chorus over the 80s' synth, with the guitar riff from that 90s' alternative band? Right, that one.)
The music is pretty much the same, but the biggest improvement Greg Gillis made for this latest tour is his light show. For past tours, there wasn't much to look at on-stage. But now, there's a flat, geometric sculpture of brilliant LED lights, flashing enormous images throughout his set. Ranging from dinosaur gifs to frantic color explosions and even occasional live feeds of Greg bouncing behind his laptop, the visuals were a much welcomed addition to his already high-intensity house party.
It's possible that he took a cue from label-mate and tour opener, Junk Culture. Their set is underwhelming in comparison, but sometimes the best way to make fresh beats seem fresher is to toss up some projections of old-school skateboarders. By the way, Junk Culture is playing a DJ set at Beauty Bar this Sunday, and I'll let you know how that party goes as well.
But again, don't wear a sweater to a Girl Talk show. It doesn't matter that it's March. This show is always about the sweat. The balloon drop almost didn't work because the air was so hot and thick. The ceiling nets opened and they all just stayed up there.