Features
We've Got You Covered: The Vatican Cellars and Van Halen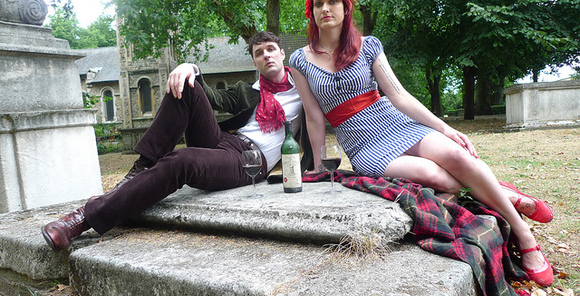 My earliest memory of "Runnin' With The Devil" is from a kid in my grade school class. Whenever he had to go the bathroom he would sing, "I've got to pee as bad as camel." to the tune of "Runnin'" and we would all laugh. Van Halen had quite the gem on their hand, however, as "Runnin' With The Devil" is considered the ninth greatest rock song ever by VH1. For reference, Rolling Stones "Satisfaction (I Can't Get No)" is number one. Obviously, Van Halen are (was) huge.
The Vatican Cellars are substantially less huge than Van Halen, but they certainly have their niche. The group started in 2007 with a folky EP that garnered quite a bit of praise for its wistfulness and promise. The Vatican Cellars describe their own music as, "A little bit of misery, a little bit of wine, books and old things falling apart. That caving in of your stomach when you realise (just before bed) that everything has gone utterly wrong."
The Vatican Cellars' cover takes the Camero driving tune of Van Halen and turns it into something that maybe you'd play while riding your bike. And the bike probably has a basket and a bell. They really missed a golden opportunity to rename the song, "Runnin' With The Cello," but, oh well. Have a listen to The Vatican Cellars version of "Runnin' With The Devil" below.
Media
Audio clip: Adobe Flash Player (version 9 or above) is required to play this audio clip. Download the latest version here. You also need to have JavaScript enabled in your browser.