Reviews
"Rawth" not nearly cooked through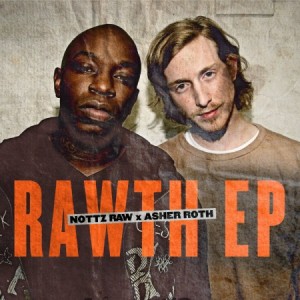 Rawth EP Asher Roth/Nottz
Release Date: Dec 29, 10
1
2
3
4
5
6
7
8
9
10
Asher Roth is not an easy man to like. First, there was "I Love College," his ubiquitous 2009 hit and paean to all the most obnoxious, developmentally arrested frat boys and sparkly tops in America. Then, there was the influx of MCs who proclaimed Roth the next big thing in the field of white rappers. A future Eminem, they called him. And then Roth started believing his own hype. Which is why, petty though it might be, it's extraordinarily vindicating to hear Rawth announce the Morrisville, PA rapper as a one-trick pony in every conceivable sense.
The comparisons to Marshall Mathers are more or less an egregious lie, because at least Em had a sense of humor, as well as a frequently-overlooked gift for syncopated flow rhythms capable of putting most MCs to shame. Here, we get Roth's lazy delivery (which some will likely fall into the trap of calling "deliberately slow") on cuts like "Enforce The Law," which features Roth and his accomplice Nottz fumbling their way through braggadocio, fancying themselves the police of rap music. If there were actual rap police, these two would be the first offenders getting spread against the wall.
It's almost a shame to see Nottz flail so much, as he just dropped his first solo record last year after building up a murderer's row of collaborators as a producer over the years. He's worked with Snoop Dogg, Kanye West, Busta Rhymes, the late, great J Dilla and numerous others, so it's a shame that he never picked up any of the gifts of the aforementioned. On the aforementioned "Law," he drops an appallingly bad verse composed almost completely of profanity strung together that sounds like every hater of hip-hop who ever did a terrible impression of rap to prove a point mid-rant.
On "Gotta Get Up," Roth sounds exactly like Eminem without any of the passion or humor, devoting an entire verse to describing the concept of "hair of the dog" like nobody's ever touched on it before. The climactic emotional revelation/payoff? He's actually asking a bar maiden to the bar instead of just trying to fuck her. The only real highlight of the album is "Coming & Going," in which Rhymefest delivers a lesson in how to flow. Roth and Nottz rise just enough to the occasion here to not make fools of themselves; the former points out how "Sometimes I feel like the music biz is using me." When he figures out for what, or why, inquiring minds would love to know.