Music
Tomorrow Never Knows 2011 begins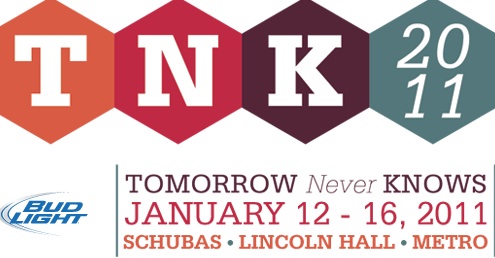 For those of you in the Chicago area (like us!) or those willing to travel, Schubas/Lincoln Hall's 2011 installment of their annual Tomorrow Never Knows festival begins tonight. Over the next week, those two venues (and Metro as well) will play host to a lineup of acts either on the cusp of exploding, or well on their way there. Here are HEAVE's top five shows you should check out:
The Helio Sequence – 1/12 @ Lincoln Hall
The past few years have been fraught with highs and lows in equal doses for this Portland-based indie rock duo. After signing to Sub Pop back in 2004 and touring with the likes of Kings of Leon and Modest Mouse (the latter a band in which one half of Helio, Benjamin Weikel, did a stint), frontman Brandon Summers destroyed his vocal chords to the point of nearly irreversible repair. Years later, the duo returned strong with 2008's Keep Your Eyes Ahead, a record at once dreamy and massive. They recently released a split EP with Menomena, and look to keep their momentum going into the new year.

(Also playing: Sun Airway, Houses, California Wives)
Mister Heavenly – 1/14 @ Lincoln Hall
Ever heard of doom-wop? Well, get ready to do some learning. Mister Heavenly, an indie supergroup featuring members of Modest Mouse, Islands and Man Man, has created a potent combination of doo-wop revival and forlorn romantic balladry. Signed to Sub Pop recently, the newcomers (sort of) will be putting out a full-length later this year. Not enough to sell you, yet? Then it's probably worth noting that Michael Cera has been touring with the band as their bassist.
(Also playing: Screaming Females, Title Tracks, The Dig)
Freddie Gibbs – 1/14 @ Metro
2010 was a big year for Gary, Indiana's Freddie Gibbs. On the heels of his celebrated performance at the Pitchfork Music Festival last summer came his most recent EP Str8 Killa. Gibbs meshes the grit and street-level poetry of the great gangsta rappers with a smoothness of flow all his own. Currently he's working on an LP, as well as a collaboration with Bun B and The Cool Kids' Chuck Inglish. Check this one out, and say you caught one of the next great MCs way back when.
(Also playing: Rita J, Shad)
The Concretes – 1/15 @ Schubas
After a hiatus involving detours to the circus life and having children (not at the same time, as far as we're aware), long-running Swedish indie-pop act The Concretes have returned. On the heels of their new full-length WYWH (their second album without original frontwoman Victoria Bergsman), the band are refreshed and ready to go.
(Also playing: Seapony, Kopecky Family Band, The Red River)
S. Carey – 1/16 @ Schubas
When not working his primary gig as the drummer/harmonic vocalist for Bon Iver, Sean Carey began quietly putting together his own set of lilting indie compositions, which finally saw the light of day with last year's solo LP All We Grow. For those of you who enjoy the layered arrangements of Sufjan Stevens or Fleet Foxes, meet your new early favorite for 2011.
(Also playing: Darwin Deez, Young Man, Lionlimb)
Win tickets to the Concretes show on January 15th at Schubas from your favorite website.  It's simple: hop on Twitter and tweet "@heavemedia I want tickets to the Concretes on Saturday @tnk_2011" and you'll automatically be entered to win.  A winner will be chosen at random by 5 pm CST Thursday.  Good luck!