Reviews
Movie Review: The King's Speech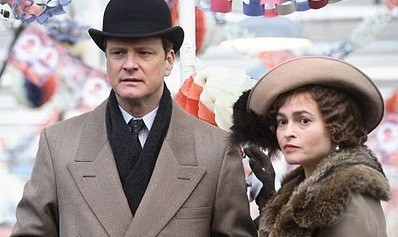 The King's Speech Dir. Tom Hooper
Release Date: Nov 26, 10
1
2
3
4
5
6
7
8
9
10
Every Oscar season, the one genre you're guaranteed to see is the period piece. These films are usually shoo-ins for nominations in the Costume Design category, although oftentimes they aim for more. Because these movies have become such a given around award season, they have also become that much more watered down and boring. At this point, most movie lovers have probably seen enough dramas about the aristocracy filled with lavish wardrobes and set pieces to last a lifetime. Thankfully, every now and then a film breaks through that defies the typical notions about royalty and the upper class that usually define the costume drama. The King's Speech is one such film.
Set in post-WWI England, The King's Speech tells the story of King George VI, played by Colin Firth, who arrived at the throne only because his brother Edward abdicated it. Unfortunately for King George, he was plagued by a stammer, which caused him to stutter uncontrollably, especially when speaking in public. Being the King, public speaking was somewhat of a necessity for him, and when WWII broke out, hearing the monarch's voice became more important to the people of Great Britain than ever.
Firth turns in a very fine performance as King George, or "Bertie," the nickname bestowed upon him by his speech therapist, Lionel Logue (Geoffrey Rush.) Perhaps what makes Firth so good in the role is his adeptness at conveying the character's dichotomy; this lesser-known monarch was constantly not sure whether to act like George, the regal King, or Bertie, the down-to-earth everyman. There are moments when he's more George, a haughty and often petulant aristocrat still consumed by archaic customs. At other moments, he's more Bertie, a regular guy who's terrified of all his responsibilities. But oftentimes, Firth is both at once.
The movie is also full of brilliant supporting performances. As Logue, Rush is both funny and sad. He's a man whose dreams have gone unfulfilled, but still makes the best of his situation. His relationship with Bertie is at the core of the film, and is ultimately what really makes "The King's Speech" work. Helena Bonham Carter also does a great job as George's wife, Queen Elizabeth. Here she proves she can do more than just play crazy really well, playing relatable and intelligent as a woman not born into royalty. It should also be mentioned that Guy Pearce gives a terrific performance as George's brother, Edward. Edward is both charismatic and cruel, in a way only Pearce can be. It's more great work from the always brilliant, but rarely recognized actor.
Screenwriter David Seidler and director Tom Hooper keep the movie moving at a brisk pace, although it does lag a bit toward the end. This is the best thing Seidler has written in years; turning royalty into real people is never an easy task, but he does a fine job of it. Hooper is also in rare form. His directing is artsy and creative without ever being showy, and he does a brilliant job of emphasizing how lonely George's position as King is, even when surrounded by people.
The King's Speech is the rare period piece that deserves all of the Oscar buzz it's getting. When people toss around words like "inspiring" and "uplifting," most of the time it's because they don't want you to see how weak the story actually is. The King's Speech manages to be all these things, as well as an out and out costume drama that's not even remotely pretentious. As far movies about kings and queens go, it's top-notch, mostly because its characters are real people, and not just dummies for fancy costumes.