Reviews
Gold Panda Deserves More Than The Normal Electronica Headphone Treatment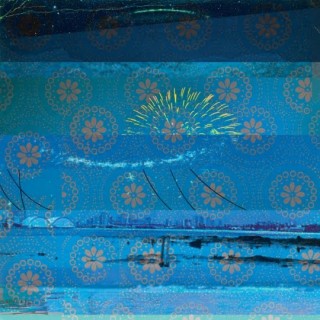 Lucky Shiner Gold Panda
Release Date: Oct 12, 10
1
2
3
4
5
6
7
8
9
10
In the beginning, there was "Quitter's Raga."  Sure, Gold Panda's remixes for artists such as Little Boots and Marina & The Diamonds made the rounds months before, and though the Miyamae EP may come first in the chronology of Gold Panda's discography, "Quitter's Raga" lit a frenzied fire.  In blog-speak, it was an absolute banger.  It was some next-level shit.  It killed.  And so on.  The sub-two-minute, hip-hop/post-dubstep track was so chocked full of chopped-up vocals and sonic saturation that it was incomprehensible and intimidating, over-stimulating and otherworldly.  It was undeniably music from the future, and it rightfully sent an otherwise unknown artist from relative obscurity almost straight to a record deal.  So we are indeed right to give thanks and praise to "Quitter's Raga" because it exposed Gold Panda to an international audience and enabled a record deal with esteemed electronic label Ghostly International.  And thus, from the label that launched School of Seven Bells and released Matthew Dear's stellar Black City, we now have Gold Panda's Lucky Shiner, doubtless one of the year's best albums.
Where "Quitter's Raga" was a booming track bursting at the seams with sampled sounds, the songs that make up Lucky Shiner are more refined and structured.  Such is the result of an album recorded in retreat, mixed by Simian Mobile Disco's James Shaw, supported by Ghostly International and produced by an artist with time on his side.  Lucky Shiner's sound is more dance than dubstep, and it leans more electronic than experimental.  Though Gold Panda is from London and he recordedLucky Shiner in Essex, the album's bluish, bubbling tones and icy, electronic textures reminded me of 2006's landmark album Orchestra of Bubbles, from Berlin's Ellen Allien and Apparat.  At the same time, Gold Panda's appreciation for and previous submersion in Eastern culture appears on tracks such as "Same Dream China" and "India Lately."  Put simply, this isn't an album of hazy, J Dilla-esque beats, nor is it a chop-shop of samples screwed to oblivion.  This album is the patient result of an artist finding his sound, honing his craft and relishing in the details—and it pays off.
Opening track "You" might still be my favorite.  The anthemic banger seems to be a back and forth between a shrill robot shrieking "You! You! You! You!" and a nasally alien squeeze toy screaming "Me! Me! Me! Me!"  Bound in a neck brace or frozen in a block of ice, I'd still bob my head.  "Vanilla Minus" is a proper techno track, with synth stabs repeating ad nauseam, a four-to-the-floor bass beat and what sounds like a huge metallic plate swirling in the background.   "Same Dream China" is chocked full of various instruments, from the initial sounds of a likembe, or thumb piano, to what sound like glass bottles and a xylophone.  When we hear what sounds like a Chinese stringed instrument processed through a Theremin, we know we're in the geographic East.  The percussive production on "Before We Talked" reminded me of The Postal Service or Styrofoam, with skittish synths scattering up and down a staircase melody.  The drone/gaze interlude/outro reminded me of Infinite Body's "Dive."
The album's second half leans more experimental, but it is still easily approachable and just as enjoyable.  A song called "I'm With You But I'm Lonely" sounds like the product of daydreaming or some other mental escape, and its sound holds up that theory well.  It sounds like a room full of toys malfunctioning one by one.  On his first listen, my nephew called it surreal, and I would have to agree.  With "After We Talked," we can assume the conversation didn't go so well.  That song's synths drone and wobble as we hear the hiss of vinyl in the background.   "India Lately," the album's final trip to the Orient, is disorienting in the best way possible.  Chants ring out and strings are plucked into an absolute wall of sound.  Finally, the closing track "You." is as beautiful and peaceful as its album-opening counterpart "You" is booming and plentiful.
With all the blog hype that surrounded Gold Panda after "Quitter's Raga," I awaited his debut album with a cautious anticipation.  After all, a mind-blowing, even perfect single does not an album-worthy artist make.  Too many blogs over-hype too many artists whose debut albums come to sound like sloppy, second-rate afterthoughts.  Luckily, with Gold Panda, we get to keep our "Quitter's Raga" and eat up Lucky Shiner, too.  His debut album on the venerable Ghostly International label continues his hot streak of brilliant production.  But it says more about Gold Panda's future than it does about his past. Lucky Shiner is every bit as beat-heavy as Flying Lotus' Cosmogramma.  It is just as aurally pleasing and melodically magnificent as Four Tet's There Is Love in You.  And it is as hypnotic and meditative as The Field's From Here We Go Sublime.  That suggests Gold Panda and his Lucky Shiner deserve a place among these esteemed artists and albums, which certainly bodes well for the future.  If you enjoy them, you'll enjoy Lucky Shiner.