Reviews
Movie review: "Mr. Peabody & Sherman"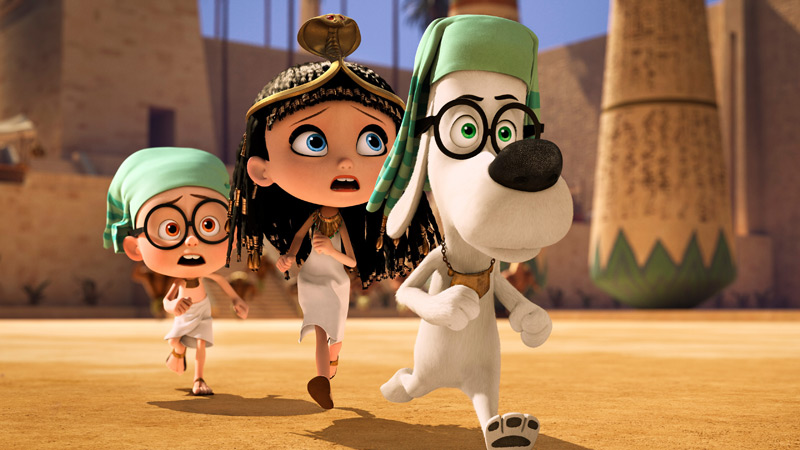 Mr. Peabody & Sherman dir. Rob Minkoff
Release Date: Mar 07, 14
1
2
3
4
5
6
7
8
9
10
Goddammit, Shrek. If that Scottish ogre hadn't come along thirteen years ago and afforded Dreamworks the luxury of printing their own money, the studio might've had to try a little harder to bridge the CGI animation gap between themselves and Pixar. Instead, Dreamworks has continued to try and hit that sweet spot that the first two Shrek movies did, the one where a movie is every bit as kid-appropriate and lovable as it is accessible to their parents, who're really the marks in the long run, the ones who buy the plush figurines and listen to incessant impressions of Donkey until all hours of the evening. Their latest attempt to appeal to every quadrant is Mr. Peabody & Sherman, their long-gestating adaptation of Peabody's Improbable History from the original Rocky and His Friends. And like pretty much every Dreamworks animated offering that isn't about dragons, it's so cloying in its attempts to appeal to everyone that it wouldn't be surprising if nobody has much fun.
One of the Dreamworks animation hallmarks (other than, you know, the Dreamworks face) is the tendency to mistake rapid-fire pacing for an effective substitute for actual storytelling or character development. Given that the film is a reboot of a property with which fewer and fewer children today will likely be familiar, Mr. Peabody & Sherman races through the introductions with great speed. All that's really offered is that Peabody (Ty Burrell) is a know-it-all and father to Sherman (Max Charles, notably the young Peter Parker in The Amazing Spider-Man), a curious young boy. That's pretty much it. Using their WABAC (time machine), Peabody educates Sherman on the finer points of human history, leaving Sherman whip-smart and culturally enriched, but also socially stunted, especially when it comes to dealing with his vicious class bully Penny (Ariel Winter).
There isn't much story to Mr. Peabody & Sherman, the film instead opting to serve as a modern update of the old sketches. The ragtag group travels to a series of key moments in the past, which serve to both educate younger audience members on history and offer fertile setups for light scatological humor. That the latter takes priority in virtually every possible scenario goes a long way toward explaining why the new Peabody doesn't work. Mr. Peabody comes off a lot like what would happen if a delusional executive decided to infuse School House Rock with dick jokes, which isn't an overly dramatic jump when a reference to Bill Clinton's White House indiscretions pops up near film's end. Despite the film's early attempts to sell viewers on the wonders of history, the film is clearly a lot less interested in teaching kids about Ancient Egypt than it is in using history to spoon-feed kids the sort of hyper-referential humor that already felt dated when it came into fashion in the early aughts.
And to return to the start of this review, Mr. Peabody frequently mistakes hyperactivity for the kind of verve that appeals to a young audience. Though the film picks up a bit in its third act when a kid-friendly version of string theory is introduced, it spends most of its mercifully brief runtime racing through bullet points about Leonardo Da Vinci, King Tut, the Trojan Horse and many more between quasi-heartfelt life lessons about family and how bullies have problems too and the importance of chasing your muse, or whatever else the film temporarily lands on during its mad dash to the end credits. While it'd be absolutely great to see a child become genuinely interested in history as a result of Mr. Peabody & Sherman, it'd be even better if adults didn't think that kids need a frequently cynical, condescending movie to take them there.