Culture
SeePlus: Ghost Nature at Gallery 400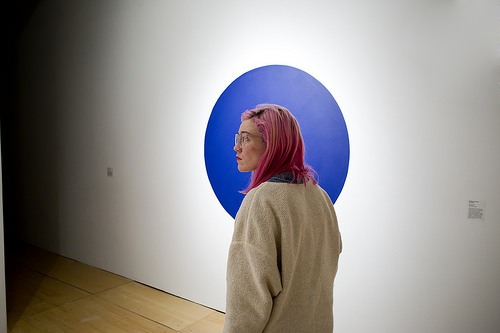 SeePlus is staff writer Chloe Stagaman's periodic investigation into art installations around Chicago.
(Cover photo: Institute of Critical Zoologists, Bee Trap, 2013. House paint. 8 x 8 in. Courtesy of the artists.)
"Within [nature's] teeming multiplicity, humanity has struggled to establish and maintain a sense of order, patrolling categories of plant, animal, and human in hierarchal anecdotes of progress. According to that hierarchy, living things are privileged over non-living materials and Nature has emerged as a Romantic ideal–an advertisement for the sublime, far away from the industrial undertow of human culture and capital production" –Caroline Picard, curator of Ghost Nature at Gallery 400.
Chicagoans prepare for winter every year. The moment those CTA heaters ignite and the first snowflake hits the sidewalk, citizens of the "Windy City" have their boots tied, coats zipped, and ears snuggly tucked away in wool hats of all kinds. We're not messing around.
Heating bills climb. Pipes freeze. It's the same yearly grind, and we prepare for it and are ready for it every year because there's nothing we can do but adapt to it. Despite winter's harshness, it serves as a constant reminder of nature's unavoidable presence in our lives. Nature is not off in the woods somewhere. It's right here, beside us and with us, affecting everything from our cup of coffee to our daily commute.
Which is why Gallery 400's Ghost Nature could not be more relevant. Curated by Caroline Picard, this exhibit celebrates the curious artist, the one who dares to ask questions about nature and its interactions with human life. Although we like to idealized nature and give it a sense of order in our lives, humans are limited, and we can only understand so much about the ever-changing, ever-ominous universe that surrounds us. Each artist featured in the show offers another element to the puzzle–another part of the larger natural picture, asking new questions and launching their viewer into new artistic themes.
There's Xaviera Simmons' Index One, Composition One (2011), a vibrantly colored photograph that greets you just beyond Gallery 400's double door entryway. What appears to be a human figure is covered with objects of all kinds, speaking to the souvenirs and mementos we carry with us. This ebb and flow of material possession could serve as a launching point for a larger conversation about how we define  the changing environment around us.
(Left: Heidi Norton, Anaphase Mutated, 2014. Glass, resin, plants, paint, wood. 61.5 x 52 in. Courtesy of Monique Meloche Gallery.Right: Xaviera Simmons, Index One, Composition One, 2011. Color photograph. 50 x 40 in. Courtesy of the artist and David Castillo Gallery.)
To the left, tucked away in a corner behind the gallery's front desk, dual-channel film and slides by Akosua Adoma Owusu Anancy (2012) and Kwaku Ananse (2013) allude to the traditional West African fable of Kwaku Ananse who was both man and spider. Owosu's reference to this fable highlight an extremely direct, spiritual correlation between man and nature, which in this case are bound together as a divine trickster from Ghanaian oral tradition.
(Akosua Adoma Owusu, Anancy, 2012. Video and slides. 2:00 min. Courtesy of the artist.)
There are several other works in the exhibition that, like Owusu and Simmons' pieces, speak to a deep exploration of human existence in the vast universal expanse. There are also works that challenge these same ideas in fun, playful ways.
It's hard not to smile when peering over a simple wooden table at the right edge of the exhibition space to find two long distance love letters to the ocean. Of course Rebecca Mir's intention for Long Distance Relationship with the Ocean (2013) goes much deeper than humor. Her commentary extends to something much larger about the unrequitedness of this love affair – the inanimate ocean unable to return her feelings. To that same token, this work speaks to something endearing about the human heart. On a shallow level, who doesn't love the ocean? Who doesn't wish or long for its vast waves, or the promise of its light, airy winds? Especially when you can't travel more than five minutes in the city without your face burning from the frigid air, these love letters can also be a reminder of the realities of human yearning and the realities of "missing elsewhere."
Milan Metthey takes a more experimental approach to this "man in nature" idea, with his Love Ducking Experiment: Duck Mating Ritual (2011) series, in which he tries to embody a duck. Ducks tend to tilt their heads forward repeatedly when mating, ironically almost ducking forward. Equal parts humorous and thought-provoking, Metthey's determination to stimulate interaction with a duck via three different experiments shows an enormous amount of determination and genuine childlike curiosity that stays with you long after you leave  the exhibition.
(Left: Xaviera Simmons, Index One, Composition One, 2011. Color photograph. 50 x 40 in. Courtesy of the artist and David Castillo Gallery. Right: Milan Metthey, Love Ducking Experiment: Love Mating Ritual, 2011. Video. 6:49 min. Courtesy of the artist.)
These are just a few hints at what there is to offer at this small but mighty exhibition only one stop away from the loop. So if you have time in this show's last week, make sure to leave the trappings of the urban world and dive into this unique exploration of human space and existence. You'll leave pensive, challenged, and ready to take on the natural world that exists even in the window sills of Chicago's tall, all-knowing skyscrapers.
[Admission to Gallery 400 is FREE! It's open Tuesday through Friday 10am to 6pm, Saturday 12-6pm, and by appointment. The show ends March 1st.]
For more information about the exhibition, click over here.