Culture
"Broad City" review: "What A Wonderful World"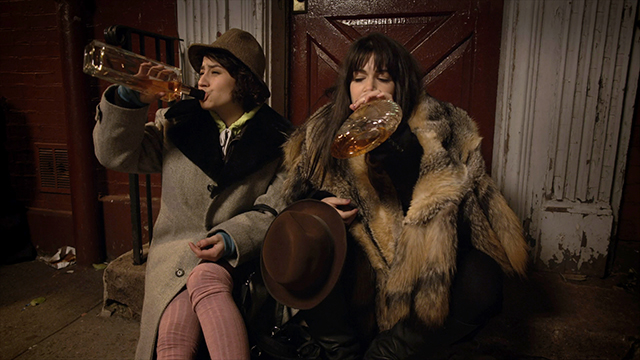 Starting today, Marissa Morales will be picking up the coverage beat for Comedy Central's newest show Broad City.
After seeing countless ads for Comedy Central's new show Broad City, I figured "what the hell, I'll give it a go." And after seeing it, I want to a have a little sit-down with whoever was in charge of marketing, because they did not do it justice. I'm sure a lot of you have seen the commercials, for the show that looks vaguely like a sketch show? It's not. What it is, is so much better.
In its premiere episode, the opening scene is Abbi (Abbi Jacobson) holding a vibrating dildo (which looks like a Rabbit, ja feel?), only to take a video call from Ilana (Ilana Grazer), who it turns out is mid-coitus with Lincoln (Hannibal Buress). Ilana wants Abbi to attend a secret Lil Wayne concert with her that evening. They only need to scrape up the cash.
That's right. The opening scene is one girl fiddling with her Rabbit and another having sex with Hannibal Buress while video-chatting. It had my attention then as well. Particularly when Ilana jokes about Abbi scheduling masturbation time, any lady that's had to juggle a job and school feels that on a very deep level.
We then see the ladies at their boring jobs: Ilana works at a place that has echoes of Groupon called Deals! Deals! Deals! Abbi, meawhile, toils at a SoulCycle knockoff, where she has to clean up vomit, towels and apparently pubic hair problems in the shower. Abbi seems to have good motivation for her work, as she is simply waiting to be asked to teach a class. After heading back to Abbi's apartment to plot, the pair encounter her roommate's boyfriend, who is exactly that free-loading boyfriend that we have all encountered at least once. Abbi and Ilana then proceed to have a whisper bitch-fest about him in the other room. Again, this show is real good at hitting close to home.
The duo then head to the park armed with buckets to play drums. Then, behind a bush Ilana spots Lincoln, creeping in his scrubs and watching them. When she confronts him, he says, "I saw your tweet, wanted to stop by, but I wanted to hang back to give you your space." To which Ilana replies, "I respect you respecting me. I'll respect your dick later." I actually did a spit take, folks.
After the bucket drumming turns out to be a bust due to a greedy break-dancer, they luck out and someone answers the ad Ilana had put up on Craigslist, essentially offering "2 Jewesses" who really need money. Enter Fred Armisen. (Let's take a moment and give a shout out to Fred Armisen for always being the best creepy dude that I still would cuddle.) The ladies clean his apartment in their skivvies, and the scene ends with them trashing the place and Armisen revealing he's wearing a diaper. I know.
The episode ends in this really sweet, best friend kind of way where it's focused on two friends getting drunk reminiscing over a decidedly strange day, and talking about how the Lil Wayne concert probably wouldn't have been that much fun anyways.
Broad City does a great job of toeing the line of ridiculous (going through with cleaning a stranger's apartment in your bra and panties and then gently trashing it) and the ridiculously real (the hole in Ilana's leggings, I'll bet they thought not a lot of people would notice, but I did). It also didn't do too much in the way of the "setup" episode that most television shows tend to do, which nine times out of ten makes for a weak pilot. I'm definitely ready for more.