Culture
On The Apron: WWE's best 2013 matches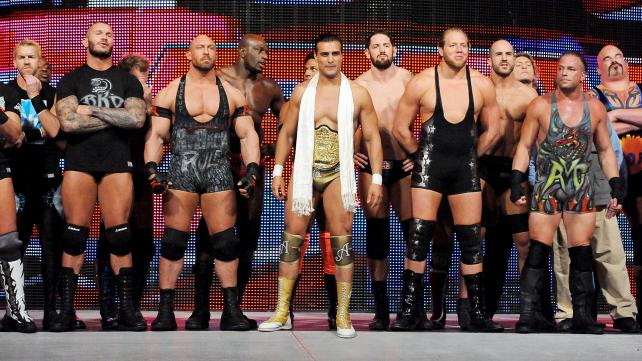 On the Apron is features editor Dominick Suzanne-Mayer's weekly look at the latest developments in and around WWE.
Welcome to the final edition of On The Apron for 2013. It's been a strange year for WWE, a year that saw some of the most consistently great wrestling that this writer can remember in the company in a very long time nestled up against some of the worst writing they've offered in a very long time, and also The Rock. But, as we near the end of 2013 and I spend another year outraged that I can't yet own a Daniel Bryan Brawlin' Buddy, it's time to look back on the best that WWE offered this year. Though last night's Raw offered a MOTY candidate in the Daniel Bryan-Randy Orton main event, it wasn't quite enough to top the five matches that I'm naming the best that WWE had to offer this year. Also, most of the hypothetical numbers 6-10 would involve either Bryan or The Shield, through and through.
On The Apron's Top Five WWE Matches of 2013
5) Alberto Del Rio vs. Dolph Ziggler, Payback
Though June's PPV is probably best remembered for John Cena putting Ryback through the roof of a prop ambulance, something that I'll probably mention in every column I write because of how jaw-droppingly hilarious it was, the World Heavyweight Championship match between Del Rio and Ziggler was not only a stellar match, but managed to successfully execute one of pro wrestling's most difficult gambits: the in-ring double turn. Having just recently returned from a concussion and looking to rebuild momentum behind what'd been a pretty tepid world title reign to that point, Ziggler came in as the cocky heel, with Del Rio as the semi-recently reformed fan favorite. Over the course of twenty stellar minutes, Del Rio began exploiting Ziggler's head injury, taking the boots to him with such gleeful sadism that by the end, Chicago had rallied behind Ziggler as the talented guy who just would not stay down. This is some of the best storytelling I've seen in the ring in a good while.

06.16.13- Dolph Ziggler vs Alberto Del Rio… by Kyle_Dixon
4) John Cena vs. CM Punk, Raw, February 25
One can only hope that one day Punk and Cena will get to have the WrestleMania main-event showdown they so richly deserve, and this match only proved it. This was the pseudo-main event most fans wanted but weren't going to get, now that The Rock had returned to battle Cena once again. And Punk and Cena delivered, Cena displaying a rare willingness to shake up his moveset and call audibles on his usual approach in order to match Punk's versatility. This is a prime example of how great the standard WWE main-event match can be when done by two guys at the top of their game.

John Cena vs CM Punk WWE RAW 25th Feb 2013 by IamRamCena
3) CM Punk vs. Brock Lesnar, SummerSlam
Or: What happens when you take a guy who hits like a truck and put him in the ring with a guy who doesn't look like he should be able to take the abuse, but can do so ably and willingly. Some of Lesnar's recent work has left a lot to be desired, whether because of Triple H's inability to show ass or Cena's usual status as a guy who isn't hit too stiffly. Punk, however, makes a perfect foil for Paul Heyman's monster, as the guy who's too small to go pound-for-pound but can sure as hell outsmart the force of nature. At least, until Lesnar imposes his will all around. (As a bonus for this one, I've attached not only the match itself, but also the Heyman-Punk promo exchange that started the feud, as it's easily the best WWE promo of the past year.)

CM Punk vs. Brock Lesnar – SummerSlam 2013 by AndresGuilherme
2) Antonio Cesaro vs. Sami Zayn, NXT, August 21
In one of 2013's many bits of evidence that Cesaro is bound for superstardom, he went to NXT, WWE's televised farm league, to fight Sami Zayn, the former El Generico, in one of the most intriguing 2-out-of-3 falls matches I've ever seen. After quickly disposing of the first fall, the match becomes a supremely tense affair, matching Zayn's relentless high-flying approach against Cesaro's status as one of the strongest men in WWE today. The tornado DDT at the end of this match alone makes this one of 2013's best offerings, and no, I don't care if Generico did it on the indies a ton of times already.

Antonio Cesaro vs. Sami Zayn (2-Out-3 Falls Match) by BuuPetit
1) Daniel Bryan vs. John Cena, SummerSlam
Forget the ending and the months of mismanaged story that followed. The SummerSlam main event was a spectacular affair, and the peak of the summer-long (and, arguably, year-long) buildup of Bryan as the plucky underdog hero for a subset of wrestling fans tired of Cena overcoming the odds time and time again. This is also one of the rare times where Cena's indestructible persona actually works, because Bryan makes him look fallible throughout in a way few wrestlers do/are allowed to. And sure, ultimately neither of these guys left as the WWE Champion, but the ovation at the end, before the tomfoolery, is the most heartwarming thing imaginable.