Culture
"Brooklyn Nine-Nine" review: "Thanksgiving"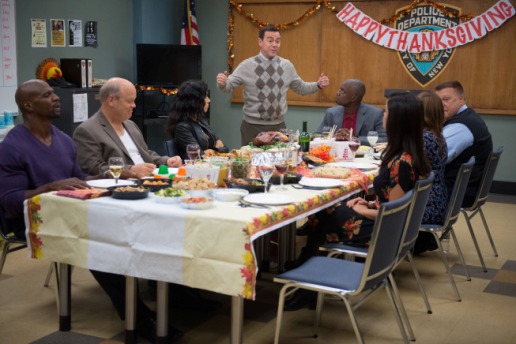 I marked them "awk," for awkward. – Holt
"Thanksgiving" showcases what every member of the Brooklyn Nine-Nine cast brings to the proverbial, and in this case literal, table. Ten episodes in, it's really starting to look like character traits and personalities are settling in. You've got Terry Crews' big and goofy Jeffords, Joe Lo Trugilo's weird and predictable (Boyle Bingo!) Detective Boyle, the hardworking but clumsy and hopelessly single Santiago (Melissa Fumero), and Stephanie Beatriz' deadpan-y Rose Diaz, just to name a few performers who are now reliable sources of humor. Even Gina (Chelsea Perreti) is a little more rounded here as a snarky antagonist to the awkward Santiago and her Murder She Wrote set of a home. It reminded me a lot of the April/Ann relationship on Parks and Recreation, particularly at the end when Gina tells Santiago she only gave Holt her written Thanksgiving toast because she was hoping to embarrass her. An intentionally bad deed that backfired.
I do like the tidbits we're learning about Peralta's upbringing. We learned in "Sal's Pizza" his dad walked out him while he was a young little leaguer, and in "Thanksgiving" we find out about the sad, turkeyless holidays he had growing up. It establishes some of his adult attitudes, as well as his disdain for the holiday and his eagerness to find a case and avoid Santiago's dinner party/opportunity to suck up to Holt.
The case, involving stolen cash from the evidence locker and sports gambling,  gave us more chances to see Andre Braugher be funny ("My wife was killed by a man in a yellow sweater!"), which he's pretty good at. The is an actor we're all used to seeing in dramatic roles, from Homicide: Life on the Streets to last year's cancelled Shawn Ryan series Last Resort, and oftentimes on this show he's funnier than known comic Andy Samberg (who was actually very funny in a backroom fight with a criminal while trying to avoid the score of the football game).
At Santiago's house (her bad cooking causes everyone to clog her toilet when they secretly flush their dinner in it), we got an opportunity to see what this show would look like if Peralta wasn't a part of it, and it was great. Imagine if Holt were the central character? A gay, black police captain and how he solves cases, keeps a precinct of oddballs together and struggles with social and professional attitudes about homosexuality? You can have that for free, Fox.
This is an ensemble that's beginning to gel, for the most part. As with the other Fox Tuesday comedies (Dads excluded), it's a diverse group, which Peralta acknowledges during his dinner toast at the station, before mentioning that Scully looks like a giant baby. And it gives the network a few shows that mirror modern society a lot more than most TV.