Reviews
Movie review: "The Best Man Holiday"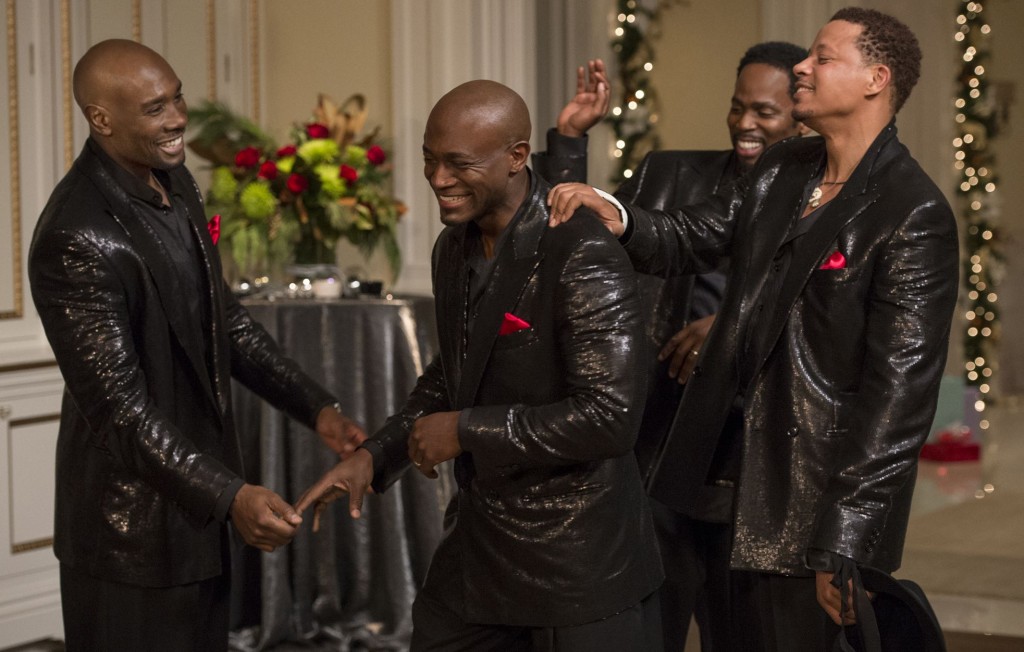 The Best Man Holiday dir. Malcolm D. Lee
Release Date: Nov 15, 13
1
2
3
4
5
6
7
8
9
10
The Best Man Holiday is exactly what a Best Man movie would look like in the age of Tyler Perry – with the black marketplace dominated by comedic, faith-based melodramas. In many ways, the movie is exactly what you'd expect: overstuffed with subplots and side characters that never even get introduced. The third act has so many loose ends to tie up that the movie turns into Grand Central Station for its last half hour, even single narrative threads barreling down the tram at full speed.
The movie has more faults than you can shake a turkey leg at and its mish-mashed tones are jarring (with whiplash-inducing shifts from broad comedy to tear-jerking), but the damn thing works. The Best Man Holiday is like that host that's determined to please his guests at all costs. You might be full, but you won't leave empty. In a way, The Best Man Holiday is reminiscent of the old Bollywood musicals of the 1950s and '60s, designed to give you everything you could possibly want out of a whole evening's entertainment. (If you needed any proof of that being the film's goal, note that The Best Man Holiday even pauses for a musical number.)
This is supposed to be a sequel to The Best Man, Malcolm D. Lee's 1999 sleeper hit, but that's in name only. The Best Man Holiday shares characters and subplots with its predecessor, but much has changed in 14 years, including the entire feel of the film. However, Lee does Tyler Perry much better than Perry ever has. That all has to do with Lee's clear understanding of these characters and their tangled histories. This isn't human drama for the sake of catfights or table-flipping, of which there is a little, but to explore how mortality and friendship push us apart and bring us back together. It's about putting the past aside to remember what matters most.
Taye Diggs anchors the film by sheer force of affability, playing a best-selling author who can't get his next book published. Despite falling on hard times, an opportunity presents itself. His best friend, an NFL running back played by Morris Chestnut, is about to retire after breaking the all-time rushing record. They haven't spoken since his wedding, when the bride came between their friendship. The two might not be able to make amends, but Diggs may just get his next book.
This sets into motion the prerequisite tears, laughs and misunderstandings, but it helps that The Best Man Holiday has the cast to sell it. In many ways, the film is most reminiscent of The Big Chill, Lawrence Kasdan's zeitgeist-defining ensemble film about morality over a long weekend, and Lee gets similarly deft work out of his attractive leads. Nia Long, Monica Calhoun and Regina Hall radiate charm, up to the task of the film's considerable dramatic heavy lifting.
However, it's Terrence Howard that earns top honors. His role, as an ever-grinning tomcat, could have been a feline caricature of masculinity, but Howard plays his coolness with an unexpected depth of feeling. Quentin might be a stunted adolescent, forever smoking pot and trying to get laid, but he sees more than everyone around him thinks. The Best Man Holiday is best when it's as light on its feet as Howard, sharing the bachelor party feel of its predecessor. The film promises a sequel in which Howard's Quentin is the lead, and if I'm grateful for anything this Christmas, it's that promise. Bring on another round, boys.